The List Survey: The Best False Eyelashes Brand According To Women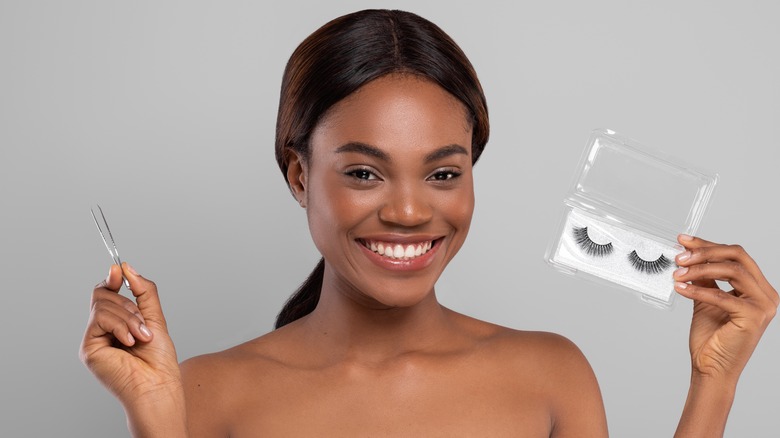 Prostock-studio/Shutterstock
If the eyes are the windows to the soul, are eyelashes the curtains? Eyelashes have long been a symbol of beauty and innocence, drawing attention close to the eyes, and making them appear big and bright. Achieving this effortless flirtation with long eyelashes has been a standard of beauty for hundreds of years. According to Insider, ancient Romans believed that "lashes get shorter with age" and could fall out due to "excessive sex." Thankfully that is not true at all, but the women of ancient Rome didn't know that — they made dangerous attempts to lengthen their lashes and prove they were youthful and innocent. Luckily, we know more about the purpose of eyelashes these days, but the desire for long, luscious lashes remains a part of many people's beauty routines.
Some use mascara to make their lashes appear longer, but the goopy cosmetic can easily clump and smudge. For a full set of lashes without the trouble of runny makeup, people turn to false eyelashes. The practice of gluing on a strip of false eyelashes has been done for over 100 years, per Racked, and has only grown in popularity within the beauty industry. To find out which false eyelashes are flying off the shelves, The List conducted a survey asking 600 people, "What is your favorite brand of false eyelashes?"
Over 34% of voters agree that this brand makes the best false eyelashes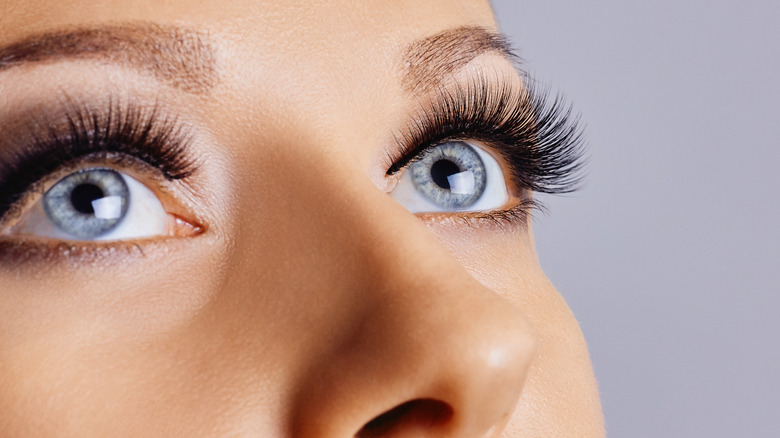 Olesia Bech/Shutterstock
According to The List's survey, the best brand of false eyelashes is Lashify. With 34.5% of the vote, this popular brand is known for its salon-worthy DIY lash kits. According to their website, Lashify's control kit comes with an applicator wand, two sets of lashes, and glue that promises to last up to three days for one wear. One Glamour writer fell in love with their product after trying it for one month, saying, "The Lashify reviews weren't wrong. The obsession is real."
In second place was Lilly Lashes with 19.33% of the vote. The brand sells everything from full sets to natural lash serums. They even sell magnetic lashes, one of the newest advances in lash technology that leaves eyelash glue in the past. The brand can be found at Sephora, Target, or online through the Lilly Lashes website.
14.83% of voters said that Velour lashes were their favorite brand, while another 12.50% opted for the false lashes that Glamnetic has to offer. Other brands that voters showed love for were Huda Beauty (9.83%) and LoveSeen (9%), proving that there are plenty of good quality false lashes to choose from on your next beauty shopping spree.
Save yourself time and frustration with these tips for applying false lashes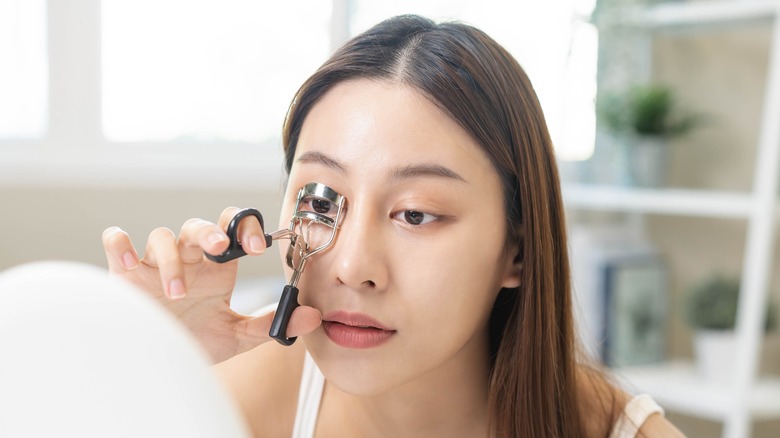 Kmpzzz/Shutterstock
Before running to your local drugstore to stock up on falsies, it's important to know what type of false eyelashes you're looking for. According to Allure, there are a few different types to choose from: the most popular being individuals, clusters, and strips. Individuals are small strands of eyelashes that easily blend into your natural lashes. These small pieces can be added to parts of your eyelid for a fuller set of eyelashes without committing to an entire strip. Clusters are slightly larger and more maneuverable strands that fill in larger gaps in your natural lashes. Strips are full sets of false eyelashes placed over a real set and glued together for maximum volume.
You can take any look from good to great with a simple strip of false eyelashes, but applying them isn't always simple — there are plenty of mistakes you could be making with false eyelashes. Strip eyelashes are usually sold in one size, which means they need to be trimmed to fit your exact eye length and shape before being glued down. Make sure to measure your eye and trim your lashes to that exact measurement before applying (via Buzzfeed). Wait for the glue to dry slightly before applying, and use eyeliner to hide any hard lash lines, per Teen Vogue.
When removing your falsies, always remember to clean your strip lashes the right way with skin-safe cleaning products and let them air dry for the best results.