Awkward Christina Hall Moments Caught On Camera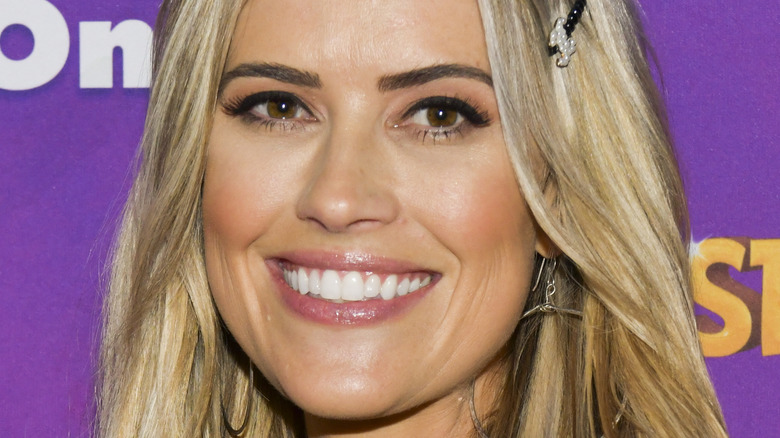 Rodin Eckenroth/Getty Images
Since Christina Hall first appeared alongside her ex-husband, Tarek El Moussa, on HGTV's hit series "Flip or Flop" (then as Christina El Moussa), she's become accustomed to living life in the public eye. 
Interestingly, Hall never expected much attention from the media after first landing the HGTV house-flipping series. In an episode of "Christina on the Coast: Unfiltered," her best friend and publicist, Cassie Zebisch, shares that she had warned her friend how her life would drastically change with fame. "You're gonna be on covers of magazines, there will be paparazzi outside your house," Zebisch says she told her friend at the time. She added, "And [Christina] was like, 'Absolutely not, no one cares'" (via House Beautiful). The designer would come to discover that her friend was right.
For Hall, living life in the public eye means displaying all kinds of moments — from the adorable to the awkward — for everyone to see. Whether receiving criticism for her choice of graphic tees, giving her ex-husband an "awkward" hug, or filming her HGTV series with her ex after their highly publicized split, these are some of Christina Hall's awkward moments caught on camera.
She was judged harshly for undergoing a C-section and bottle-feeding her son
In December 2015, Christina Hall, then a new mom for the second time to son Brayden El Moussa with ex-husband Tarek El Moussa, posted a photo to Instagram of her daughter, Taylor El Moussa, giving a bottle to her baby brother, who was born by C-section. For Hall, this innocent post generated the harshest judgment she had ever received on social media, as she explained in an interview with Good Housekeeping in 2017. The nasty comment, which read in part, "Wow!! A c-section and bottle feeding??" was intended to criticize the HGTV star's parenting choices. The user further wrote, "Should have just got a cat you deadbeat fake. @tarekandchristina you are disgusting. This is why you had to struggle for another one."
The vitriol that Hall received, especially after undergoing multiple rounds of in-vitro fertilization and a difficult pregnancy to conceive and deliver her healthy baby boy in August 2015 (via People), is truly horrifying. "That was an emergency C-section, and I pushed for eight hours," Hall told the magazine, explaining further, "I think most people see me as a glamorous type of person, and at the end of the day, I'm more just a low-key mom."
The designer was criticized for posing in a bikini with her daughter, Taylor El Moussa
The next time Christina Hall would be criticized over a photo with her kids was in March 2017, when she posted Instagram photos of her and her adorable daughter, Taylor El Moussa, then six years old, wearing matching purple bikinis. According to Good Housekeeping, the light photos were part of a promotional shoot for L Space Swim. In the photos, Taylor is seen enjoying a donut with sprinkles and cozying up to the family's then-new French bulldog, Cash.
So why the backlash? Apparently, the pics gave Hall's followers another reason to criticize her parenting choices, as some found them to be "inappropriate." One comment read, "I am done with your [show. You] are not making good mother choices," while another stated, "I agree. What mother does this???" (via Fox News).
Fortunately, other fans of the HGTV designer were quick to defend her actions. "What stupid reactions so many have. There is nothing inappropriate [here, just] a mom enjoying bringing up her kid [and] making that girl feel good about herself." Another comment in support of Hall read (via Fox News), "If they want to say this is inappropriate, they need to check out other profilers. Go to the beach and see what most people wear. I see nothing wrong with this photo."
Christina Hall's T-shirt caused a stir
Christina Hall has learned to pay close attention to what she wears before leaving the house. The day her split from then-husband and co-star Tarek El Moussa went public, Hall pulled into the parking lot for a doctor's appointment when she heard the clicking of cameras and soon found the paparazzi snapping away at her. "I was oblivious to it at first because I'd never had one following me before," she told Good Housekeeping in 2017. Hall said she got back inside her car and called her best friend and publicist, Cassie Zebisch. "The first question [Cassie] asked me was, 'What were you wearing?' And I'm like, 'Noooo,'" she said, laughing while telling the story. Hall was wearing a T-shirt that said "Pink Champagne, Can't Complain." This fashion choice was made even more embarrassing because of a People article published shortly before, citing a source that had "alerted the media that I had 'champagne taste' and Tarek was a 'beer can kind of guy,'" Hall explained to Good Housekeeping.
Hall, who has since become more careful with her T-shirt selection, explained on an episode of "Christina on the Coast: Unfiltered" that she'd often "forget" to think strategically when choosing her daily attire. "I just leave the house ... and then I look at what I'm wearing and I'm potentially wearing something really weird, and I'm like 'oh, great,'" she said (via House Beautiful). "It just wasn't, probably, appropriate."
The first post-split Flip or Flop episode was nothing but awkward
After Christina Hall announced her separation from co-star Tarek El Moussa, fans of their hit HGTV show were quick to question its future. However, the former married couple decided to continue filming together despite their split.
Viewers were laser-focused on their interactions when the first post-split episode of "Flip or Flop," called "Flipping and Dating," aired on May 31, 2018. The episode was just as uncomfortable for viewers to watch as it must have been for the stars to film, with Hall herself admitting the "beyond awkward" moments. One viewer tweeted that the episode made her "want to crawl in a hole," while another shared to Twitter (via The Wrap), "Please tell me that I am not the only one that sees the awkwardness between Tarek and Christina." While fans were likely aware that Hall was, at the time, dating British TV host Ant Anstead, El Moussa's love life was perhaps unclear, per People.
The Season 7 episode included an awkward exchange between the two, with Hall and El Moussa shown driving in separate cars while talking on the phone about checking out a possible project. In the clip (via Entertainment Tonight), Hall asks El Moussa to meet, but he has plans to meet "somebody." Hall responded, "Somebody? ... What does she look like?" After learning she was blonde, she jokes, "I thought you didn't like blondes anymore." Season 7 would have more tense moments to come.
She was witnessed giving ex-husband Tarek El Moussa an awkward hug in 2016
While it's easy for awkward moments to occur when you star in a reality TV show with your ex, the cameras also occasionally caught some awkward moments between Christina Hall and Tarek El Moussa that were not meant to be shown.
In December 2016, the Daily Mail shared exclusive photos of the couple appearing in public together for the first time since announcing their separation. The co-stars were spotted meeting up for coffee at a Starbucks in Newport Beach, California. While the pics show the former couple appearing to be friendly, one photo showed evidence of a clearly awkward hug before they parted ways.
Considering they share two children together, it makes sense that the two would have plenty to discuss. At the time, the former couple had not yet filed for divorce. In a statement to People, they explained that their top priority was their two children. "The most difficult part of the decision to separate was the kids," they said. "We want the best for them, and we're doing everything we can to ensure that."
Christina had an awkward conversation with Tarek about selling their Yorba Linda house
Christina Hall and Tarek El Moussa's personal drama continued playing out on "Flip or Flop." In early episodes, they are shown in the beautiful Yorba Linda, California home they shared with their children, Taylor and Brayden El Moussa. After they separated, scenes were no longer filmed there.
In the June 7, 2018 episode entitled "Two Houses For Sale," Hall struggles to tell her ex-husband she's selling the house, knowing he won't take the news easily. "When Tarek and I got divorced, I kept the house. But it's really too big, and it has a lot of baggage," she said in an interview in the episode (via Insider). "And it's sad because a lot of blood, sweat, and tears went into making this house our own. And it has so many memories." During the tense confrontation, El Moussa avoids the topic, later telling their contractor, "I shouldn't care, but then I think about it and ... that's the house I've been working for my entire life."
At the end of the episode, the exes openly reflect. "It threw me off a little bit, but at the end of the day, it's your decision," El Moussa told his ex-wife, who says she planned to move near him for the kids. The move continued to play out on Hall's spinoff series, "Christina on the Coast" (via People), when she shares their daughter Taylor's difficulty adjusting.
The HGTV star tried on wedding dresses shortly after her split from Ant Anstead
In February 2021, Christina Hall — shortly after announcing her separation from her second husband, Ant Anstead, in September 2020 – shared an Instagram story (via the Daily Mail) where she was trying on wedding dresses during a fitting for the upcoming wedding of her best friend and publicist, Cassie Zebisch.
While the desire to play dress-up is certainly understandable, what made this moment a bit awkward is the fact that it took place while the HGTV designer was going through a divorce from Anstead and also the same week that she reverted to her maiden name, Christina Haack.
In her story, Hall wrote, "Playing dress up with my fav @waltercollection," describing her affinity for the dress designer. Hall even selected one of their designs to wear to Zebisch's wedding, which she shared on her Instagram account just a couple of weeks later.
Over the years, Christina and Tarek have been caught bickering on and off camera
Following Christina Hall and Tarek El Moussa's split, more awkward moments ensued, both on set and off. During Season 7, Episode 6 of "Flip or Flop," Hall asks El Moussa about a recent date, saying, "How much did that set you back?" He replies, "Why do you even care?" (via Insider). For those unfamiliar with their on-screen dynamic, El Moussa was the budget-conscious one, while Hall was the spender, at least regarding their flips.
But this on-air squabble was nothing compared to the one that made headlines in July 2021. El Moussa lashed out at Hall on set one day after reportedly being offended by how she signaled to him to resume filming. He reportedly called her a "washed-up loser," compared her to his current wife, Heather Rae Young, and said, "It's called winning. ... The world knows you're crazy!" (per TMZ). El Moussa allegedly had been frustrated with Hall and concerned for their children's safety after learning of her then-recent toad venom smoking experience.
El Moussa was regretful afterward, telling E!'s "Daily Pop" (via Us Weekly), "As you can imagine, it can be stressful working with an ex, and we did have an incident where some choice words were said on both sides and I'm sure we both wish the whole thing never happened."
Christina approached Tarek with some awkward news on the Flip or Flop series finale
On March 10, 2022, former married couple Christina Hall and Tarek El Moussa announced their decision to end their popular, long-running HGTV series, "Flip or Flop," at the end of its 10th season, which People confirmed.
It was Hall's decision to end the show, a moment they chose to air on-screen during the episode. Hall, who was then engaged to her now-husband, Joshua Hall, tells El Moussa in the episode she has something to talk to him about (via E! News). "I feel like it's not really fair to you or myself to continue house flipping with you. I can't be at these houses for you like I should," she says, before adding, "It's been an amazing run. There's been ups and downs, but it's mostly been fun." Though her ex-husband appears surprised, following their conversation, he tells the camera toward the end of the bittersweet episode, "I do wish her the best of luck, but, you know, sometimes in life change can be good for everybody."
A source familiar with the situation gave additional details to People about what may have led to Hall's decision. "Tarek and Christina are generally cordial. They're co-parenting and nothing gets in the way of that," claimed the source. "The show was just too intimate of a setting at this point and it was time to close that chapter."
An embarrassing altercation occurred between Christina and Tarek's wife, Heather Rae Young
"Flip or Flop" fans probably understood why Christina Hall chose to walk away from the show after an altercation between her and Tarek El Moussa's wife, Heather Rae Young, made headlines in May 2022. According to an exclusive Daily Mail report, the incident occurred during a soccer game of Christina and Tarek's daughter, Taylor El Moussa. Christina attended the game with her husband Josh Hall and friend and publicist Cassie Zebisch, while Tarek was there with his wife Heather. 
The photos show Tarek pulling Heather away after exchanging heated words with Christina. Tarek and Josh also argued, allegedly having to be separated by the coach. Tensions ran high at the time, with the argument occurring not long after Christina's other more recent ex-husband, Ant Anstead, filed for full custody of their son, Hudson, alleging harsh allegations against her. This was also shortly after Christina shared on Instagram that the son she shares with Tarek, Brayden El Moussa, had undergone an emergency appendectomy.
Us Weekly followed up, with a source alleging the foursome was "embarrassed" and wanted to move forward. In another Instagram update, despite the feud, Christina thanked Tarek and Heather for their help during their trying time. "We are all under pressure, but when it really matters, we were all there for Brayden doing our part," she wrote, tagging them both and adding, "Sometimes a scary situation can be a good wake-up call. In the end ... what matters is the kids."