Michelle Obama On The Family Member That Sparked Her Competitiveness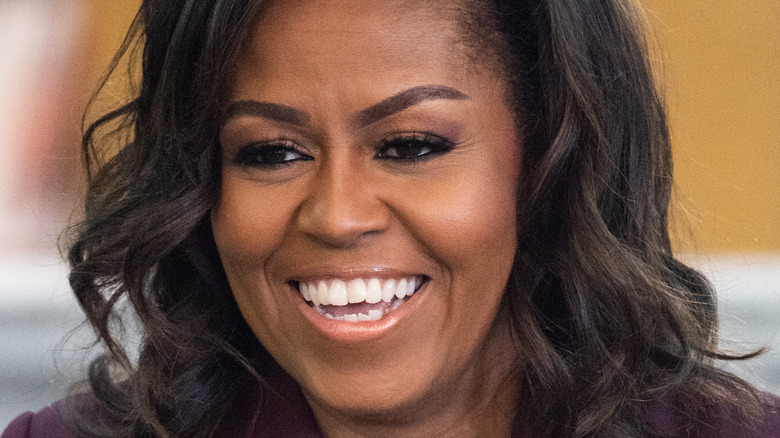 Jim Bennett/Getty Images
Recently, Michelle Obama opened up about menopause and what it means for her everyday life, undoubtedly gaining a plethora of new female fans in the process. In a characteristically frank chat with People, the former first lady contended that "there is not a lot of conversation about menopause." As Obama admitted, "I'm going through it, and I know all of my friends are going through it. And the information is sparse."
In particular, Obama, who's been active her entire life, found it tough to cope with the weight gain brought on by her new normal. "Some of it is menopause, some of it is aging," she acknowledged. "I find that I cannot push myself as hard as I used to. That doesn't work out for me. That when I tear a muscle or pull something and then I'm out. The recovery time is not the same." For someone who spearheaded a healthy living initiative, it's especially tough.
As Vox points out, Obama's "Let's Move!" campaign encouraged Americans to eat healthier and exercise more often. Her husband Barack Obama even made it a cornerstone of his presidential platform. Nowadays, for the "Becoming" author, there's less choice with Obama reasoning: "You wind up balancing between staying fit enough and being kind enough on your body to stay in the game." As for where her competitive spirit came from, the former first lady credits her brother. 
The former first lady learned how to fight from her older brother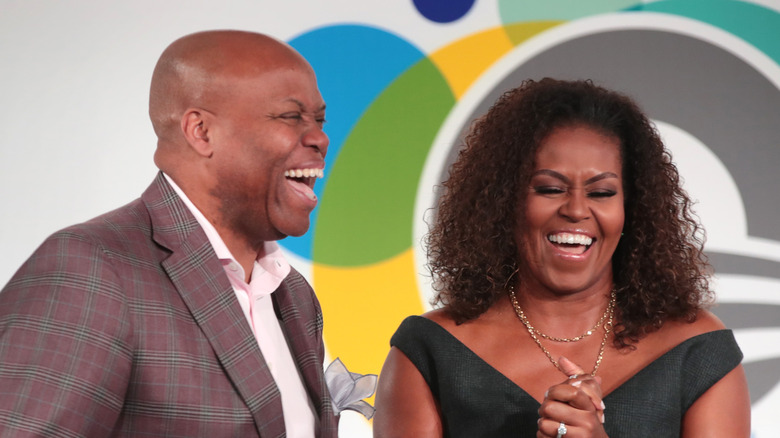 Scott Olson/Getty Images
Michelle Obama's brother Craig Robinson is the one she credits with instilling a competitive, never-say-die spirit in her early on. The former first lady discussed her childhood during a recent promotional appearance on "Good Morning America," for her book, "The Light We Carry," sharing: "I had a big brother that would just beat up on me and there was no mercy, he wasn't gonna, like, let me win. And he could beat me at everything" (via YouTube).
As Obama reasoned, "If you spend the first half of your life getting beat, you know, you don't wanna lose! You're gonna be a little sore." The bestselling author's mother, Marian Robinson, agreed, telling host Robin Roberts that Craig was always "a sore winner." These days, the former first lady is balancing staying fit and listening to her body as it changes. She and Craig, meanwhile, remain incredibly close despite their nonstop childhood competitions.
In fact, he walked Obama down the aisle, per Vogue India. "It was so traumatic when our dad died," Craig explained during the 2019 Obama Foundation Summit in Chicago. "This dude was the epitome of dads in our mind." Likewise, as Oprah Daily reports, Obama described him as her "protector" and the "best brother a sister could ask for" in her memoir. Naturally, imbuing his little sister with a fighting spirit was just one of Craig's gifts to her.