77% Of People Think That This Was Princess Diana's Most Iconic Look - The List Survey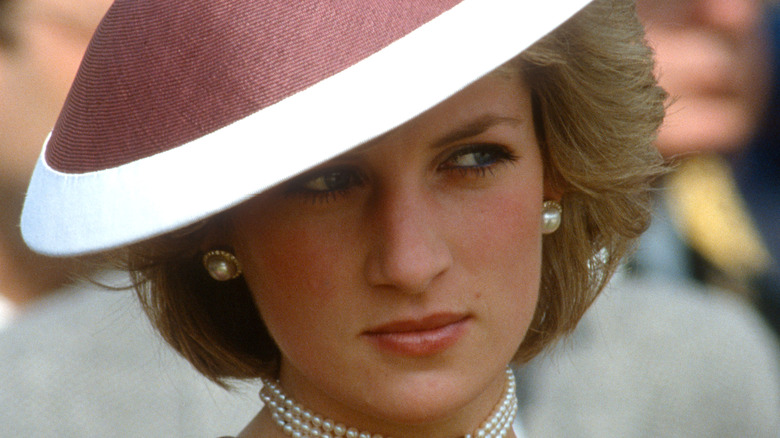 Anwar Hussein/Getty Images
Princess Diana changed royal fashion forever. Even 25 years after her passing, her legacy continues to live on as people remember not only her good deeds and her kind heart, but also her incredible fashion sense. Princess Diana was known to take risks with her fashion. Vogue recalled Diana's fashion sense, saying her famous looks were "some of the most talked-about outfits of all time." Even with strict royal dress codes, Diana was able to curate a style all her own that practically told a story each time she stepped outside.
There are plenty of Princess Diana outfits that meant way more than you might realize — but which outfit has truly stood the test of time? To find out, The List conducted a survey on YouTube that asked, "Which Of Princess Diana's Iconic Looks Was Your Favorite?" With over 39,000 votes, we aren't surprised that one famous dress reigned supreme.
This historic dress is still talked about today
According to The List's survey, 77% of voters think that Princess Diana's black revenge dress is her most noteworthy look. The story of Princess Diana's iconic revenge dress is sad yet empowering. In 1994, King Charles III revealed in an interview that he was cheating on Diana. According to Cosmopolitan, Diana attended a fundraising event the same night that the interview aired on TV, strutting her newly found confidence in a gorgeous little black dress that hugged in all the right places. She paired the Christina Stambolian off-the-shoulder dress with a pair of sheer tights, a black clutch, and a pearl choker, per Vogue.
Telegraph reported that "she'd previously decided the dress was too risqué," but decided at the last moment to adorn it as a "statement of the freedom, confidence and sexiness that she wanted to project." Not only is the dress gorgeous, but it did its job. The dress shifted the focus surrounding her husband's infidelity, allowing Diana to control the narrative.
More iconic looks from Princess Diana's wardrobe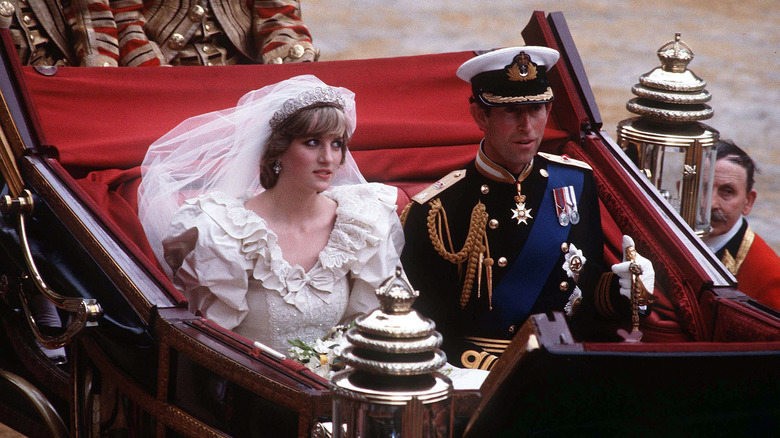 Anwar Hussein/Getty Images
While the revenge dress is definitely the front runner for Diana's most iconic look, the people's princess has had her fair share of iconic outfit moments. 9% of voters say that her ivory wedding dress is their favorite look. Princess Diana's wedding may not have gone as planned, but her dress made a huge statement back in 1981. According to Town & Country, "the ivory taffeta gown was intricately embroidered with sequins, frilled lace, and 10,000 pearls, and valued at an estimated $115,000." Her dress was so regal, it almost didn't fit inside the royal coach that she and her new husband rode on their wedding day (via Daily Mail).
5% of voters argue that the princess's most iconic outfit was the blue sweatshirt and bike shorts she wore on days out. The way she managed to look so effortlessly regal while wearing such casual outfits proves what a style icon she continues to be. Her blue blazer and white blouse engagement announcement outfit (4%) and her red 'Black Sheep' sweater (4%) were also among voter favorites. It is almost impossible to pick a favorite look when Princess Diana created so many incredible outfits for us to admire. One voter took to the comment section of The List's survey to express what we all feel, "Princess Diana looked fabulous in everything she wore, and wore it with such class and style."