Body Language Expert Illustrates How Donald Trump Is Changing His Tactics For His 2024 Run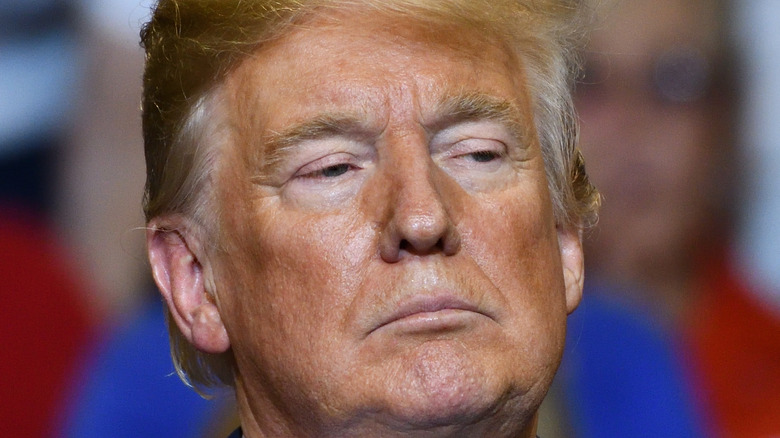 Evan El-Amin/Shutterstock
Donald Trump has just announced that he's running for president for the third time, and according to a body language expert, he's changing his tune in order to nab votes.
"In order to make America great and glorious again, I am tonight announcing my candidacy for president of the United States," Trump confidently said at a press conference at his Mar-a-Lago estate. "Two years ago, we were a great nation, and soon, we will be a great nation again." As expected of the former president, he took aim at sitting president Joe Biden, telling his supporters that the current head of state is the "face of left-wing failure and Washington corruption." He vowed that his successor "does not receive four more years" as "our country could not take that."
Trump also painted himself a "victim," regurgitating his claim that the 2020 election was stolen from him. "We are coming to take those corridors back," he added. "I am a victim." And while he continues to preach his trademark slogan, "make America great again," he also delivered subtle cues that may signal how he's changing his campaign tactics this time.
Jess Ponce III observed that Donald Trump had a 'well-crafted and intentional' announcement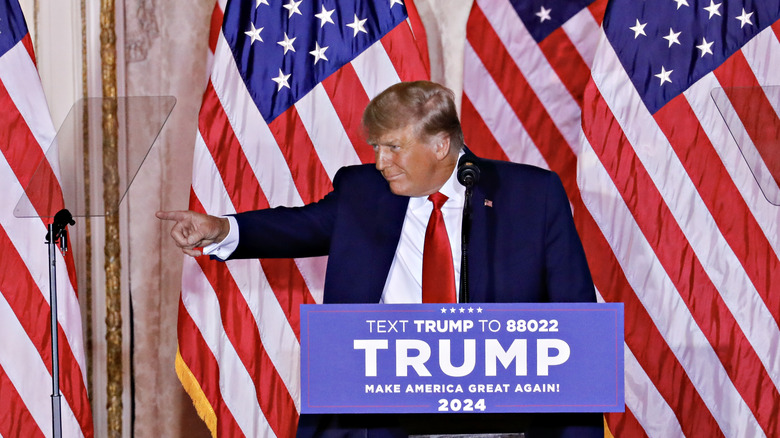 Bloomberg/Getty Images
Donald Trump's actions during his candidacy announcement may suggest that he's changing his campaign strategy. Body language expert Jess Ponce III, author of "A.W.E.S.O.M.E.: 7 Keys to Unlock the Speaker Within," exclusively told The List that instead of looking to his right and left continuously to address the entire audience, Trump chose to "keep his eyes focused in one direction," mostly to the crowd in front of him, and only occasionally switching to sides throughout his speech. These shifts in direction "adds a touch of drama," Ponce said, but not in a way that was overbearing. 
Trump's choice of words was noticeably different, too. He used "we" a lot more compared to his previous speeches, and while he still mentioned a lot of "I," he injected more inclusive language than ever. Additionally, while he remained critical of Joe Biden, Ponce observed that he "seemed well coached" and addressed "Americans" instead of just his fanbase. This overall change in tune was a "strategic choice," he added, saying that it might have been a tactic to "draw attention off" his legal troubles or perhaps an attempt to be more inclusive. Whatever the case, Ponce deemed that it was a "very deliberate, well-crafted and intentional."
It's also worth noting that viewers pointed out Trump's lack of enthusiasm during his speech. ABC White House reporter Kathryn Watson tweeted that he had "more visible energy and excitement in many of his rallies than right now in Mar-a-Lago," while reporter Zack Beauchamp said that Trump "can't even muster up the energy to demagogue well."