Why Many Believe Meghan And Kate's Relationship Is As Icy As Ever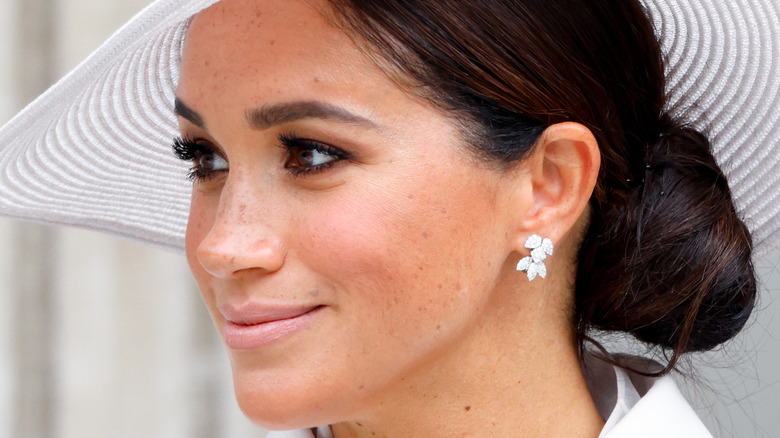 Max Mumby/indigo/Getty Images
We may receive a commission on purchases made from links.
The House of Windsor has been fractured since Prince Harry, Duke of Sussex, and Meghan, Duchess of Sussex, left their roles as senior royals. However, following the death of Elizabeth II, queen of the United Kingdom of Great Britain and Northern Ireland, her feuding grandsons and their wives would be forced to publicly interact. And sometimes, death can put things into perspective and unite a family in grief.
King Charles III appeared to offer his son and daughter-in-law — with whom he also shares a tense relationship — an olive branch in his first sovereign speech. "I want also to express my love for Harry and Meghan as they continue to build their lives overseas," he said. The speech followed Charles' rushing to Balmoral just days earlier, as his mother's health was quickly deteriorating. William, now the Prince of Wales, also traveled to Scotland to be with his family amid Elizabeth's sad passing. However, despite being in London as part of a pre-[planned charity trip, Harry was slower to arrive -- and when he did, he was too late. Harry's inability to say goodbye to his grandmother left him "grief-stricken" and heartbroken. "[Harry] is full of sorrow and regret," a source told Us Weekly. 
In addition, he was there alone. "Tensions were so high, and there was no way Meghan could have gone to Balmoral," a source told Page Six. Another insider told the U.S. Sun that King Charles III was the one who made the controversial decision. "Charles told Harry that it wasn't right or appropriate for Markle to be in Balmoral at such a deeply sad time," they said. "Charles made it very, very clear Meghan would not be welcome."
Harry left the next day, but met William in Windsor with their wives on September 10. According to the Daily Mail, it was the first time they had all been together in public since Commonwealth Day on March 9, 2020. The two couples played nice for the cameras as they mingled with the grieving public. However, many believe Meghan and Kate's relationship is as icy as ever. 
Meghan and Kate's reunion was decidedly chilly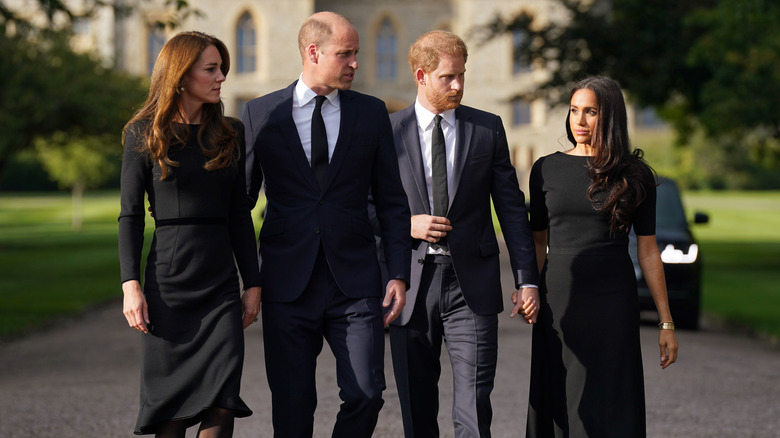 Wpa Pool/Getty Images
Although photos of the highly publicized encounter don't explicitly show said tension, the shared history between the royal women provides some necessary context. When Catherine, Princess of Wales, and Meghan, Duchess of Sussex, met for the first time, they didn't exactly hit it off. The two women are like chalk and cheese; although opposites attract, they can also repel. Kate was viewed as a "British rose"  — she was married to the heir to the throne and took royal etiquette, decorum, and tradition very seriously. Meghan, on the other hand, was a U.S.-born divorcee struggling to adjust to the stuffiness of the British aristocracy and abide by the never-ending list of strict rules the royals have to follow.
"Meghan would agree with the assessment that the duchesses were not the best of friends," authors Omid Scobie and Carolyn Durand wrote in "Finding Freedom." The royal reporters claim Meghan was hurt that Kate didn't offer any support or sympathy after she became overwhelmed by the press onslaught. A source alleged that Kate believed the two had zero in common aside from "the fact that they lived at Kensington Palace."
The lack of warmth between the two women resulted in friction between William, Prince of Wales, and Prince Harry, Duke of Sussex. And it seems Kate's feelings toward Meghan have only worsened over time. Per the Daily Mail, during their September 10 walkabout, the two brothers and their wives "barely interacted." The paper claimed Kate and Meghan "appeared to be avoiding making eye contact" and that Kate kept her distance.