The Reason Donald Trump's Former Assistant Thinks He's Really Running For President Again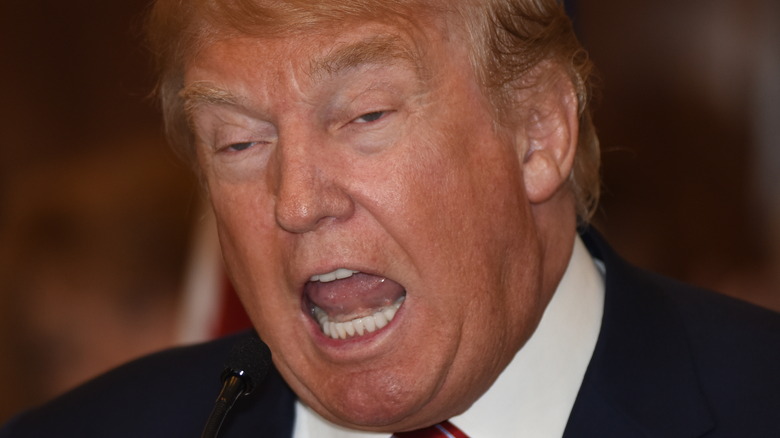 a katz/Shutterstock
Former White House Director of Strategic Communications, and Assistant to Donald Trump, Alyssa Farah Griffin has a plausible theory as to why her old boss is trying to reclaim the Oval Office. On November 16, following months of teasing, Trump confidently announced his 2024 run, citing making America great again as his motivation, unsurprisingly. 
"In order to make America great and glorious again, I am tonight announcing my candidacy for president of the United States," the controversial politician told the gathered crowd at his Mar-a-Lago estate, per CNN. He also took aim at current president Joe Biden, promising that he plans to reverse his most pressing vulnerability: inflation (via NBC News). 
Trump's speech contained many of the same themes as its 2016 counterpart, describing the United States as a "nation in decline" and reassuring supporters that he'll do everything in his power to rebuild it, as reported by BBC News. Trump making big claims is nothing new — in fact, Twitter has one huge question for Trump after his 2024 campaign announcement — but as far as Griffin is concerned there's an underlying reason why he's launched another presidential bid.
Alyssa Farah Griffin claims the former president is trying to avoid indictment
Make America great again or make his criminal record clear again? According to Alyssa Farah Griffin, who notably resigned from her post before the Capitol insurrection and had concerns about her boss from the outset, as she told People, Donald Trump's sole reason for running for office again is to escape his legal woes. On the November 16 episode of "The View" (via Twitter), Griffin revealed that, following his big announcement, "I had a lot of elective Republicans text me and be like 'this is so uninspiring' ... His heart didn't feel like it was in it." 
She continued, "I think he's running frankly to avoid indictment. So I don't expect his heart to be in it ... It's not going to work." Griffin previously informed People that Trump is "wholly unfit" to be president. As for why she ultimately stepped down, the former White House staffer admitted the lies became too much. "When the election lies started being shared, I couldn't put my name to it. I couldn't put my conscience to it," Griffin divulged. "So I resigned. But I didn't forcefully speak out until Jan. 6th, and I haven't stopped since." 
Former New Jersey Gov. Chris Christie told ABC that Trump is likely running because he loves being the center of attention, per The Hill. As for whether the former president has a chance, Christie opined: "We'll see what happens."