Here's What The Royal Family Plans To Do With Years-Old Fruit Cake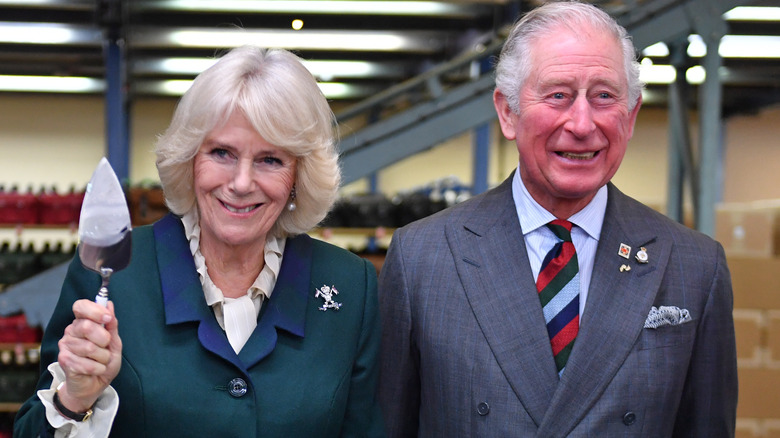 Wpa Pool/Getty Images
In Britain, fruit cake has a longstanding status as a special dessert. "Rich, spicy fruitcakes were served at splendid medieval feasts, and for centuries afterward at important occasions and celebrations such as Easter, Christmas, weddings, and christenings," according to Sidney Mintz's "The Oxford Companion to Sugar and Sweets" (via Vogue). Since it hails from an era without proper refrigeration, fruit cake is preserved by using alcohol, like rum or whiskey. Unlike American fruit cakes, which are decorated with candied fruits and nuts, traditional English wedding cakes are encased in marzipan and iced with royal icing. 
The high alcohol content gives fruit cake a lengthy shelf life, while also tying into other traditions, such as royal baptisms. Guests at Prince George's 2013 christening were served slices from the Prince and Princess of Wales's 2011 wedding cake. "We were always told the cake would be saved for the future," baker Fiona Cairns told Hello! magazine. She added, "After 30 months it's even more delicious." In 2018, William and Kate shared the cake again at the christening of their third child, Prince Louis, per People. 
While some people were surprised by the baked good's age, as one Twitter user noted: "It's a British custom. Fruit cake laced with enough brandy lasts until the end of the world. And will taste just as good/bad as originally." Besides parties, fruit cake's extraordinary longevity has provided another notable opportunity for royal dessert leftovers. 
Historic royal wedding cake is up for auction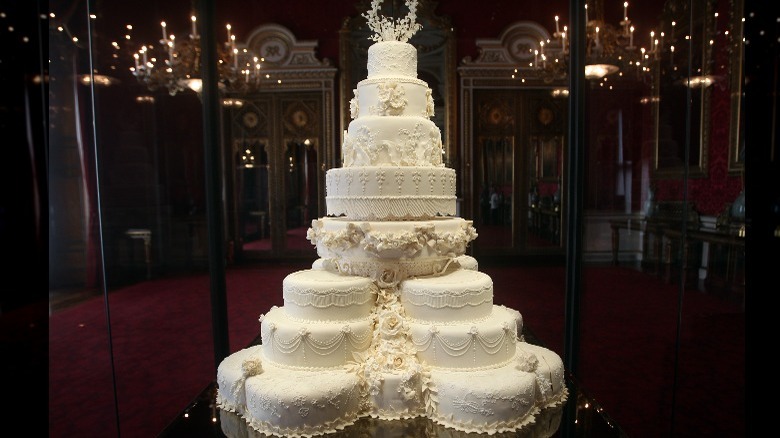 Wpa Pool/Getty Images
On November 23, two slices of royal history will be auctioned by Keys Auctioneers. According to BBC News, the wedding cake pieces are packed in commemorative tins; one is from King Charles III and Queen Consort Camilla Parker Bowles's 2005 ceremony, while the other is from William, Prince of Wales, and Catherine, Princess of Wales's wedding. Each is estimated to sell for £400 to £600 (approximately $475 to $713). 
Each slice is paper wrapped and comes with a royal card. "With the accession of a new King, and with Prince William subsequently becoming the new Prince of Wales, interest in royal memorabilia is very high at the moment, and we expect there to be brisk bidding for these two slices of history," Tim Blyth, Keys' director, told Express.
Baked by Fiona Cairns, William and Kate's massive, 220-lb. wedding cake was meant for display only, per Town & Country. Guest slices, including 4,000 packaged in tins (like the one being auctioned off) were cut from another fruit cake baked by Cairns. Weighing 242 lbs., Charles and Camilla's cake required 36 bottles of alcohol and took 130 hours to decorate. 
In addition, 2,500 slices were also baked for gift tins (via Sophisticake). Keys' auction isn't the only place serving up royal slices. The Memorabilia Club is also selling a piece of the king and queen consort's cake, complete with tin. However, this buy-it-now option is pricier than the upcoming auction at an eye-watering $1,517.53. 
Royal cake prices range from affordable to expensive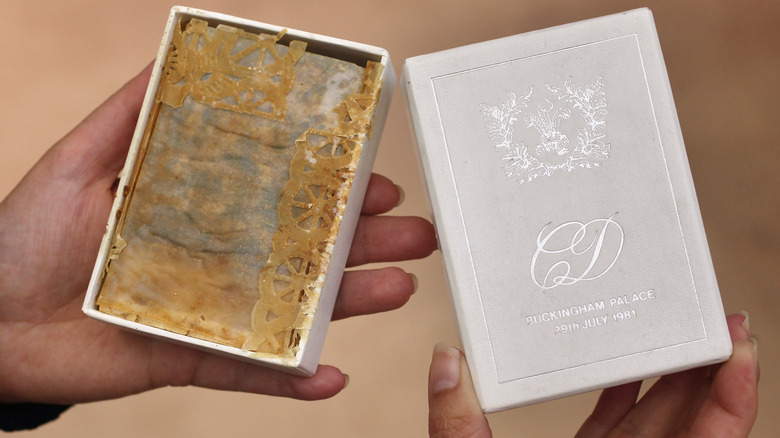 Oli Scarff/Getty Images
Due to a large number of slices, royal wedding cakes have been auctioned off numerous times already. According to Today, in 2014, a piece from the Prince and Princess of Wales's cake sold for $7,500. Over the years, slices of cake from King Charles III and Princess Diana's 1981 nuptials have sold for $190 to $2,500. Encased in plastic wrap, the pricier piece included icing decoration featuring the royal coat of arms, per CNBC. 
However, when it was sold in 2021, the auctioneer cautioned, "It appears to be in exactly the same good condition as when originally sold, but we advise against eating it." At the time, Gerry Layton, the winner of the Charles and Diana cake slice, speculated that he would use it to benefit charity, either through his estate or as a raffle prize (via The Guardian). In May 2022, when Layton offered the slice at a charity auction, he suddenly changed his mind. 
Despite earlier warnings, "After some free champagne, I suddenly got the urge and thought 'I haven't even had a bite of it yet,'" Layton admitted to the Yorkshire Post. To satisfy his craving, he bought the cake back with a £2,100 bid. While he still intends to sell the cake, first Layton wants to take a discrete taste of the portion under the icing. "I don't care if it kills me. It's 41 years old but I definitely am going to have a bite," Layton bragged.