Here's How Much A Slice Of Cake From Prince Charles And Princess Diana's Wedding Sold For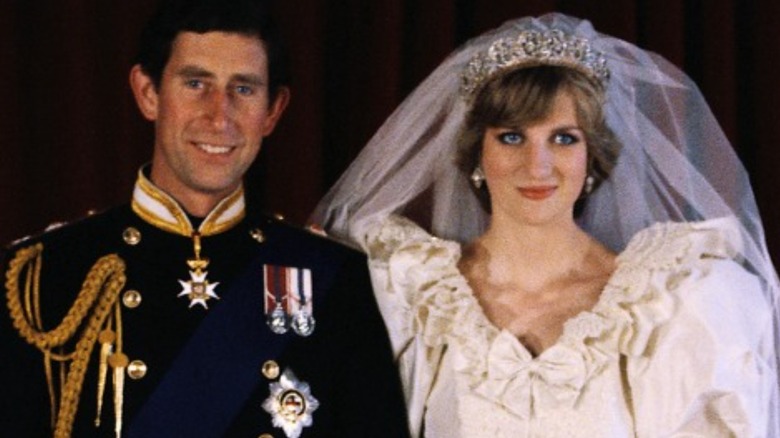 David Levenson/Getty Images
For those who remember it, the 1981 wedding of Prince Charles and Princess Diana was an unmissable event. American viewers woke at the crack of dawn that July 29 so they could watch every detail of the pageantry. The elaborate gown, the ornate carriage, the kiss on the balcony — it was the stuff fairy tales were made of. This made it all the sadder when the couple divorced in 1996 after years of bitter fighting and four years of separation (via History). 
But while this royal marriage didn't go the distance, certain souvenirs of the union still remain. Diana's spectacular Emmanuel-designed wedding gown — 25-foot train and all — is currently on display at Kensington Palace as part of an exhibition on royal style (via Vogue). You can pick up such mass-produced trinkets as mugs, commemorative coins, and tea canisters on eBay for under $20. But some special mementos of the day aren't as easy to come by, and one just sold for what can only be described as a princely sum.
Someone paid a bundle for an inedible cake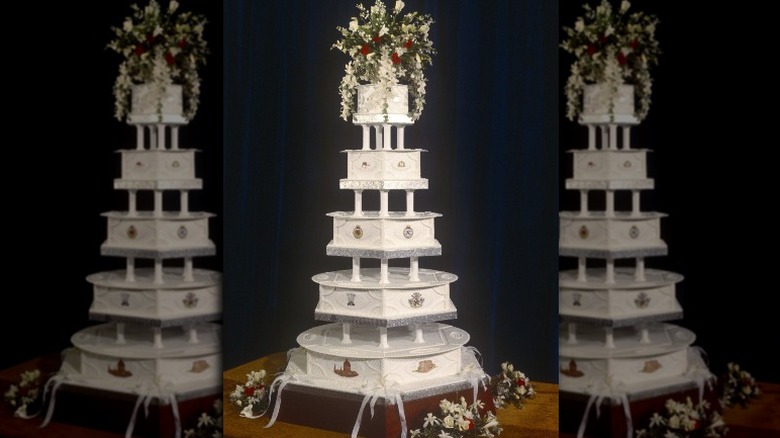 David Levenson/Getty Images
There were a total of 23(!) cakes made for Charles and Diana's wedding (one of which is pictured here). Following the wedding, the cakes left uneaten were distributed among the royal staff. One, which belonged to a member of the Queen Mother's staff, was sold to Dominic Winter Auctioneers, and four pieces of that cake were just sold at auction (via Today). 
Each piece was expected to fetch around $300 to $500 — a sizable enough amount for a four-decade-old marzipan confection that was deemed inedible by the auction house. But a generous buyer paid just over $2,500 for one of the 28-ounce slices, which features the British coat of arms in icing. "It really seemed to capture a lot of people's imaginations, and wallets," auctioneer Chris Albury told CNN. "[The bid] was very unexpected."
The news inspired a lot of snickering and disgust on Twitter. One punster and Potter fan commented, "That's a horrocrux." Another sighed, "Rich people will really buy moldy inedible food before lifting a finger to help people in need." Naturally, a number of "Seinfeld" fans reminisced about the classic episode (seen here) in which Elaine eats the slice of King Edward's wedding cake that her boss bought at auction. Here's hoping the buyer of the Charles and Diana cake doesn't make the same mistake; as J. Peterman noted, the gastrointestinal effect of eating a very old cake would be quite a punishment.