Baby Curtain Bangs Are The Edgiest New Hair Trend Of The Season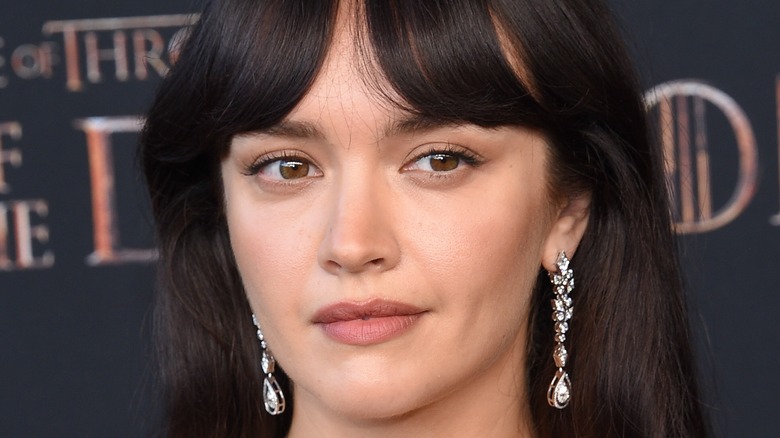 DFree/Shutterstock
We may receive a commission on purchases made from links.
In many ways, bangs are a timelessly classic hairstyle. The kind of bangs, however, is not timeless. Bangs have changing styles just like any other beauty trend, and lately, in particular, bangs have been all the rage. Most notably, curtain bangs have been the fringe of choice among celebs and beauty gurus, alike. Now a new bang bombshell has arrived on the scene, and it's giving curtain bangs a little extra edge. The trend is called baby curtain bangs, and A-list it-girls like Olivia Cooke and Tessa Thompson have deemed this daring 'do worthy of their trendsetting tresses (via Byrdie).
Like the love child of the baby bangs (aka micro bangs) of yore and the curtain bangs of the past few seasons, baby curtain bangs need to be tweaked to work for every face shape and hair type. You'll need some styling tools and plenty of confidence to rock this trend, but we'll tell you just how to make it your own and sport hair that's effortlessly in.
Why you should try baby curtain bangs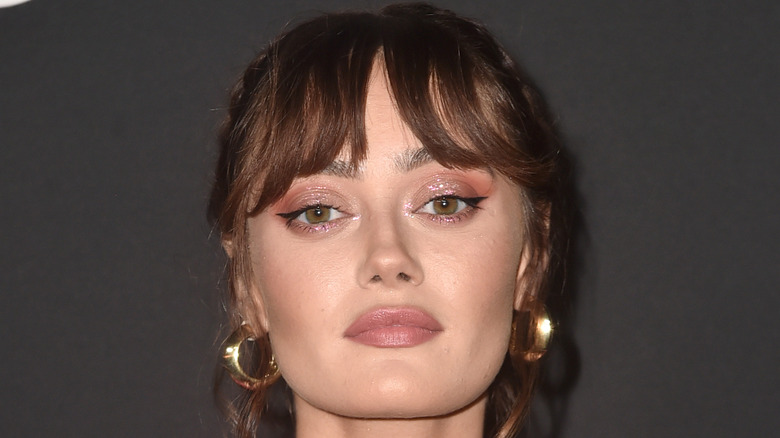 Alberto E. Rodriguez/Getty Images
Who among us isn't ready for a change this time of year? Autumn is the season of change, after all. When it comes to reinventing ourselves, there's often no method more tempting than changing our hair. Baby curtain bangs have arrived just in the nick of time, and we think they're the perfect hair transformation. Curtain bangs are easier to style than other types of bangs. There's much more room for waves and tousled strands than the classic, Zooey Deschanel straight-across fringe. Baby curtain bangs share this effortlessness with long curtain bangs, but their extra cropped look makes a much bigger statement (via Byrdie). Don't be afraid to cut some baby curtain bangs just because your hair isn't pin-straight. Curly bangs with lots of texture have become especially popular (via Harper's Bazaar). This goes for baby curtain bangs, as well, and they add shape to your curly cut.
Baby curtain bangs give your hair a more styled look without having to do much. Trimming a little fringe can give you the hair change you may be seeking without making a huge commitment and losing a lot of length with the big chop-chop. Since they have a more tousled look, baby curtain bangs will give you less room for error when trimming than blunt bangs. Plus, if you decide that baby curtain bangs aren't for you, it doesn't take long to grow these babies out to longer curtain bangs and then long layers. 
How to cut and style baby curtain bangs
Once you've cut your bangs, you'll need to know how to style them for everyday. Celebrity hairstylist, Jay Small, told Byrdie that the trick is to ask for graduated baby curtain bangs. This means that your bangs will get longer toward the sides, and this will ensure that your bangs stay voluminous. Baby curtain bangs look great with a bob or longer, layered locks (via Mane Addicts). You can cut them to the brow or above if you're feeling particularly fashion-forward. Just keep in mind that your bangs should go with the natural flow of your hair and should take your curl pattern into account. 
When it comes to styling your bangs, start with the right products. Small says "an oil-free primer with panthenol can be helpful to draw moisture to the hair strand, adding density and flexibility. A powder dry shampoo is also important after styling on dry hair to control oil and further maintain the style." Use a blowdryer with a round brush to style your bangs, or invest in an all-in-one tool like this one for fast styling. Small recommends drying thoroughly from root to tip. Finally, he says, "find your part and comb the two sides into place, then use a flat iron and comb to gently bend the ends in and toward the corners of the cheeks." And, voila! You've got the trendiest hair of the season with minimal effort, and we can all get down with that.