Donald Trump's Legal Troubles Are Still Going To Be At The Forefront Despite Re-Election Bid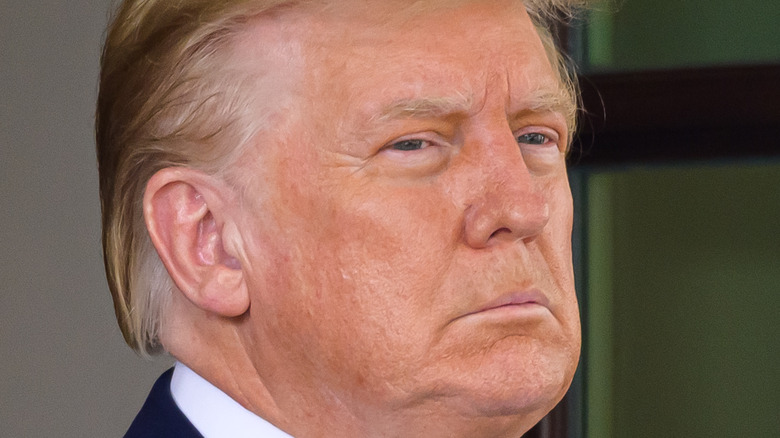 noamgalai/Shutterstock
Donald Trump had been involved in at least 3,500 legal actions spanning multiple decades when he kicked off his first campaign for president in 2016, per USA Today. Now, Trump's current legal troubles will continue through his third bid for the presidency. 
Former Justice Department prosecutor Michael Weinstein told the AP, "I don't think the department is going to hesitate as a result of Trump nominating himself and anointing himself as the first candidate in the 2024 election." 
Trump faces federal investigations for his involvement in the January 6, 2021 attack on the Capitol. He is also being investigated for the alleged transfer of hundreds of classified documents to his private residence at Mar-a-Lago, which were recently seized by the FBI.
Trump also faces a handful of state and civil lawsuits, including an investigation into whether or not Trump or his political allies tried to overturn 2020 election results in Georgia, and a New York lawsuit alleging that Trump and the Trump Organization at large committed tax fraud that spanned at least an entire decade. 
Trump is also being sued by several members of the Capitol Police, who alleged that Trump "incited" the riot — the attack on the Capitol in which 5 people died — with his rhetoric. E. Jean Carroll has also sued Trump for defamation after he denied her claim that he raped her. He was deposed in October. Trump also received good news in his Mary Trump lawsuit amid his presidential run. 
Even as a presidential candidate, Donald Trump is still a private citizen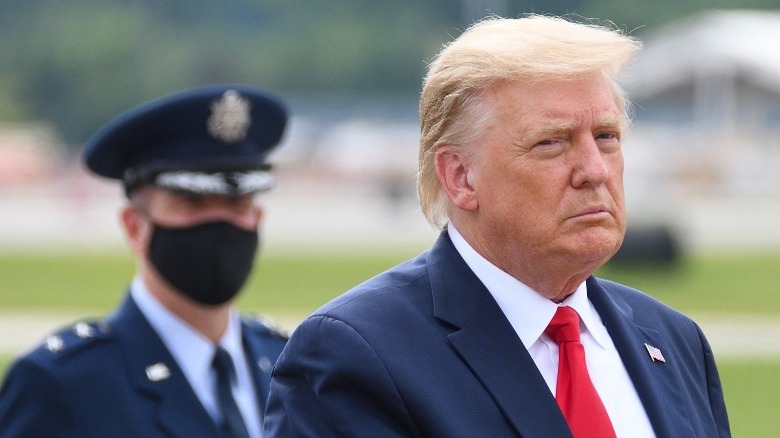 Evan El-Amin/Shutterstock
As a presidential candidate, Donald Trump is still a private citizen, and thus entering the presidential race "gives Trump no legal protection from criminal prosecution for crimes committed during or after his presidency," law professor Mark Osler told Politifact.
Sitting presidents cannot be prosecuted by the federal government, but Article I, Section 3, Clause 7 of the Constitution holds that "former presidents can be indicted for actions undertaken during their presidency." PBS notes that the Justice Department usually avoids prosecuting candidates during the pre-election run-up, but that no formal rule prevents them from breaking their usual protocol.
Whether or not Trump was acting in a role that falls within his official duties as president or outside of them is a key factor in determining the future of the case surrounding the January 6, 2021 attack, per CBS. While Trump has cited his right to "absolute immunity" as president to avoid facing charges, absolute immunity only applies to "private suits for damages challenging conduct that falls within the 'outer perimeter' of the president's official responsibility," per Law Fare. "A president therefore does not enjoy absolute immunity for his unofficial acts."
Trump failed to comply with a subpoena connected to the case earlier this week, per NBC News, after filing a lawsuit that the subpoena "intrudes on executive privilege" Trump believes he is granted, per Politico. With the lawsuits hanging over him, Donald Trump's reelection bid is already losing major supporters.