Dustin Milligan Says Working With Kristen Bell 'Exceeded Expectations' - Exclusive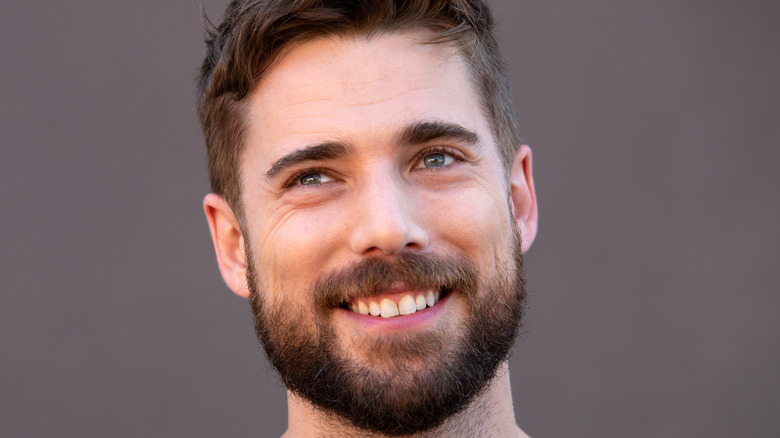 Amanda Edwards/Getty Images
You may know Dustin Milligan for his role as Ted Mullens in "Schitt's Creek" or for playing Chris in "A Simple Favor." The actor is now starring alongside Kristen Bell, Allison Janney, and Ben Platt in Prime Video's "The People We Hate at the Wedding." The film centers around a lovable and funny but dysfunctional family coming together for a wedding in the English countryside. Milligan's character, Dennis, gets caught up in some of the drama after meeting Bell's character, Alice, on her plane ride to the wedding. The film was shot on location in London, which makes the perfect backdrop to watch all the family drama unfold in this hilarious, heartfelt, and raunchy family comedy.
Speaking to The List in an exclusive interview, Milligan opened up about his experience while shooting the film. He was particularly excited to work with such an impressive cast and shared what Kristen Bell and other cast members were like behind-the-scenes.
How Kristin Bell exceeded expectations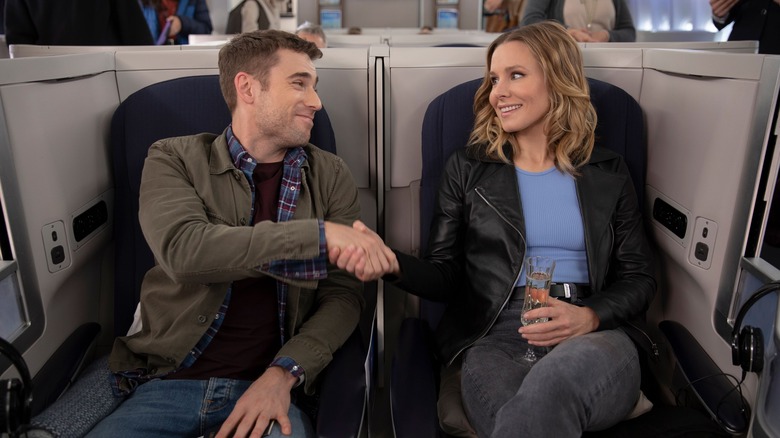 Amazon Studios
Dustin Milligan was excited to work with the whole cast of "The People We Hate at the Wedding." As Kristin Bell's love interest in the film, most of his scenes are with her, and he was looking forward to acting with someone he respected so much. But, going into filming, he also had some apprehension. 
"I was a huge fan (of Bell) beforehand," he told The List. "you're always a little nervous about what you're going to get once you're on set and [find out] who this person is actually going to be in real life." As a fan he was nervous he might be disappointed with their actual interactions. Fortunately, she "exceeded expectations in every way," Milligan said. "[Bell] is truly lovely, genuine, caring, and a wonderful scene partner."
Describing working with her, Milligan said, "she's such a professional and so on it and ready to play. [She's] very game for finding all these little moments in between lines." That attitude made it easy to work with her and to build up the romantic chemistry between their characters.
Milligan was ecstatic to work with the entire cast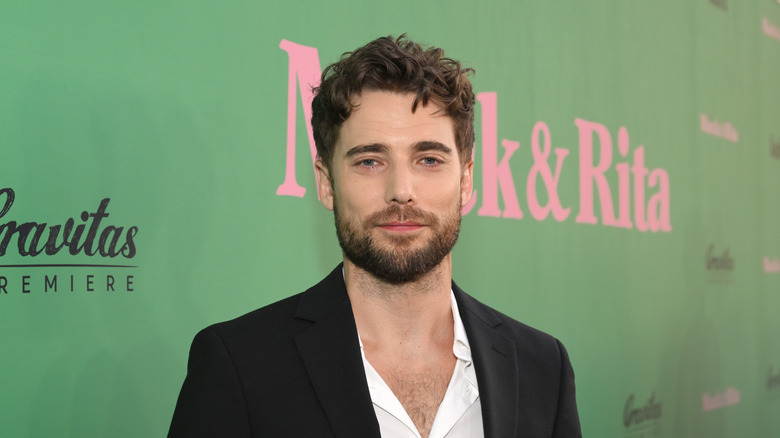 Michael Kovac/Getty Images
Between Kristen Bell, Ben Platt, and Allison Janney, "The People We Hate at the Wedding" has quite a star-studded cast. Dustin Milligan described the experience of working with the three of them, saying, "it was nice because all these people are so accomplished and so good at what they do, and little old me is there sitting in the corner, just excited to be there." 
Milligan related the experience of working with them back to his character. He plays Dennis, who is introduced to the film when his plane ticket is upgraded to first class, and he is blown away by the prospect of sitting there. Milligan compared that to his own feelings. "I very much was experiencing that by being in London and being on this wonderful movie with this incredible cast that I just couldn't believe I got to work with," he said.
Milligan added that while he was impressed by the cast, they were all down-to-earth and easy to socialize with normally. "I never felt like an outsider and was always a part of the team," he said. "We were joking around and having a lot of fun. Then, when we were all super tired, we were sitting there not saying anything, which is the norm, and nothing was forced, which I always appreciate."
"The People We Hate at the Wedding" is launching globally on Prime Video on November 18.