How To Replicate Dove Cameron's Smokey Eye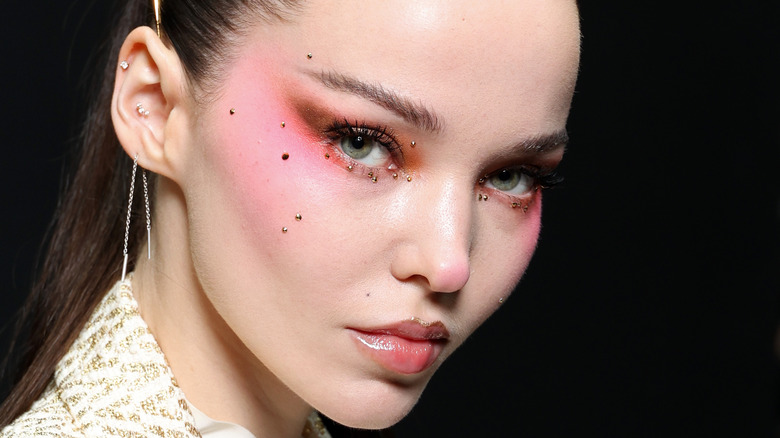 Pascal Le Segretain/Getty Images
Dove Cameron has undergone a stunning transformation since her Disney days. She's shared everything from the truth about her everyday skincare routine to her struggles with identity, proving she's both a fun and relatable celebrity. Her glowing skin and on-point makeup never fail to turn heads. In a video with Vogue, Cameron shared how much she enjoys the process of getting ready.
"I can go anywhere from [my everyday look] on a daily basis to slight fresh glam to full beat," she said. "I'll take like three hours to get ready to go out, and sometimes that's really fun."
Her love of makeup definitely shows. Dove Cameron's smokey eye has taken TikTok by storm. Her dramatic winged eyeliner and moody eyeshadow are absolutely stunning. The good news? It can be recreated at home. With proper preparation and the right technique, you can look like you just stepped off a photo shoot.
Eyeliner will create the perfect smudge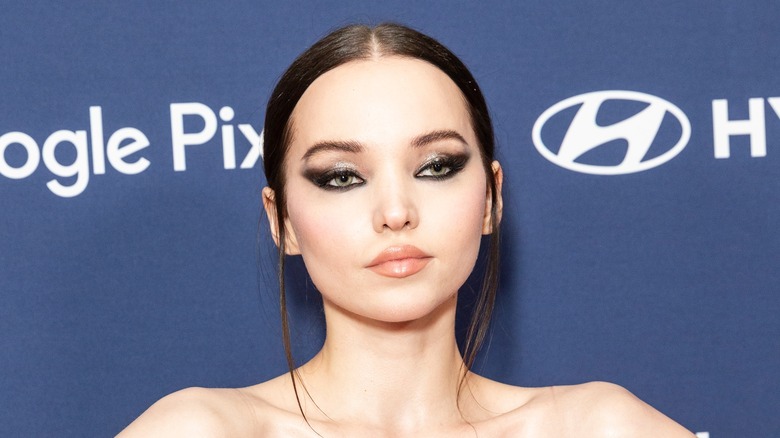 lev radin/Shutterstock
If you like the darkness of Cameron's smokey eye, YouTuber Bailey Sarian achieves the look with only two shadows. Right before she applies the eyeshadow, Sarian uses a dry beauty blender to pat a large amount of setting powder right below where she wants the shadow line to end. This will protect your makeup from any sprinkles of eyeshadow. Then, she works on crafting her smokey look.
"If you struggle with getting a really dark black eyeshadow, put a black eyeliner down first and then a black eyeshadow over it," says Sarian (via YouTube). "It will be the darkest black you can find."
Hung Vanngo starts his look the same way: with a black liner underneath. He begins by applying a cream liner, then sweeping it out in a cat eye shape. This is where you can customize your wings. Then, he loops the liner around the inner corner and half the lower lash line before blending it out.
Shadow and lashes finish off the look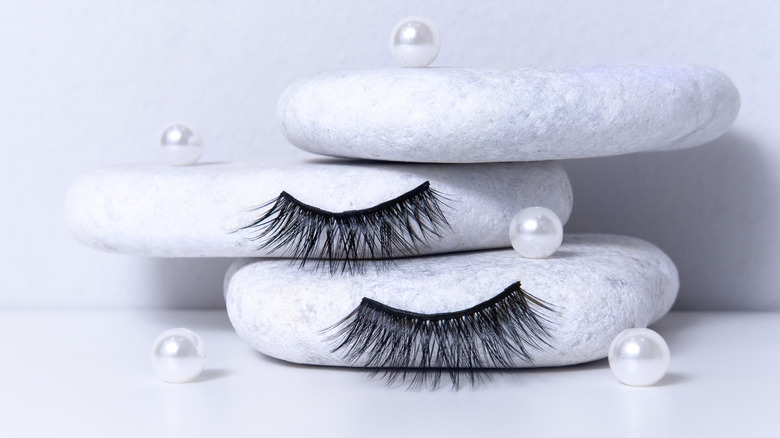 KaryB/Shutterstock
Now, find your favorite black eyeshadow. Make sure you've customized your liner to be the exact shape you want because the shadow will set the liner in place.
"I'm going to put all black here to set the pencil that I smudged out earlier," says Vanngo (via YouTube). "I trace back the shape that I created earlier. It's not about being too perfect. A little smudge is nice."
After the liner is set, it's time for the glitter. Vanngo goes in along the top edge of the eyeliner smudge with a dazzling shimmery shadow. After that, you can apply false lashes. Fortunately, there are special ways to apply falsies that will help you get that dramatic cat eye.
Pamela Estephan cuts her falsies in half, keeping the outer corner part of the lash (via YouTube). Then, she applies them in a slightly upwards direction, with the edge going a little farther out than her actual eye. This helps elongate the eye and will help you get Dove Cameron's cat eye.
With these tips, you'll have a glam smokey eye in just a few minutes. Just watch out for these smokey eye mistakes!