The Best Ways To Style Your Favorite Headband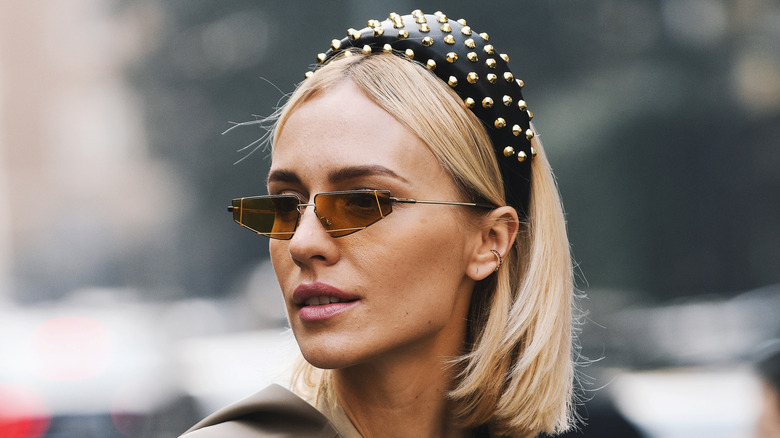 Creative Lab/Shutterstock
If you tossed all your headbands once you left school or threw them toward the back of your closet next to your hair bows and plastic hair barrettes, you aren't alone. You most likely wore headbands when you were a child and probably thought you outgrew them for good when you became an adult. Well, think again, because many classic childhood hair accessories from butterfly clips to bandanas have made their way back onto the gorgeous heads of trendsetters everywhere, per Stylist — and one Y2K staple piece that is now very much back in style is, you guessed it, the headband.
Headbands were all the rage in the early 2000s, added to nearly every look, per Nylon. Whether strategically placed on the head for sheer decoration or used to pull back the trendy side-swept bangs, headbands were a versatile hair accessory that could be worn in several ways. Well, a lot has changed since the early aughts, but thankfully styling a headband isn't one of them. Don't remember how it's done? We rounded up the best ways to style your favorite headband, no matter the vibe you're going for.
The options are endless when styling your headband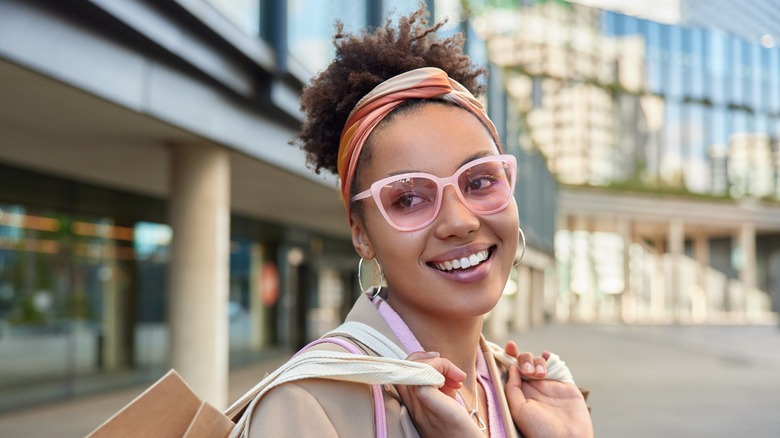 Cast Of Thousands/Shutterstock
Headbands come in many shapes and styles, from thin and plastic to thick and padded. The good news is that most are incredibly versatile. Have a favorite headband that you're dying to wear? All these styling ideas work for any type, so you're in luck.
The classic way to wear a headband, according to Byrdie, is simple, straight, and chic. After straightening your hair, place your headband on your head by starting at your hairline and pushing the hair back. This creates a sophisticated and timeless look. The headband can also be placed in the center of the top of the head, allowing your bangs to lay flat around your face. For a fun look, opt for a print that contrasts with your hair, so the headband pops. 
Securing it over a simple middle part is also a cute way to style your headband, with your hair curly, straight, or in a ponytail or bun (via Seventeen). Short-haired girls aren't going to miss out on this hair trend either, as headbands dress up any length of hair. A thin headband works great for those with pixie-style cuts or shorter, but even a thick headband will look super cute and "retro" while placed directly on the top of the head (per Woman and Home).
What outfit should you wear with a headband?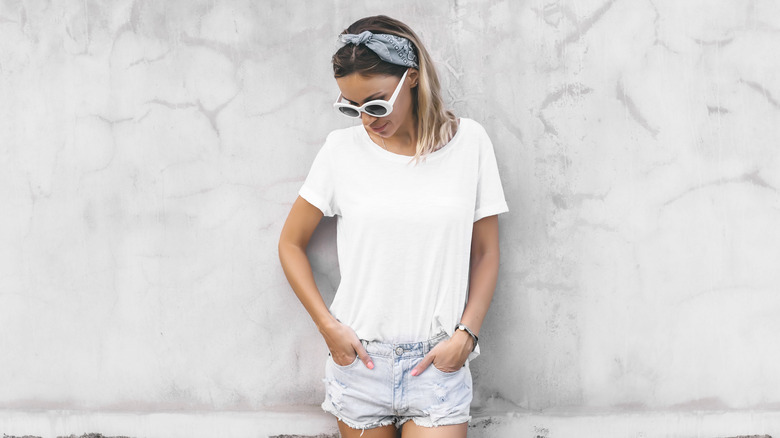 Alena Ozerova/Shutterstock
Whatever your go-to style is, headbands can elevate almost any look. Wondering what outfits look best? Don't overthink it — you'll be happy to know that there are no rules when it comes to outfits that pair well with a headband. You can literally wear any fit and rock a headband at the same time (per InStyle). A fun and colorful headband is a great way to spice things up if you're wearing a "boring" outfit, like jeans and a plain top. If wearing a simple dress, pairing a headband with drop earrings and a beaded necklace will also amp up the look.
One of the simplest ways to match a headband with your outfit is to literally match it with your outfit. Finding a headband color and fabric that identically compares with your ensemble certainly elevates any look, adding a bold twist to an otherwise ordinary outfit, per Glamour. On the other hand, don't be afraid to experiment with different prints regardless of the pattern on your fit, as mixed prints and designs are super eye-catching and trendy (via InStyle). Before you run to your closet to dig out those old headbands, pull out your entire hair accessory collection while you're at it because scrunchies are definitely back, too.