What To Know About The Washed-Denim Eye Makeup Trend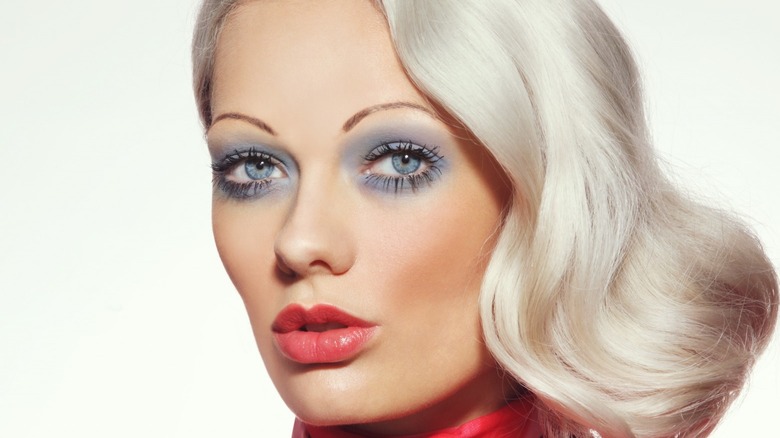 Olgaecat/Getty Images
We may receive a commission on purchases made from links.
We've seen plenty of trendy eye makeup lately, including the two-toned eyeshadow look and the viral TikTok makeup trend for standout lashes. But if you're looking for a new way to express yourself that's seriously cool, one new look has got you covered.
Taking inspiration from your favorite pair of denim jeans, the "washed denim" makeup look features a cool-toned, pastel blue shade all over the eyes, with minimal additional makeup. The effect is rather monochromatic — a look that belongs on the pages of a glossy magazine. Per Popsugar, this can be considered an "elevated neutral" eye look with slightly more interest than an everyday style, but still simple enough to pair with many different outfits.
Per V Magazine, blue eyeshadow first started trending in the 1960s. Prints by Andy Warhol of superstar Marilyn Monroe in 1962 and former First Lady Jackie Kennedy in 1964 also featured the two fashion icons with blue lids. Elizabeth Taylor famously donned blue eyeshadow in her role as "Cleopatra," released in 1963 (per IMDb). Since then, blue eyeshadow has gone through many different transformations over the decades.
Cat Quinn, executive director of trends for MAC Cosmetics, told Popsugar: "We're in the middle of a denim revolution," where even light wash jeans have become nighttime attire. The chic look has been seen on Kendall Jenner, Quannah Chasinghorse at the 2022 Met Gala, and Adwoa Aboah. 
The look is super easy to recreate at home — here's how you do it.
One special shade of blue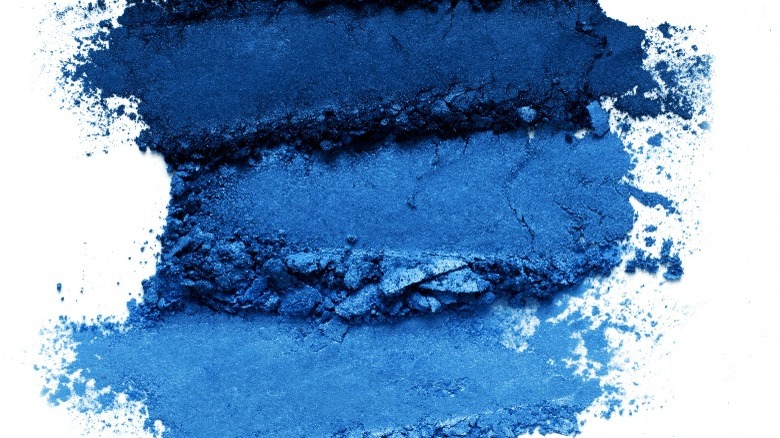 Irene_A/Shutterstock
What's so fun about this makeup trend is that it takes just one special shade of blue to come alive. That's it! Cat Quinn walked Popsugar through the steps: "Use your finger or a brush to sweep it onto your lids, blending just past the crease and along your lower lash line," she said. Quinn also suggests keeping the rest of the face makeup simple. For example, you can finish the eye look with just mascara, keep the skin looking dewy and natural rather than matte, and opt for a neutral lip. Otherwise, she quips, you might inadvertently take the look into "'80s ice-skater territory."
Despite its simplicity, there are a variety of ways to experiment with this makeup so it best suits your style. Choosing an icy, metallic blue might be easiest to work with those trying the look for the first time. This shimmering shade in "Astral Blue" from Sephora is spot on. Should you gravitate toward a matte or satin washed-denim look, it is a good idea to first prime the lids, either with concealer or a shadow primer, to ensure that color pops how you want it to, celebrity makeup artist Robert Sesnek tells Bustle. (Not to mention, the look will likely last longer.) This satin shade from Dior is literally named "240 Denim," so you know it will be on point. Like styling a pair of blue jeans, it's up to you to make this look your own!