This Two-Toned Eye Shadow Look Is Predicted To Be On-Trend For Spring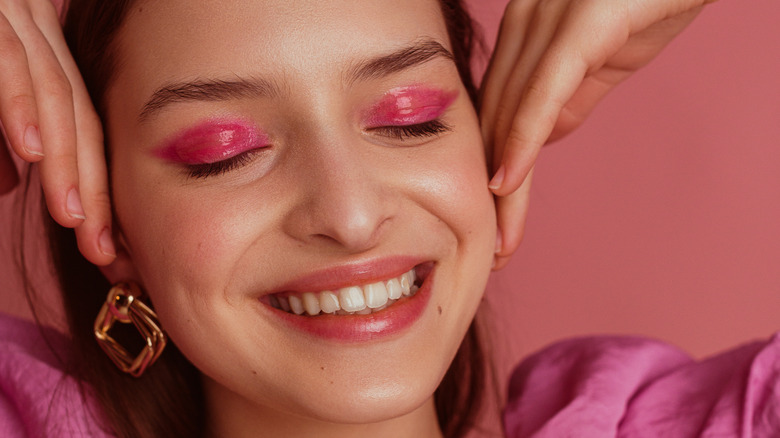 Victoria Chudinova/Shutterstock
New beauty trends come out every single day. It's actually kind of amazing how fast different makeup looks come and go. Thanks to TikTok and Instagram constantly bringing celebrity trends into the public consciousness, it can be challenging to juggle varying beauty trends. But as it turns out, there's a way to look into what the hottest beauty trends will be each season. As crazy as it may sound, our intel from WhoWhatWear points to two-toned eyeshadow cropping up everywhere this spring. In other words, it's time to get creative.
Two-toned eyeshadow is exactly what it sounds like. You wear two different eyeshadow shades — one on each eye. Your technique for how to apply the shades is exactly the same, and the only thing that changes is the color. While this trend may sound like it favors the bold, it's actually surprisingly wearable, especially since you can put your own spin on it. So, whether you're extremely indecisive, or just looking to wear all your favorite eyeshadows at once, this trend is pretty amazing. Keep scrolling for some inspo, so that you can rock the two-toned look with confidence this spring.
Mix-and-match eye looks are in for spring 2022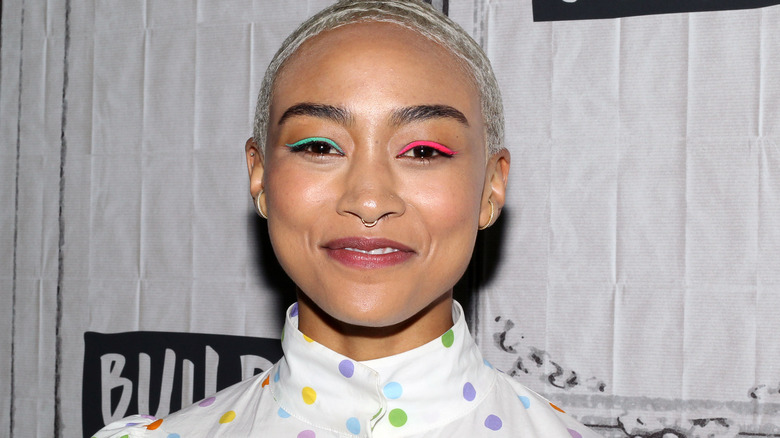 Jim Spellman/Getty Images
Have you ever been getting ready in the morning and wished that you could just wear all of your favorite eyeshadow shades at the same time? Well, spring's two-toned makeup look will make that possible. To emulate the trend, simply pick two of your favorite eyeshadow shades and apply a different color on each eye. There is no catch and there are no rules. You can rock the trend however you feel comfortable.
But, if you're really looking to nail the look this spring, you may want to err on the bold side. "Two-toned eyeshadow looks (easy and practical), especially seen in matte pastel and glitter, will be trending this spring," Creative Director of Bodyography Professional Cosmetics Lori Leib tells WhoWhatWear. "What's best about eye makeup these days is that anything goes. It's the perfect season to break out that palette and play with shapes, texture, and color." That means glitter, pastel color, and mix-and-match eyeshadow, all in the same season. If being the manic pixie dream girl has always been your dream, this is your time to shine.
Two-toned eyeshadow is surprisingly wearable for everyday
This trend can seem pretty intimidating. If you're someone that typically sticks to natural eyeshadow looks, then the words "glitter" and "mix-and-match" probably aren't the most comforting. But you can breathe easy knowing that you have total creative freedom to make this look your own. Actually, it might just be the best part about the trend. If you're not looking to go too bold, try a two-toned shade that's in the same shade range. Matching pink eyeshadow with a purple color is subtle, yet it still nails the look. Alternately, you could choose to go bold with two wildly different colored eyeshadows. Either way, there's plenty of time to play around with the trend all season long.
In good news for all of us, two-toned eyeshadow is surprisingly flattering. "I thought I would really dislike two-toned makeup on myself, but I am actually way more into it than I thought," WhoWhatWear's Katie Berohn wrote for the outlet. "I would do this look for a fun night out." Moral of the story? It's time to step out of your makeup comfort zone. You never know what trend you'll end up loving.