The Top Essential Oil Diffusers Of 2022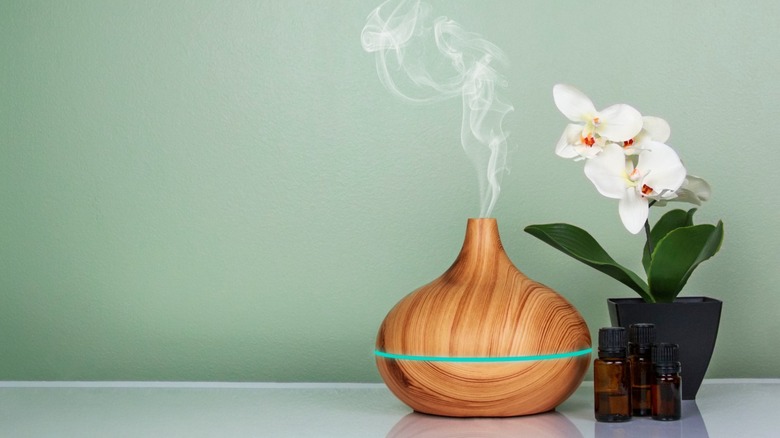 Denise E/Shutterstock
We may receive a commission on purchases made from links.
Essential oil diffusers are lauded by many as a miracle product. For starters, diffusers are one way to facilitate aromatherapy, which comes with a plethora of benefits. From that added burst of energy while you work from home to facilitating peaceful relaxation or stress relief before bed, diffusing essential oils in your space can work wonders for your well-being. Aromatherapy can also aid in sleep quality, reduce stress, manage pain, and even boost your immune system, per Healthline. It works like this: The scent, which is most often a plant or flower extract, sparks your olfactory nerves, which in an instant affects your brain and emotions, per Hopkins Medicine. Diffusers also make beautiful home or office decor (or, of course, home office decor!)
As such, finding an essential oil diffuser that is up to snuff is of the utmost importance to any essential oil enthusiast. There are a range of features to consider when choosing your perfect diffuser: price is one of them, so is size, custom settings, mechanization of diffusion, and of course, aesthetics. We have gathered a few of our favorites of 2022 for your smelling pleasure.
You can't go wrong with either of these essential oil diffusers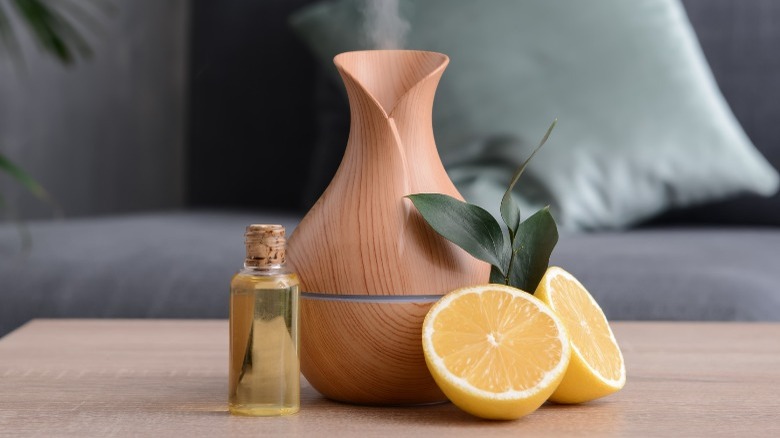 Pixel-Shot/Shutterstock
Included on both the HGTV and Wirecutter lists of best essential oil diffusers, the Asakuki Essential Oil Diffuser is tested and true. With more than 35,000 product ratings on Amazon — the vast majority of them five stars –this diffuser is a crowd favorite. One of the best parts about this diffuser is its price; now on sale for $22.09, this diffuser is wonderful for beginners who are getting started with essential oils. 
Some other specs: The Asakuki is BPA-free (BPA has been researched for its potentially harmful effects); includes a 500-milliliter water tank, and uses an ultrasonic mechanism to diffuse the oils. It also comes with seven different "mood lights," per its Amazon description, to create the desired ambiance in your space. It is also highly customizable and comes with both timer and mist strength settings.
For a kindred but less expensive option, the InnoGear Essential Oil Diffuser is a mini oil diffuser (and Amazon best-seller) that also comes with LED light options but does not have timer settings. For the sale price of $15.99, however, you may be persuaded to compromise. Keep in mind that with a 100-milliliter tank, this diffuser will work best in one spot, but might not fill up your whole room.
These options combine tech and natural features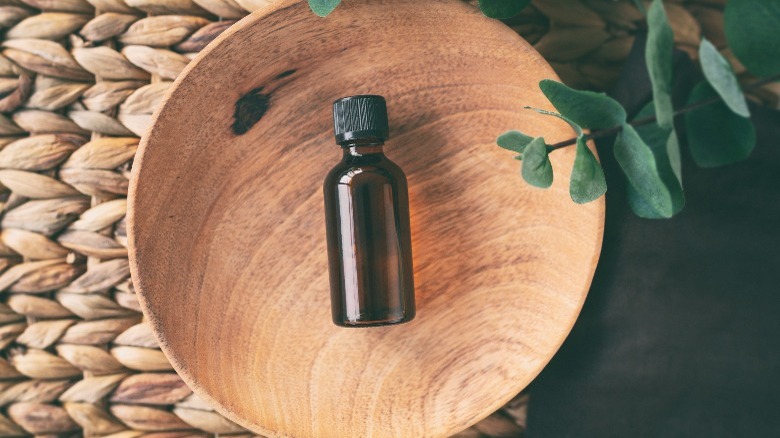 Maridav/Shutterstock
Should you be looking for a diffuser that focuses less on tech, look no further than the Vorda Wood Diffuser. Cordless, heatless, and completely natural, these diffusers are made of four different kinds of wood, each with a different price: Japanese cypress ($39), German beech ($45), Canadian walnut ($56), and African rosewood ($66). It's shaped like a bottle with a carved basin on top, so you drop your favorite essential oils right onto the basin. The oil is released from the diffuser as it melts into the wood, and lasts for several hours, depending on the kind of wood your diffuser is made of, according to the Vorda website. We love its down-to-earth aesthetic value and its simple, all-natural qualities. Vorda also makes a mini, flower-shaped wood diffuser for the car or any small space, like a bathroom, from $14 to $17. Just make sure your essential oils are compatible with the wood for the most potent effects.
Combining the best technological features and the best natural elements, the Vitruvi Stone Essential Oil Diffuser might be the priciest of our picks at $123, but it is a cult favorite amongst essential oil enthusiasts. Featuring a ceramic cover that comes in 12 different varieties, the Vitruvi is known for its beautiful and functional design. It comes with two timer settings, four and eight hours, and a subtle night light around the base for a serene glow. Vitruvi also sells essential oil scent kits to further curate immaculate vibes with your diffuser. We hope you waft your troubles away.