Queen Camilla Hangs Out With The Spice Girl Who Once Kissed King Charles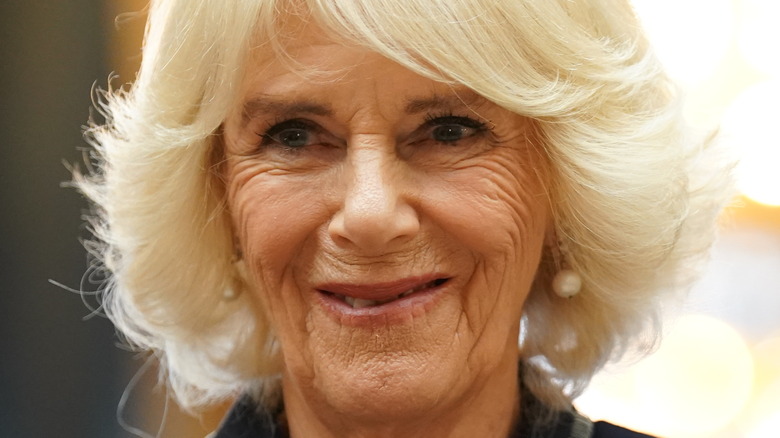 Pool/Getty Images
Queen Consort Camilla has connections to some of the biggest names in music history. The Daily Mail revealed that Camilla has distant family ties to both Madonna and Celine Dion. Besides being tenth cousins with the two singers, Camilla also is distantly related to Justin Bieber and Shania Twain. Genealogy aside, Camilla's work as a senior royal provides her with opportunities to work with celebrities.
The queen consort has enlisted star power to work with her on causes that are close to her heart. Camilla is a staunch literacy advocate, whether she's promoting reading through her book club, The Reading Room, or through her work with Royal Commonwealth Society's essay competition. "The written word has a unique ability to connect, to heal, to reassure and to offer hope, even in the midst of grief," Camilla said during her first speech as queen consort, referencing the messages the palace received after the heartbreaking death of Queen Elizabeth II (via BBC). For the essay competition, Camilla partnered with celebrity ambassadors like broadcaster Gyles Brandreth and X Factor winner Alexandra Burke to promote the importance of writing. The competition also gave Camilla a chance to reconnect with another celebrity ambassador from the Society — a '90s girl power icon.
Spice Girl Geri Horner hugged Camilla at Buckingham Palace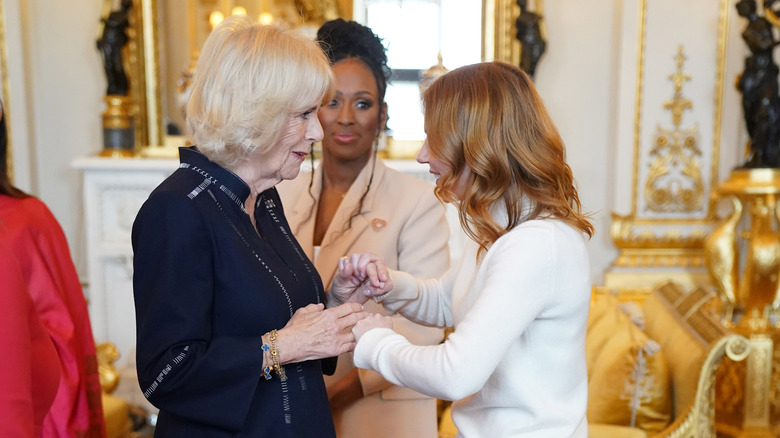 Pool/Getty Images
As reported by the Mirror, Geri Horner, who rose to fame as "Ginger" of the Spice Girls, visited Buckingham Palace for a celebration of the winners of the Queen's Commonwealth Essay Competition. Horner greeted Queen Consort Camilla with an affectionate hug and clasped hands while they chatted. The pop sensation became a Royal Commonwealth Society ambassador in 2020, per Fox News.
Horner was also a guest at the 2021 event. A Daily Mail video shows Horner and Camilla greeting each other with kisses on the cheek. When Horner asked about the then-Prince Charles, Camilla described her husband as "fine" and "a complete workaholic." In response, Horner recalled a book, saying, "they say the key to living a long life is carry on working — don't retire, that's the key."
In her analysis of their 2021 meeting, body language expert Judi James said, "There's several signals of established and even close friendship from Geri here, who greets Camilla with an air of open familiarity," per Woman & Home. The former Spice Girl was even more informal when she first met King Charles III in 1997. "I think you're very sexy," Ginger Spice told Charles before kissing his cheek. Although not visible in the YouTube clip, the Daily Mail alleged Horner also pinched his backside. Horner set the record straight in 2016 when she told The Times, "I patted it." She admitted the gesture "was against royal protocol but we're all human."