Royal Expert Explains The Reason Why King Charles' Relationship With Meghan Markle Went South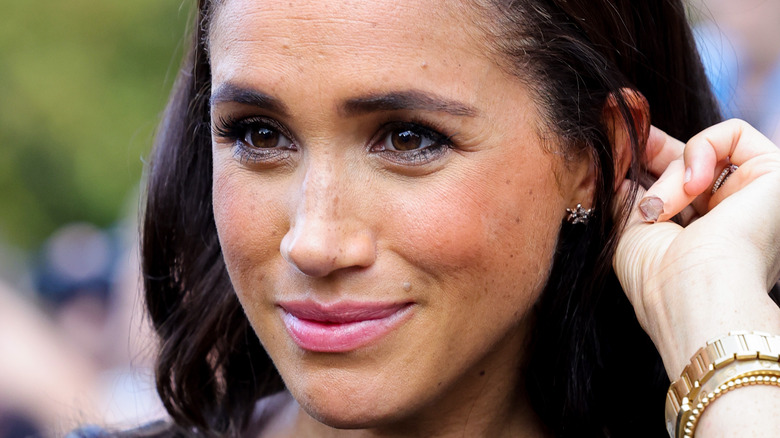 Chris Jackson/Getty Images
We may receive a commission on purchases made from links.
Seeing their child find the love of their life is a precious moment for any parent. The same can be said for King Charles III when he first met the woman who had captured the heart of his son, Prince Harry, Duke of Sussex. According to biographer Christopher Andersen (via Newsweek), the King thought Meghan Markle was "completely charming," as did the late Prince Philip. The feeling was reportedly mutual, as two other royal experts, Omid Scobie and Carolyn Durand, declare that Markle felt so close to the King that she considered him "a second father" rather than merely an in-law (via The U.S. Sun). As the world knows, Harry even asked his father to walk his bride down the aisle at their wedding after Meghan's dad, Thomas Markle, became too ill to travel (via Town & Country). Charles gladly took on the honor, vowing to "do whatever Meghan needs."
Just a few short years later, King Charles' relationship with Meghan Markle, Duchess of Sussex, is said to have cooled considerably. In the time since Harry and Meghan moved to Montecito and started pursuing their own projects, they have come back to see the senior royals on only a handful of occasions — including the funeral of Queen Elizabeth II — and the reunions were reportedly short. It's now rumored that the Sussexes will be declining the king's invitation to spend Christmas with the family, and one royal watcher has a theory about why these two in-laws are at odds.
One royal expert claims Meghan Markle's attitude is to blame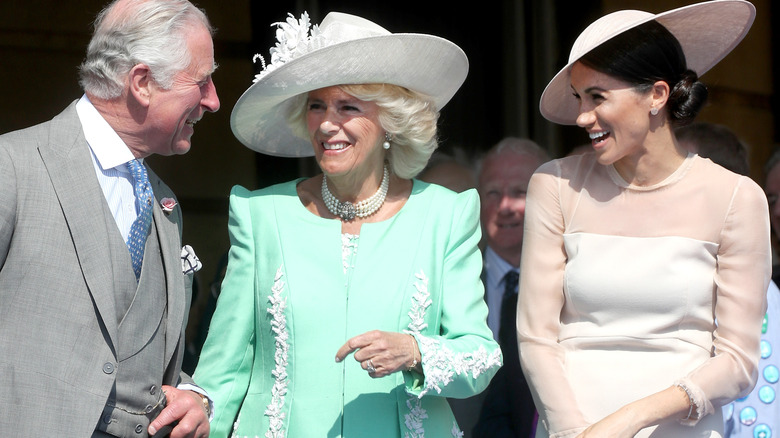 Chris Jackson/Getty Images
The U.S. Sun snagged an interview with noted royal biographer Angela Levin, who has her own take on the fractured bond between King Charles III and Meghan, Duchess of Sussex. She claims that Charles found his daughter-in-law "a breath of fresh air" at first, but that air quickly got stale when Markle's "hard as nails" attitude got in the way. As heir to the throne, William, Prince of Wales, would always outrank his younger brother in importance and privilege. Levin says the newly minted duchess was "annoyed" at the thought of taking second place, and as a result, she began pulling back from the father-in-law she once adored, either receiving his invitations "with no enthusiasm" or blowing them off altogether.
Although King Charles is allegedly "bewildered" by Meghan Markle's chilly reception, Levin suggests that her childhood plays a part. Her parents divorced when she was just six, and her relationship with her dad is tense. This, Levin says, contributes to Markle's tendency to "just cut people out of her life if they say anything that might not be praise." By contrast, Catherine, Princess of Wales, had a more stable home life where problems were worked out. Whereas Kate Middleton prefers not to make waves, Markle has a my-way-or-the-highway attitude when it comes to family issues, Levin claims. 
Maybe Meghan Markle discovered new facts about King Charles and Queen Camilla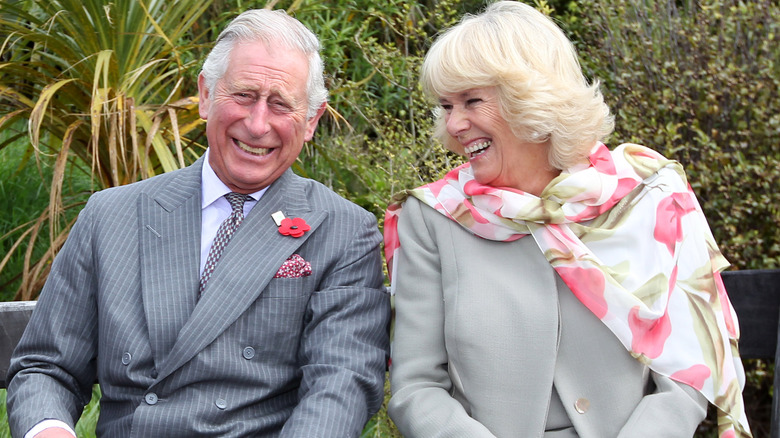 Rob Jefferies/Getty Images
Meghan Markle might have cooled her relationship with King Charles after discovering new information about her father-in-law and his wife. Charles and Camilla hired PR shark Mark Bolland in 1996 to make Camilla's image more positive in the press (via Daily Mail). Tom Bower's book, "Rebel Prince: The Power, Passion, and Defiance of Prince Charles," outlined their plans to reverse the Queen Consort's image by making Princess Diana less popular. In a Daily Mail excerpt, Bower wrote, "The first hurdle, they agreed, was to demythologize Diana by portraying her as a manipulative hysteric."
Meghan may have discovered this about Charles. The Daily Beast reported that King Charles III also authorized Bolland to leak negative stories to the press about Prince Harry and Prince William as well when they were only 13 and 16. The campaign to make the princes look bad began less than a year after Diana's death. The king's actions towards his ex-wife and sons would not endear him to most people. One reason Season 5 of "The Crown" had Charles shaking in his boots was that he didn't want the public reminded about his affair with Camilla.
Finally, there are more objective people regarding Meghan than Angela Levin. There were major fireworks in a 2022 interview on "TalkTV" when host Vanessa Feltz asked Levin, "Do you feel any guilt that you have been responsible for fueling a kind of anti-Meghan faction that has been spiteful and targeting, and possibly fanciful as well?" Let's take Levin's opinions with a tiny grain of salt.