Get The Look On A Budget: Hailey Bieber's Parachute Pants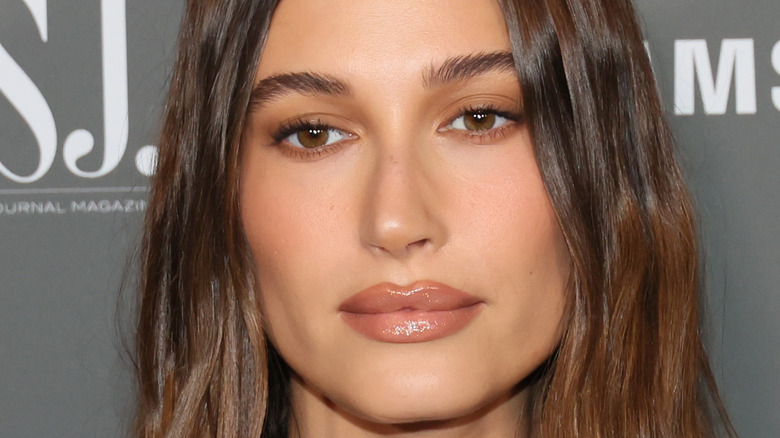 Dia Dipasupil/Getty Images
We may receive a commission on purchases made from links.
Parachute pants — which are basically super baggy cargos — are perfect for those who want to be comfortable without throwing on a pair of sweats. Made of the same material that parachutes are made of, nylon, parachute pants also conjure a similar effect: they are loose, blow in the wind, and are often saturated with color. 
Parachute pants are also related to harem pants, which are slightly more fitted around the legs — Justin Bieber was once slammed by Vanity Fair for wearing "hideous" leather harem pants during his performance at the American Music Awards in 2012.
Years later, his wife, Hailey Bieber, has helped spur the popularity of parachute pants, per Vogue – perhaps redeeming her husband of his former fashion faux pas. If you want to rock the model's look without forking over a lot of money for designer parachute pants, there are some budget-friendly options out there. 
Popularizing parachute pants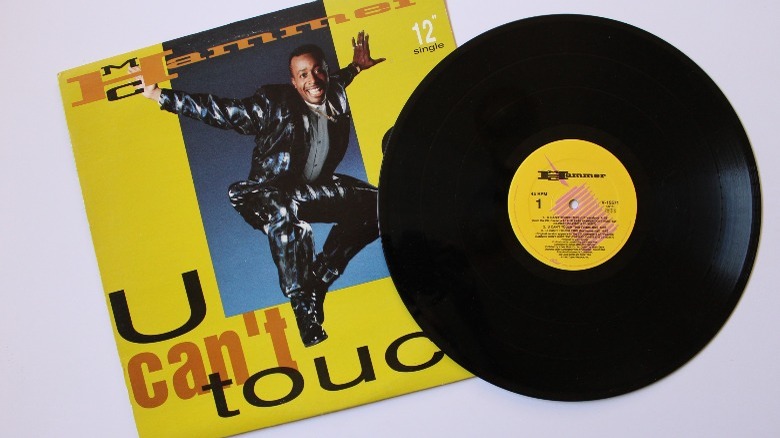 Blueee77/Shutterstock
But first, we really have to give credit where credit is due. The parachute pants of today would be nothing without the breakdancers of the 1980s, who originally wore the pants for their capacity for movement and easy sliding around the floor, per About the 80s. At the time, parachute pants were most popular among men although one man in particular is credited with their proliferation in pop culture and street fashion: MC Hammer. 
The rapper, dancer, and entertainer wore the pants in his music video, "U Can't Touch This," showing off their form with some serious moves. The video went on to win an MTV Music Video Award for "Best Rap Video" and "Best Dance Video" in 1990 and inspired fans to copy his look. The "parachute pants" and "harem pants" simply might not exist in Hammer's repertoire, however, as he calls them "Hammer pants," per Mental Floss. 
Hailey Bieber, who was born in 1996, might not have experienced the first wave of parachute-pants pandemonium herself, but she just may be at the forefront of their revival. 
Parachute pants are the perfect match to any ensemble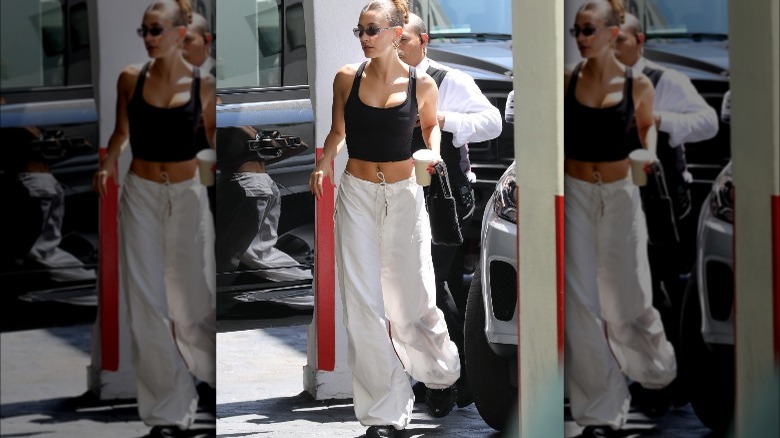 Vasquez-Max Lopes/BACKGRID
Curious about the trend, but not ready to commit to a high price tag? Cider offers a pair in a whopping six different colorways for the steal price of $22. Easy to wear, with a variety of options for any wardrobe, this classic version is the perfect start. Another affordable dupe is just $27 on Amazon and comes in 47 colorways — talk about options!
Looking for the winner of the parachute pants popularity contest? For $49.90, this pair of gray parachute pants from ASOS is perhaps one of the most popular on the market. With 20,000 likes on the website, this minimalist, chic version is the perfect match for any ensemble. ASOS also offers a bright pink pair for $45.90 for those unafraid of a bold color.
Parachute pants often come in a low-waist style, but this pair from Solado offers a mid-waist version for those looking for another fit. Complete with a drawstring around the waist back pocket detail, one reviewer called these particularly baggy pants simply, "perfect." At $29.99, these pants will not blow your wallet away.
Last but not least, we love this shimmering bottle-green pair from Motel Rocks which retail for $78. These pants are as shiny as Hailey Bieber's face after her full skincare routine. Plus, the color is a gorgeous balance between neutral and flashy.
Parachute pants have floated through wardrobes for decades, but — just as with cargo pants — you can always count on them to come back in style.