A Guide To Hailey Bieber's 2022 Skincare Routine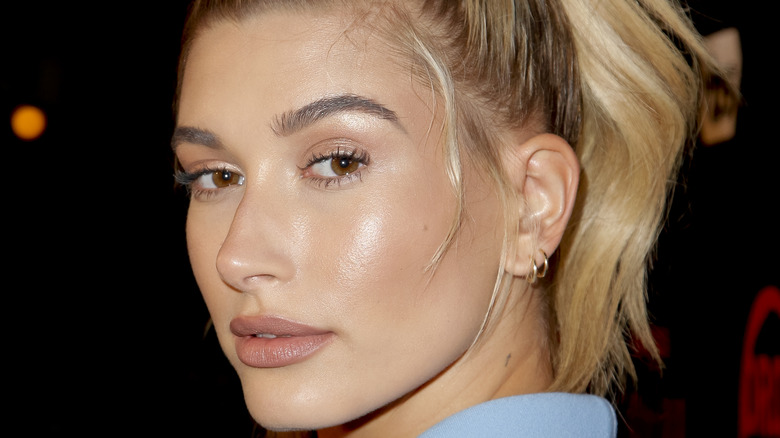 Tibrina Hobson/Getty Images
Supermodel Hailey Bieber is best known for strutting down catwalks, but in the past couple of years she has ticked off a number of achievements. Now an ambassador for big brands like bareMinerals and Superga (via Teen Vogue), her appeal is definitely helped by her down-to-earth and effortless cool-girl persona. Her style plays a large part in her popularity, too. Bieber always looks stunning, whether she's in a casual street style look (via Elle) or bringing back the 1990s thong trend at the Met Gala (via Vogue).
Despite an influx of recent health issues that she and husband singer Justin Bieber have faced, the model still looks as radiant as ever. From her gorgeous outfits to her flawless complexion, we all want to know how to achieve her effortless beauty. Luckily, she keeps fans updated on her latest finds and classic faves via YouTube and TikTok, and we've compiled a collection of her ultimate skincare staples below. With such a wide variety of products and price ranges, you're sure to find something you love that will also help you achieve her fresh look.
The model always has stunningly dewy skin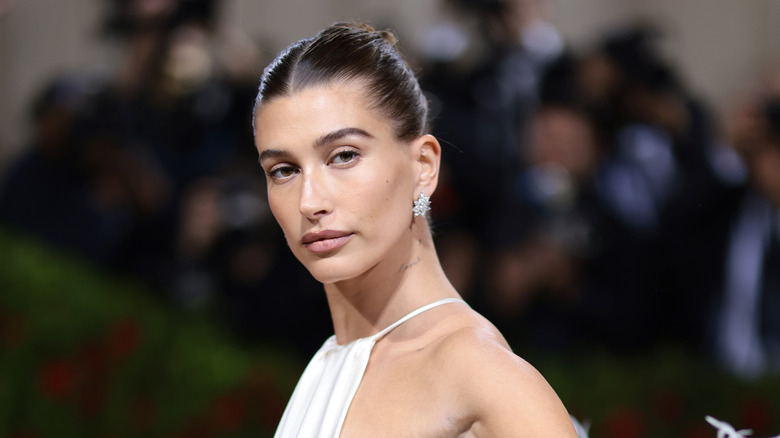 Dimitrios Kambouris/Getty Images
Hailey Bieber uses many products to achieve her beautiful complexion, which she states is naturally dry (via StyleCaster). She uses some affordable staples along with some luxury splurges, meaning there's something in her routine to suit everyone.
To start with, Bieber looks for a cleanser that's gentle on her dry skin. One of her current favorites is Ranavat's Balancing Creme Cleanser, which retails for $45. This cleanser remains creamy rather than foaming up, always a good thing for dry skin as it won't strip away oils. Another cleanser Bieber reaches for is the HoliFrog Tashmoo Water Lily Nourishing Milky Face Wash, which is slightly more affordable at $35 and washes away makeup gently. If you're into double cleansing, as popularized by the Korean skincare craze, you can opt for a cleansing oil like Bieber's recommended bareMinerals Smoothness Hydrating Cleansing Oil. This step can help to retain moisture in the skin.
Next, her go-to toner is Joanna Czech Skincare's The Toner. Although expensively priced at $70 for 30 milliliters, the model swears by it as seen in her TikTok nighttime routine. According to the description, this toner is great for dehydrated and dull skin, which fits in with Bieber's emphasis on hydration.
Hailey Bieber combines affordable and luxurious products in her skincare routine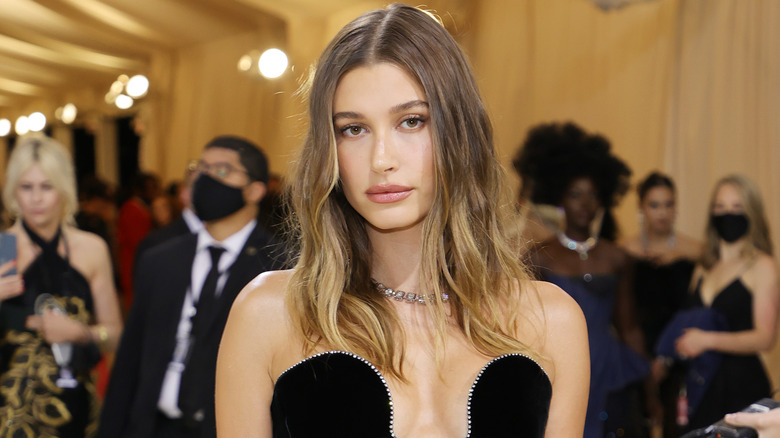 Mike Coppola/Getty Images
Two of the more affordable products in Hailey Bieber's routine are items most people will have had on their shelves at one point or another – pimple patches and lip balm. She raved to Glamour about Aquaphor Lip Repair, saying that the balm "does the job every time." Best of all, it only costs $4. As for pimple patches, Bieber shared her love for Starface Hydro-Stars in a YouTube video depicting her skincare routine, stating that they help heal her pimples far quicker than letting them run their course. These patches are also, as their name suggests, adorably star-shaped. 
On the other hand, her biggest splurge by far is the Shani Darden Facial Wand, which costs $400 but combines firming and anti-wrinkle technology with de-puffing for your best complexion yet. However, the product most likely to cause Bieber's glow is BeautyStat's Universal C Skin Refiner which retails at $80. She enthused in a YouTube video that the gentle exfoliant "changed [her] skin." 
For a finishing touch, the model emphasized the importance of SPF in a YouTube video with Elle. She referred to EltaMD Tinted Facial Sunscreen Broad-Spectrum SPF 40 as her "Holy Grail," stating that it doesn't make her break out. This makes sense, as according to the description this sunscreen is ideal for sensitive skin types.
With so many choices, you're sure to find something in her skincare routine that will become your new fave whatever your budget.