Marla Maples' Outfit At Tiffany Trump's Wedding Stole The Show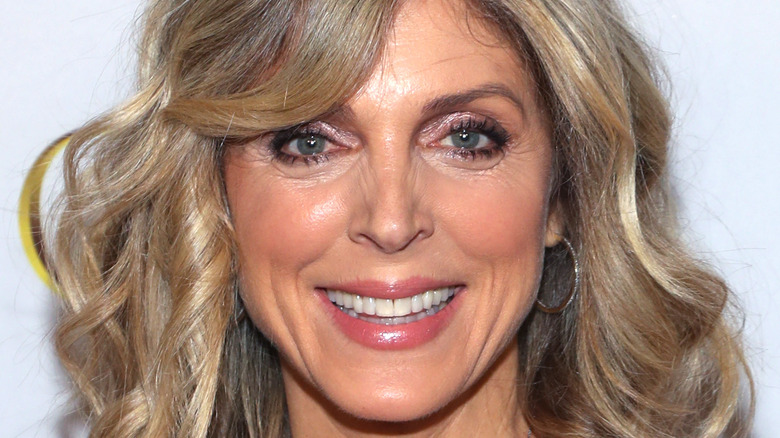 Manny Carabel/Getty Images
If you were watching the influx of Donald Trump-related shenanigans that took place during the 2016 presidential election, you probably remember seeing his younger daughter, Tiffany Trump, when she appeared in support of his campaign. Even though his 2024 reelection bid is already losing some major supporters, we have a pretty good feeling that we'll be seeing the whole Trump clan back on the political news scene before too long. For now, though, Tiffany Trump is back in the public eye after her recent wedding.
After a nearly two-year-long engagement, 29-year-old Tiffany Trump married 25-year-old Michael Boulos on Saturday, November 12, at Donald Trump's famous Mar-a-Lago Club in Palm Beach, Florida (via People). It's clear why Tiffany hit it off with her new hubby; like Tiffany, Boulos also comes from an ultra-wealthy, business-owning family. 
While we know of Tiffany, and we definitely know of her father, many of us don't know much about Tiffany's mother. Marla Maples, a 59-year-old actor and philanthropist, was married to Donald Trump from 1993 to 1999, per Biography. They welcomed Tiffany, their only child, in 1993. While Maples has mostly steered clear of the spotlight in recent years, she's now making headlines for her stunning mother-of-the-bride dress.
Marla Maples' magnificent mother-of-the-bride look
Anyone who's ever been to a wedding knows that stealing attention from the bride is a major no-no. Marla Maples came close to upstaging her daughter, Tiffany Trump, on her big day, becoming one of the most-talked-about aspects of the event. People noted that Maples looked radiant in a lavender, asymmetrical gown from Lebanese designer Elie Saab. 
This choice of attire wasn't just a showstopper; it was meaningful, too. Maples chose a dress by the same designer who created Tiffany's breathtaking, beaded wedding gown. Tiffany selected Elie Saab as her designer to pay homage to her hubby Michael Boulos' Lebanese roots. According to Maples, "It's a Lebanese American wedding, so we were so happy to have Elie Saab create the magic." 
The bride and mother-of-the-bride clearly made the perfect choice for their gowns for the big day. The pair looked stunning and almost like twins, and it's clear from the photos Marla Maples posted to Instagram of the big day that there was just as much mother-daughter love in the air as there was love between the newlyweds.
A Trump family affair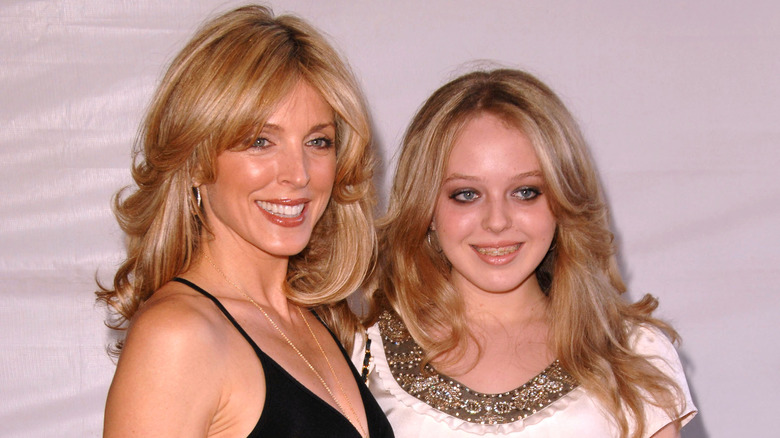 s_bukley/Shutterstock
Tiffany Trump and Michael Boulos don't seem shy about their ties to the world of politics; Boulos proposed to Tiffany in front of the White House on the last day Donald Trump was living there (via Newsweek). Furthermore, according to TMZ, the high-profile newlyweds got their marriage license on Election Day. Yet, during Donald Trump's presidency, a source told People that he and Tiffany "always had a strained relationship her whole life, and it got exacerbated by the presidency." 
While Tiffany may not have always had a picture-perfect relationship with her dad, she and her mother have always been close. Consequently, in an interview with People, Maples stressed that it was important to leave the Trump family politics out of Tiffany's big day. Maples said, "We are focused on this sacred union and welcoming beloved friends and family, not on politics." She added that choosing Mar-a-Lago as the venue wasn't a political statement, saying, "this was Tiffany's childhood home and where she was brought into the world." 
The whole Trump family attended the celebration, and it's clear that the two families came together for the exciting occasion and left politics and differences out of the beautiful day. It sounds like that's just how Tiffany wanted it; a source told People, "Tiffany has never been a people divider." According to another source, "Marla and Tiffany have talked about this day for a very long time. She is so proud of her daughter and feels she chose the right man."