Joe Biden's Joke About The Midterm Elections Has Twitter Going Off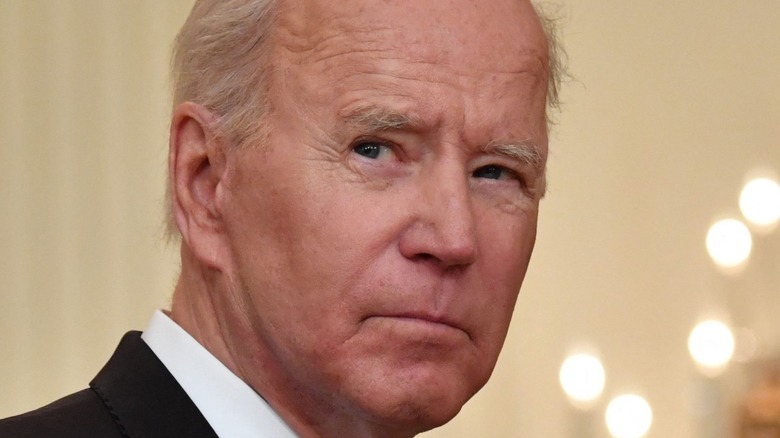 Shag 7799/Shutterstock
November has been a whirlwind for those in the political capitol that is Washington D.C.
After Americans went out to vote for midterm elections on November 8, many of whom voted early, results came back confirming Republicans have control of the House of Representatives while Democrats continue to dominate the Senate (via CNN).
During this time of a continuously divided country, President Joe Biden tweeted on November 10: "Tuesday was a good day for America and a good day for democracy — and a strong night for Democrats."
As the nation has settled into the outcomes of the midterm elections, President Biden has carried on with White House holiday duties as Thanksgiving and Christmas are soon approaching.
Like those that came before him, the president held a yearly Thanksgiving White House tradition where he made a snide comment that may leave Republicans side-eyeing the Commander-in-Chief, and, per usual, Twitter had thoughts. 
President Biden talks about pardoning a turkey at White House Thanksgiving event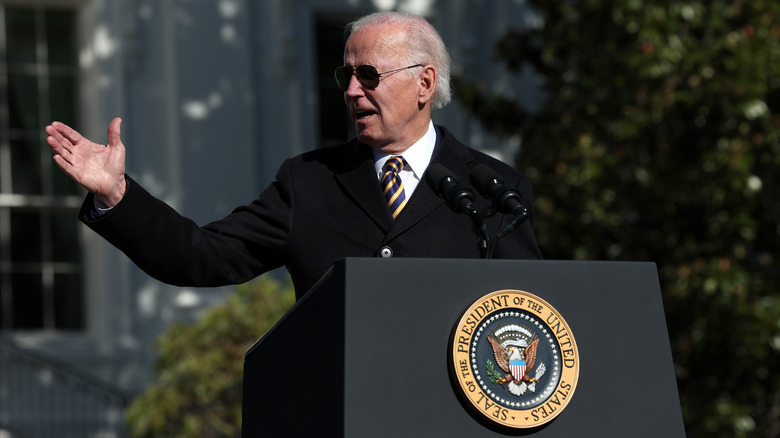 Win Mcnamee/Getty Images
Despite exit polls showing disapproval ratings for President Joe Biden, he had people laughing on Monday, November 21, when he held a lighthearted Thanksgiving tradition at the White House. While making a speech at the event, he took aim at Republicans, and we have to admit, it was quite punny.
The Post Millennial tweeted footage from the event of President Biden saying: "The votes are in . . . been counted and verified. There is no ballot stuffing, no foul play. The only red wave this season is gonna be if German Shepherd Commander knocks over the cranberry sauce on our table." Some of the audience then erupted into laughter.
It sure got Twitter laughing, too, with multiple users calling out Biden's apparent shade. "Biden coming in with the midterms jokes," one CNN journalist tweeted. Another said, "LOL! Biden just poked fun at Republicans." Unsurprisingly, not everyone found the jabs funny, though.
"Joe Biden pardoned a turkey that should have remained behind bars," one Trump-endorsed author commented on said jokes. Oh well, guess you can't win 'em all.