The Reason Melania Trump Didn't Have Another Kid After Barron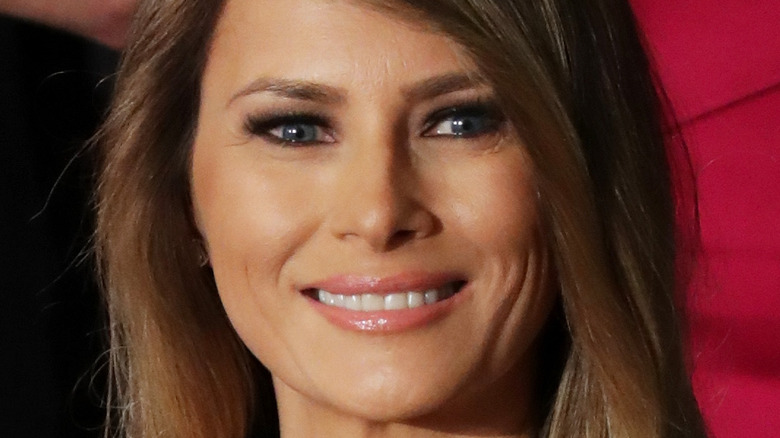 Chip Somodevilla/Getty Images
In March 2006, Donald and Melania Trump welcomed their first child into the world around 14 months after their January 2005 wedding (via People). Barron Trump was Melania's first child and Donald's fifth; he had three kids with his first wife, Ivana Trump, and an additional child with his second wife, Marla Maples, per Business Insider. Some 10 years later, Donald was elected president and Barron made history when he became the first boy to live in the White House since John F. Kennedy Jr. was a toddler in the 1960s — the other presidents had adult children or were raising girls, according to Today. 
If Donald gets re-elected in 2024 — Twitter, for one, is questioning Trump's motives following his campaign announcement — Barron will be 18 years old when his father takes office again. Not only was Barron his parents' first child, but thus far, he's their only child too. There have been rumors about the strict conditions imposed upon Melania during her pregnancy. In 2017, Vanity Fair reported that a guest at the Trump residence claimed Donald had only agreed to Melania having a baby provided she "promised that everything [about her body] would go back to the way it was" after Barron was born. 
Melania's then chief of staff Stephanie Grisham's response to those claims was to clarify that Donald was "very warm and supportive throughout her pregnancy." Whatever happened between the couple behind closed doors, here's what Melania has said about becoming a mom again. 
Melania Trump considers being a mother her main job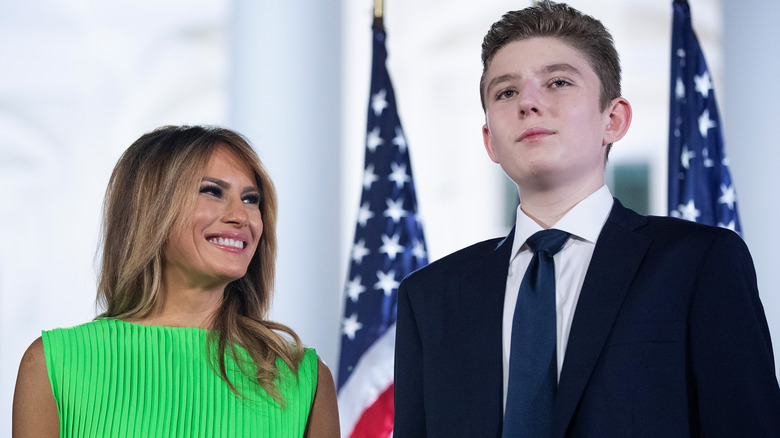 Chip Somodevilla/Getty Images
Pursuing her career as a model may have been why Melania Trump initially moved to the United States, but her focus switched by the time she had Barron. When asked about her day-to-day life with her young son, while she had also launched a line of jewelry for QVC after he started school, Melania reassured Parenting.com that the two of them still spent plenty of time together. "I am a full-time mom; that is my first job. The most important job ever," the former model clarified. She also compared her son to her husband, calling Barron "little Donald" because of his burgeoning personality.
As much as she loves being a mom, Melania acknowledged to ABC News in 2013 that having another child might simply be too many things to juggle at once, considering how much she had going on in her life. "I don't like to say never, but my life is very busy. We are happy and my hands are full with my two boys — my big boy and my little boy!" the former first lady quipped. If you're happy with what you have, why rock the boat? Moreover, by 2016, it seemed as though the "never" of Barron Trump getting a baby brother or sister had been confirmed.
The former first couple will not be having another child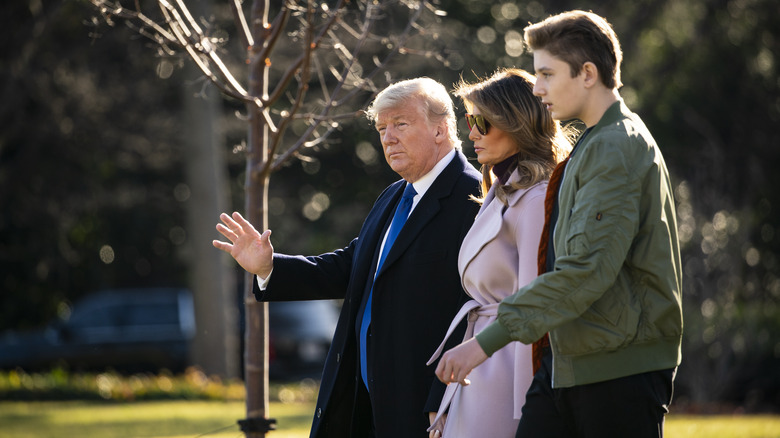 Bloomberg/Getty Images
In 2016, CNN's Anderson Cooper led a town hall discussion with Donald and Melania Trump, alongside all of Donald's kids aside from Barron, before the primary elections in New York. While answering an audience question, Melania once again raved about being a mom to Barron. "It's unconditional love, and I enjoy every day. I love being a mom, [it's] a very special time," she gushed, per Newsweek. But when Cooper followed up by asking if they were planning to have another kid any time soon, Donald chimed in and confirmed: "We're not really thinking about [having] more kids." So, that appears to be that. 
After leaving the White House, Melania, Donald, and Barron moved to Mar-a-Lago in Florida and Barron is attending a new high school with a secret connection to his dad. While the former president will surely have his hands full with his re-election bid, Melania will continue with her work as a full-time mom to Barron and may even carry on supporting the "Be Best" anti-bullying initiative she started as first lady. Elsewhere, Melania's written op-eds for Fox News in support of childhood education and she's also released a series of NFTs, a portion of whose proceeds go to charity (via Insider).