How Barron Trump Made History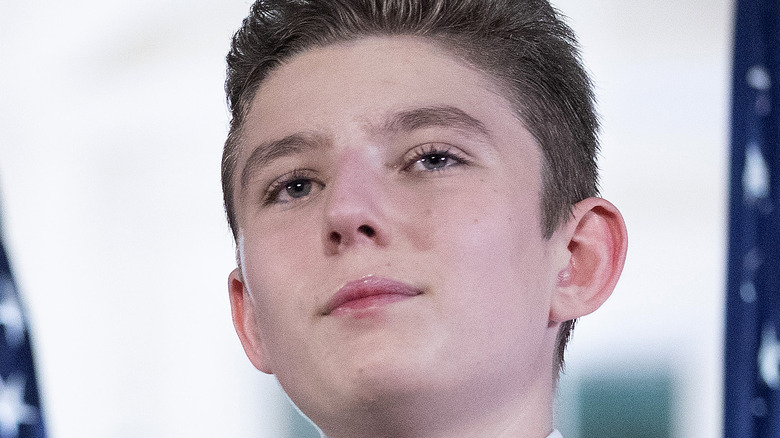 Chip Somodevilla/Getty Images
During the four years Donald Trump spent in the White House as president of the United States, his youngest son, Barron Trump, was like an enigma. We knew he existed, but we barely saw him with the same frequency we've seen other first kids through the years. He was decidedly less visible than three of his older siblings, Ivanka Trump, Donald Trump Jr., and Eric Trump, the former president's adult children from his first marriage to Ivana Trump. It was clear Barron's mother, Melania Trump, wanted to keep him out of the spotlight and some might say an excellent parenting choice.
That doesn't mean we didn't see Barron at all, as he sometimes appeared with his parents for public events like a White House Easter Egg hunt or even a walk onto Air Force One that photographers captured. Now that his father is no longer president, Americans got a glimpse of how much Barron has grown in the summer of 2021, when the 15 year old stepped out with his mother in his native New York City and towered over her at over 6'7" (via the New York Post). While Barron's low profile made him a different kind of White House kid, he is also one who made history.
Barron Trump's time in the White House was different from the start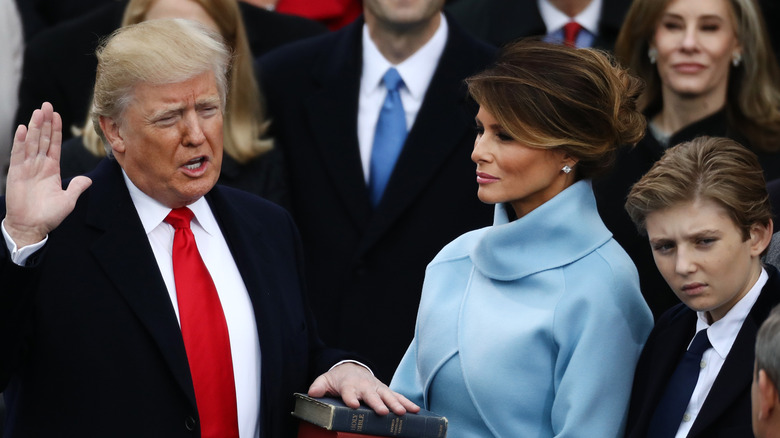 Bloomberg/Getty Images
Unlike most White House kids, Barron Trump did not move into the presidential home in Washington, D.C. until his father had been commander-in-chief for several months. Instead, he stayed back in New York with Melania Trump, as she wanted Barron to finish out the school year where he started with little disruption, according to The Associated Press. However, when he did get there, he was a rarity indeed.
Young Barron was the first presidential son to live in the White House since a toddler, JFK Jr., was there for just over two years in the early 1960s. While other presidents since John F. Kennedy had sons, those sons were adults by the time their father was elected (via Town & Country). Since the 1970s, only young daughters had lived in the White House before Barron, including Jimmy Carter's Amy, Bill Clinton's Chelsea, and Barack Obama's Sasha and Malia. While George W. Bush's twin girls, Jenna and Barbara, were still young when their dad became president, they were college students and didn't permanently live in the White House, according to Today.
Barron Trump was unique in two other ways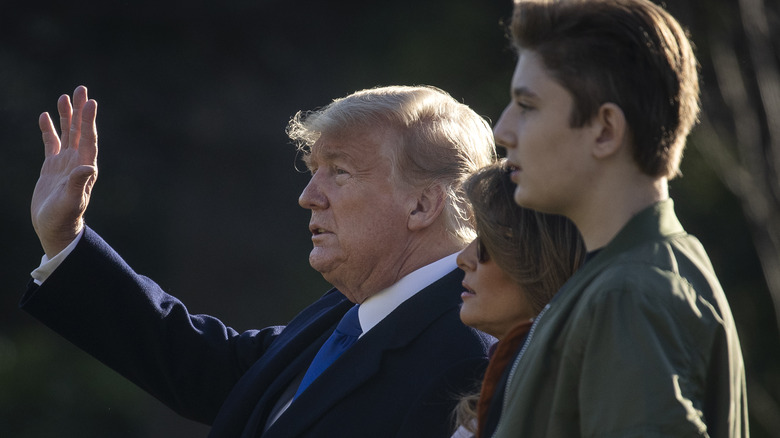 Drew Angerer/Getty Images
When it was time for Barron Trump to start school while living in the Washington, D.C. area, rather than going to Sidwell School — the private school where other presidential kids had gone for more than three decades — Barron attended St. Andrew's Episcopal School in Potomac, Maryland, which Melania Trump said was chosen for "its diverse community and commitment to academic excellence," (via Town & Country).
Sadly, Barron is also the first White House kid to ever contract COVID-19 and hopefully will be the last. The teen tested positive in October 2020, around the same time his parents did, which sent former president Trump to Walter Reed Medical Center for several days. At the time, his mother released the following statement:
"It was two weeks ago when I received the diagnosis that so many Americans across our country and the world had already received — I tested positive for COVID-19. To make matters worse, my husband, and our nation's Commander-in-Chief, received the same news.
The first lady shared that when she and her husband contracted the illness, her first thought was that of her son, as she was fearful that he too would test positive for COVID-19. "My fear came true when he was tested again and it came up positive," Melania shared at the time. "Luckily he is a strong teenager and exhibited no symptoms," (via Town & Country).