How To Rock Trendy Bleached Brows Without Actually Taking The Plunge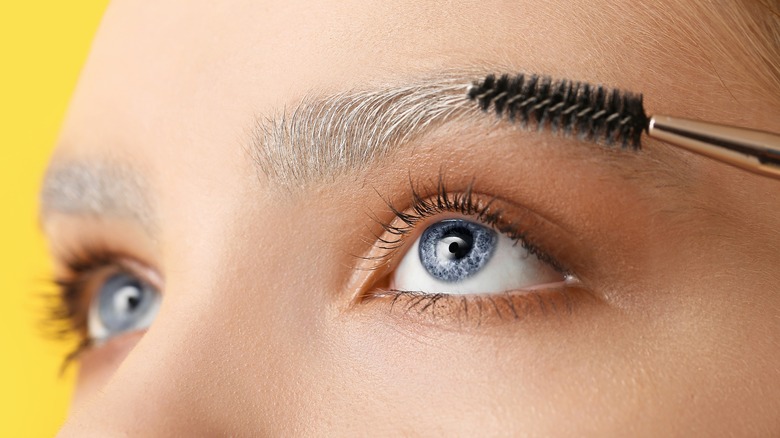 Pixel-Shot/Shutterstock
We may receive a commission on purchases made from links.
Love it or hate it, it's clear that bleached eyebrows are taking over the beauty world. A-list celebrities such as Cara Delevingne, Kendall Jenner, and Lady Gaga all have been seen with this look at major events (via Insider). While the trend is blooming right now, trying to disappear eyebrows altogether is far from a new invention.
"We see people really starting to remove their brows in Europe in the Middle Ages, and by the Elizabethan era it was popular to completely remove or bleach out the brows," hair history researcher Rachel Gibson told W Magazine. The trend spurred in the '90s, with Madonna at the forefront as shown by her iconic look at the 1992 launch party for her coffee table book "Sex" (per Vogue). This year, Madonna went back to bleached brows, paired with pink hair, as she showed in an Instagram video. If you're thinking of trying the trend but don't want it to be a permanent look, let us walk you through some steps on how to get faux-bleached eyebrows.
This is how to get the look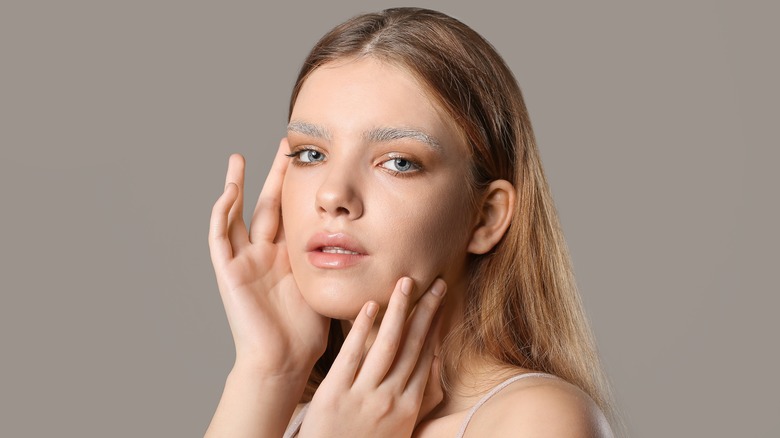 Pixel-Shot/Shutterstock
While it is appealing to see your favorite celebrities rocking bleached eyebrows, the trend may not suit every face shape. Former Executive Editor of Into the Gloss documented her experience replicating the trend and her verdict was that this wasn't a great look for those who have larger foreheads as it will create the illusion of an even larger upper area. "As someone who struggles with the constant worry of 'Do I have a fivehead??" I can confidently say: bleached brows just aren't my thing," Annie Kreighbaum wrote. If you're still thinking of trying the trend here are the steps.
Beauty Youtuber Picturresque has an easy hack to create the bleached eyebrows of your dreams without commitment. In her video tutorial, the makeup content creator starts by brushing her eyebrows with a nude pot gel eyeliner. Consider Ofra Fixline Eyeliner Gel in Nude or Inglot AMC Eyeliner Gel 68. After letting it dry, apply blonde color spray with a spoolie and use a thin brush for those tiny hairs that remain dark if needed. The Youtuber opted for Kryolan Color Spray Blonde D36 but you may also use a root concealer like Tarte Big Ego™ Dab & Go Hair Concealer. Finally, use concealer around the eyebrows to clean up any residues. And voila, you got bleached eyebrows for the day.