Fans Told The List Which Fall 2022 Nail Trend They Want To Try - Exclusive Survey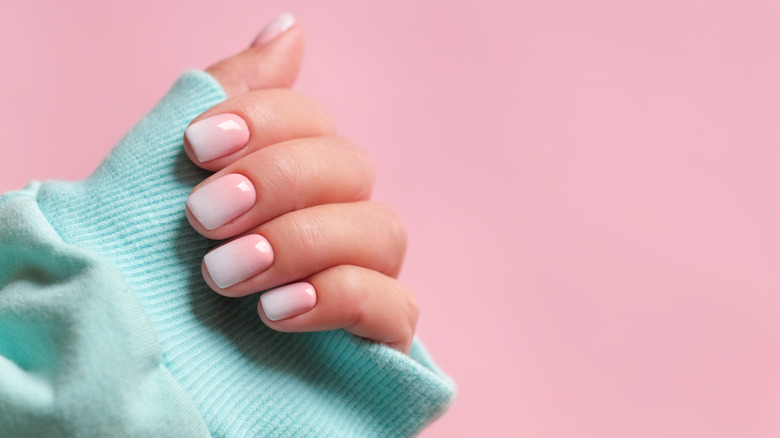 Lelechka/Shutterstock
Whether you enjoy a weekly trip to the salon or you paint your own nails at home with only a Pinterest board and a prayer, getting your nails painted is always a treat. According to Byrdie, people have been painting their nails since 3200 B.C., when Babylonian warriors would dip their nails in black kohl. As per the New York Post, the first New York City nail salon opened back in 1878, and you could get a manicure for just $1.25 (What we wouldn't give for that price these days?).
Nail art is not a new trend, but just like any art form, popular trends have drastically changed over the years. We may have left crackle nail polish and galaxy art in the last decade, but thankfully, other nail trends have since taken their place. To find out which nail art trends everyone is asking for this season, The List conducted a survey asking 602 people, "Which is your favorite nail trend for fall 2022?" 
Over 34% of voters agree on this classic nail trend for fall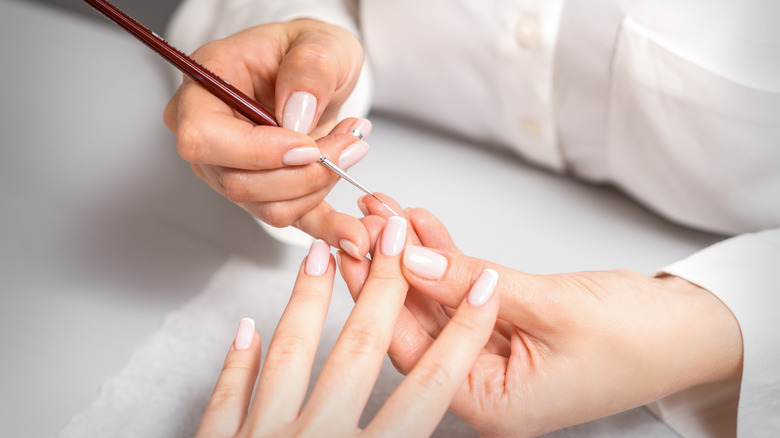 MorphoBio/Shutterstock
According to The List's survey, the most popular nail trend this fall is french tips. With 34.22% of the vote, this chic and elegant trend has never gone out of style. The minimalist design is achieved by simply outlining each nail tip with white nail polish, creating a subtle and clean set. According to Nails, french tips can be styled with any nail shape, and some have even taken the trend a step further by outlining their nails with bold colors.
Contrary to popular belief, the modern french manicure we know and love is actually not French at all, per Who What Wear, and french tips were created in 1975 for women in Hollywood as a way to create a neutral design that worked well with any costume. This "DIY kit" for quick manicures became so popular that the creator, Jeff Pink, took it to France for their fashion shows — which is where the name "French manicure" was coined (via Biba's Hair and Beauty).
More trendy nail designs you won't want to miss this fall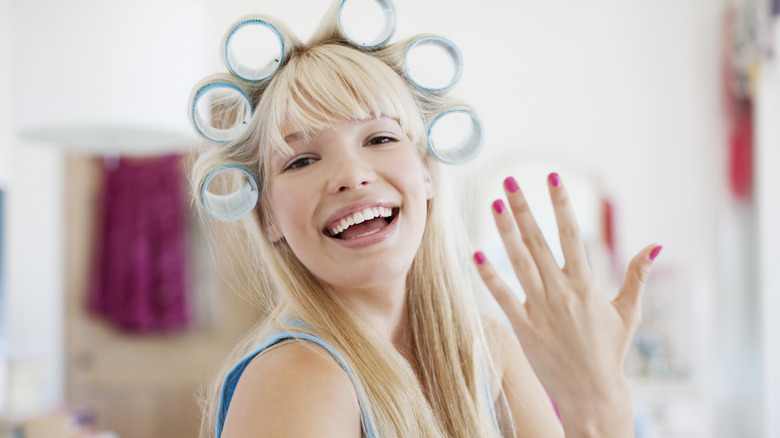 Tom Merton/Getty Images
Matte polish came in second place in The List's survey with 24.58% of the vote. When you aren't in the mood for something shiny and sparkly, but you still want to enjoy colored nails, matte polish is the way to go. This shine-reducing top coat "evaporates in an uneven way" to create the satin-like finish, nail polish scientist, Doug Schoon, explained to Nails.
20.10% of voters prefer the convenience of press-on nails. Whether you're a chronic nail biter who can't seem to keep their nails long enough for a proper mani, or you like to switch it up so often that polish just can't keep up with you, press-on nails are a great alternative. Press-ons are false nails that are applied with glue or sticky film that give the appearance of a full set without damaging your nail beds underneath (via InStyle). This temporary style might not sound super secure, but there are plenty of tricks to keep press-on nails from falling off.
Creative nail art is also having a moment — shiny glazed donut nails (14.62%) and negative space patterns (6.48%) were two popular trends that voters can't seem to get enough of this season. If your favorite nail trend didn't make the list, don't worry. There are plenty of outdated nail trends we hope come back soon.