A Quarter Of People Think This Product Is Most Effective For KP Bumps - The List Survey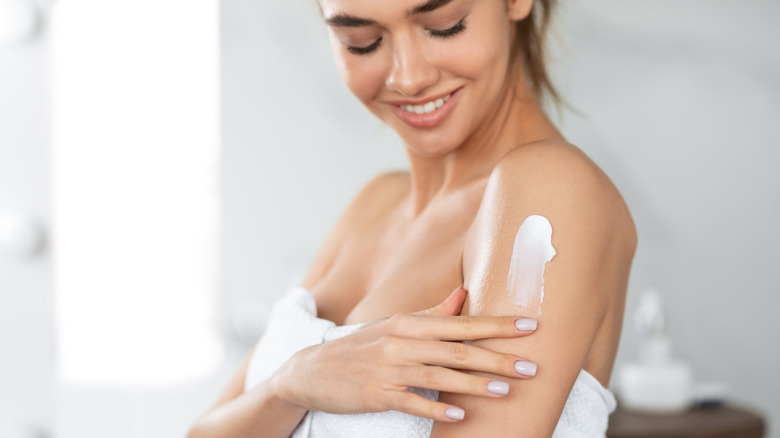 Prostock-studio/Shutterstock
We may receive a commission on purchases made from links.
Have you ever been rocking your favorite tank top or enjoying a long, luxurious bath when you notice small, rough bumps that seem to have popped up out of nowhere? They might appear red or brown, and kind of resemble chicken skin. The medical term for this sensation is "Keratosis pilaris" or KP. If you discover these little bumps, don't panic. The Mayo Clinic describes KP as a "common, harmless skin condition that causes dry, rough patches and tiny bumps, often on the upper arms, thighs, cheeks or buttocks." 
While they may look similar to common skin conditions like eczema and dermatitis, Cedars-Sinai reports that the bumps don't usually lead to any pain or itching. The cause of KP is generally unknown, although symptoms seem to flare up in colder, drier weather. Even though KP bumps are considered harmless, they do cause a lot of people to feel insecure about the look and texture of their skin.
One of the best ways to soothe these flare-ups is by putting on lotion after a shower, before bed, or whenever you notice that your skin is feeling dry. But not just any lotion will get the job done. To find out which products people are using most often to combat their KP bumps, The List conducted a survey asking 602 respondents: "Which product is most effective for KP bumps?" 
Over 27% of voters said this moisturizer is their first line of defense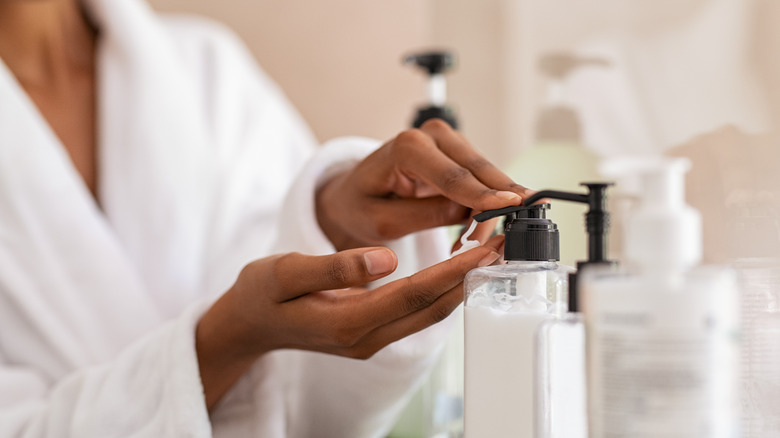 Ground Picture/Shutterstock
If you suffer from dry skin, try these soothing remedies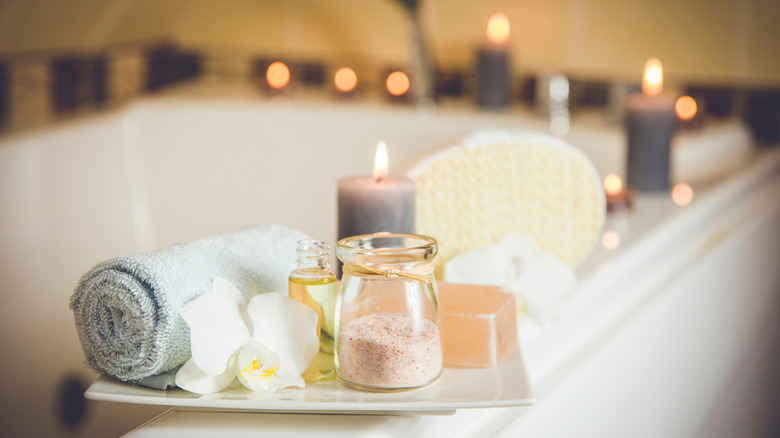 FotoHelin/Shutterstock
If you find yourself struggling with a skin condition like keratosis pilaris, you aren't alone. According to Cleveland Clinic, up to 80% of teenagers and 40% of adults experience KP bumps. People with extremely dry skin that are prone to irritations should be extra protective of their skin's moisture barrier, especially in the winter. While topical solutions are a popular way to soothe flare-ups and keep skin moisturized, they aren't the only way to manage your KP bumps. 
If lotions just aren't your thing, or they don't fit into your budget this month, there are plenty of alternative methods for keeping your skin happy, hydrated, and KP bump-free. According to Healthline, taking "warm baths can help clog and unloosen pores" that may cause KP bumps to surface — but make sure not to linger in the tub too long. 
Wearing loose clothing and using a humidifier may also limit the amount of irritation your skin experiences, which can lead to less prominent KP bumps. No matter which remedy you choose, remember that skin irritations are simply that, and don't let them keep you from showing off your gorgeous body and stunning style.