The Best Alternatives To Biologique Recherche That Won't Break Your Budget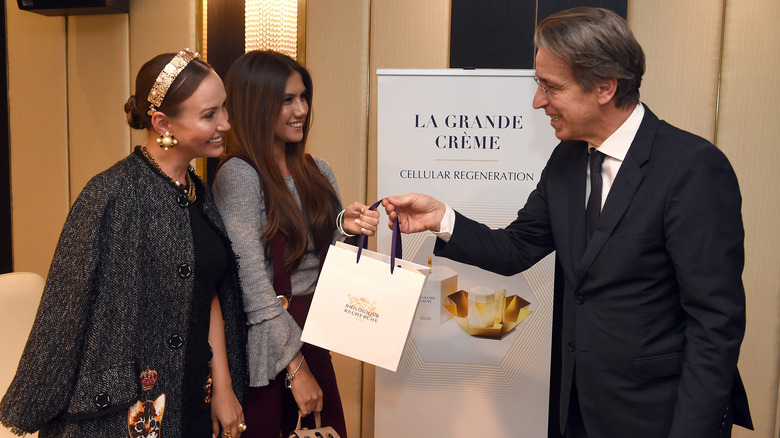 Tom Dulat/Getty Images
If you've been following skincare trends on the internet for a while, you've probably heard about the magic tonic known as Biologique Recherche Lotion P50. The exfoliating toner has been used by beauty experts, models, and celebrities alike. Beauty entrepreneur Michelle Phan credits the product for her smooth and refined skin.
The French brand's toner has gained a cult following thanks to its ability to give consumers radiant skin with a mixture of citric, lactic, malic, and salicylic acid combined with horseradish and burdock extract and a dose of vitamin B3. The result is a smelly yet effective toner that revives dull skin, fades hyperpigmentation and age spots, and smooths uneven texture (via Harper's Bazaar UK).
While the lotion has been praised for its exfoliating and refining properties, it can also be difficult to get ahold of due to its steep price and limited places to purchase it. The Lotion P50 isn't carried in your go-to beauty stores like Ulta and Sephora. It's carried in a select few retailers and spas, such as Paul Labrecque and Shop Rescue Spa. On these sites, you need an account to view the price. Once logged in, you'll discover that a 5.1 oz bottle will run you $70 while an 8.5 oz bottle is $106.
Below, we've found some affordable products with similar exfoliating properties to Biologique Recherche Lotion P50 that won't break the bank.
Affordable Dupes for Biologique Recherche P50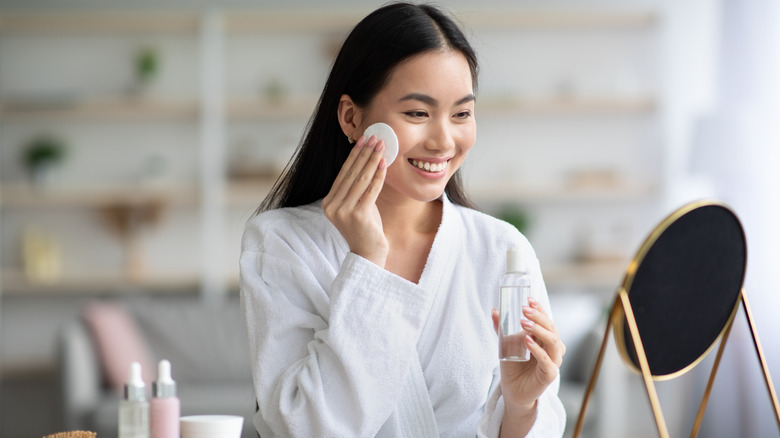 Prostock-studio/Shutterstock
Although it's a bit pricier than other dupes, the PCA Skin Nutrient Toner is still a more affordable option compared to the Lotion P50. The toner features lactic acid, a main component of the P50, as well as citric acid and clove leaf oil, which helps with skin irritation, puffiness, and redness, according to Decléor Paris. Its star ingredient is pumpkin wine, which comes from fermented pumpkins and has vitamins A and C.
This Glossier Solution shares similar ingredients with the Lotion P50 for a fraction of the price. Formulated with salicylic, glycolic, and lactic acid, the toner reduces the appearance of dark spots, improves the tone and texture of the skin, and brightens the skin. It also has gluconolactone, which hydrates the skin and has antioxidants, according to Byrdie. The product claims to transform your skin in four weeks, with three out of four users in a clinical trial saying that they saw improvement within a week.
For people with sensitive skin, The INKEY List PHA Toner is a more gentle option than the Lotion P50. The toner gently removes dead skin cells from the skin's surface using gluconolactone, a gentle PHA, citric acid, and niacinamide, revealing brighter and smoother skin. It also contains aloe vera leaf juice, helping to soothe the skin from any irritation.
Korean Skincare Products Similar to P50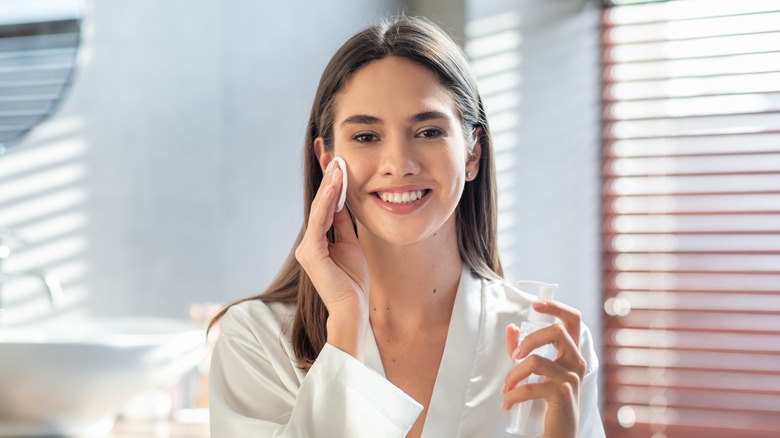 Prostock-studio/Shutterstock
While French brands are typically heralded as the pinnacle of skincare knowledge, Korea has also become a center of skincare innovation.
The Some by Mi AHA-BHA-PHA 30Days Miracle Toner combines three types of acids to create an exfoliating toner that promises to increase cell turnover and smoothen out the skin. According to Soko Glam, a bottle of the toner is sold every three seconds, and reviewers have given it a 4.5 rating, crediting the product for getting rid of acne, blackheads, and the appearance of pores. It also contains glycerin, a humectant, and tea tree water extract, which helps with inflammation.
Cosrx is one of the more well-known Korean skincare brands, memorable for its hydrating snail mucin line. However, its AHA/BHA Clarifying Treatment Toner has gained popularity for its ability to refine pores and the texture of skin. The toner uses willow bark water and apple fruit water to reduce breakouts and hyperpigmentation. It also has hydrating properties, with panthenol helping to draw moisture into the skin.
The Mizon AHA & BHA Daily Clean Toner uses salicylic and glycolic acid to exfoliate and reduce the appearance of pores. It has a gentle formulation, ideal for everyday use or for people with sensitive skin. The toner removes excess sebum from the skin and helps to restore the pH balance of the skin. It also contains glycerin and aloe vera extract, which helps to hydrate and moisturize your face.