Ivanka Trump's Stance On Joining Her Dad's Presidential Campaign Couldn't Be More Clear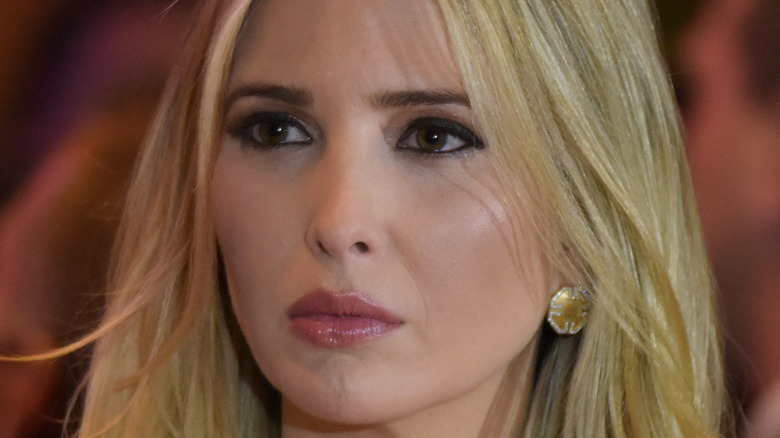 a katz/Shutterstock
When Donald Trump took on the highest office in the country, he had a strong family support system backing him up. His wife, Melania Trump, was a dutiful First Lady, and his older sons ran the Trump Organization in his place (via Politifact). His oldest daughter, Ivanka Trump, served as a senior White House adviser, as did her husband, Jared Kushner. They all turned out for Donald's rallies, appeared at his events, and publicly expressed their pride in his policies and accomplishments. But now that Donald has finally announced his official intention to run for president again, it appears that some of his family members are less enthusiastic about returning to political life. Melania's silence over her husband's announcement has some wondering if she's unhappy with the prospect of taking on a public role again. 
Equally surprising has been Ivanka's response. On November 12, she and her family traveled to the Mar-a-Lago club for the wedding of her half-sister, Tiffany Trump. Once the festivities were over, however, the Kushners jetted off on vacation just as Trump announced his new campaign. Her latest social media posts show her enjoying the sights of Egypt. She has yet to comment on her father's ambition or offer support; in fact, sources say the former first daughter is trying to distance herself from the whole deal. A source has told CNN that she "would never go back to that life. She knows it's not something that would serve her or her family at this point." 
Ivanka Trump is so over the political scene
As if Ivanka Trump's travel plans didn't already speak volumes, she recently spoke to Fox News Digital about her intentions regarding Donald Trump's newest presidential bid. "I love my father very much. This time around, I am choosing to prioritize my young children and the private life we are creating as a family," she said. The Kushner family now makes their home in southern Florida, where their outings to wildlife parks and ice cream shops are a far cry from the prestige of state dinners and presidential motorcades.
It was a diplomatic comment, but it didn't fully reflect Ivanka's true feelings about going back to the White House. An insider told Us Weekly that Ivanka had a "rotten time" in the closing months of the administration because of the "vicious and toxic...backbiting" that went on. "[B]y the time came for her to step away, she couldn't do so fast enough," the source claimed. "Even if her dad begged her to be involved in his campaign again, Ivanka would turn it down flat." 
Avoiding the inevitable "circus and volatility" of another Trump campaign will also allow Ivanka to pursue her own interests. Her Instagram posts show her trying her hand at surfing and assisting with aid efforts for Ukrainian refugees. It's also possible she's at work on the book she's rumored to be writing about her time in the White House, per Page Six.