Every Dance Style You'll See In Lifetime's New Movie Steppin' Into The Holiday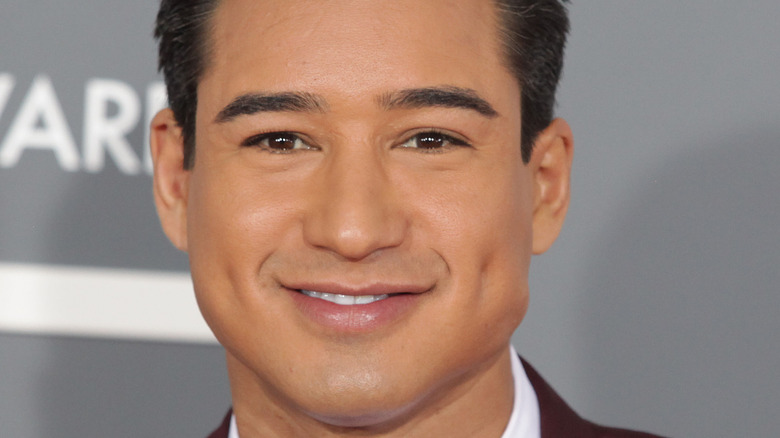 DFree/Shutterstock
Known primarily for his role as A.C. Slater in "Saved by the Bell," a slew of hosting gigs, Lifetime Christmas movies, and Peacock's "Saved by the Bell" reboot, Mario Lopez has plenty to boast about on his entertainment résumé. Lopez's not-so-hidden talent for dancing has been showcased since his "Saved by the Bell" days with his signature Slater dance (via Twitter), and the actor even reprised it in the show's reboot (via YouTube). 
Lopez has been making moves throughout his career, from dancing with the "Access Hollywood" crew and on the set of "Mario Minute," all the way back to his 2006 Broadway debut in "A Chorus Line," in which he starred with his future wife, then Courtney Mazza, per Playbill. Lopez even had his own Dancing with the Stars run in 2006, which might have been part of the inspiration behind his latest role in "Steppin' Into the Holiday." 
The former teen star plays TV host Billy Holliday, who fronts "Celebrity Dance Off." When a breakup with his co-host costs Billy the gig, he heads back to his hometown to rediscover his love of dance. The Lifetime movie also features Jana Kramer as a local dance teacher. But, just how many dance styles did Lopez need to master for his role, and which other techniques can audiences look out for in the movie's jaw-dropping dance scenes?
Warning: Spoilers ahead.
The actor has some serious dance range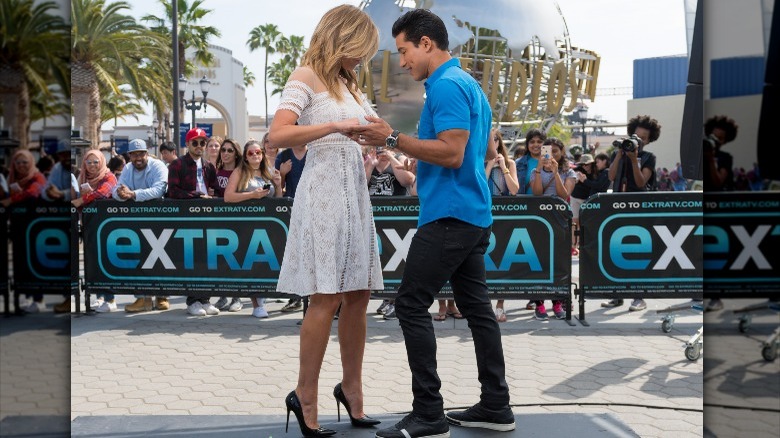 Noel Vasquez/Getty Images
Mario Lopez has never been one to shy away from getting physical; according to his Twitter, the actor dabbles in jiu-jitsu, wrestling, and boxing during his spare time. Plus, Lopez's family regularly does fun TikTok dances together (via YouTube). This made teaming up with his fictional nephew in "Steppin' Into the Holiday" all the more realistic. 
In just one short clip on Lopez's Twitter, viewers get a glimpse at his on-screen nephew doing a classic hip-hop move, Billy Holiday and his dance partner tackling the cha cha and waltz, and, of course, plenty of romantic, ballroom-style dips. The movie opens with an elaborate sequence in which Lopez and his co-star Jana Kramer dance through a town square, so viewers know just what to expect with "Steppin' Into the Holiday." 
Besides his ballroom dance prowess, Lopez also shows off his Broadway-style jazz moves, which seems to be the go-to genre for students at the local dance studio. Over the course of the movie, Lopez also tap dances into audiences' hearts, while getting ready for a dance showcase that just might make his hometown go viral. But, what did Lopez himself think about all the dancing in the movie?
Mario Lopez relishes a physical challenge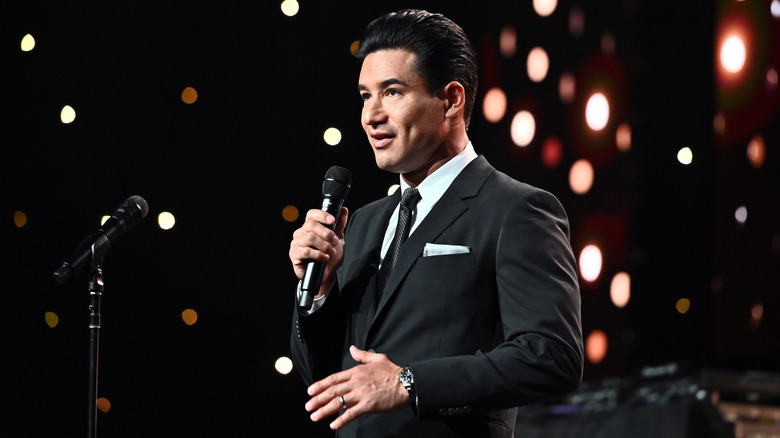 Andrew Toth/Getty Images
As Mario Lopez told The List in an exclusive interview, he had a great time filming the dance sequences in "Steppin' Into the Holiday." The actor enthused, "It was a lot of fun, and we had a great choreographer," shouting out the talented Spencer Lift and noting "he took it to another level." Lopez also shared that he appreciates projects that tap into his natural talent and athleticism. 
He shared, "Whether it's dancing, acting, singing, playing the drums, or whatever — I like to be physical." Likewise, Lopez added, "I like to mix it up, and whenever you get a chance to do all that, it makes it a little different, and it stands out." The actor is a certifiable triple-threat between his gigs across the entertainment news sphere, Lifetime movies, and reprising his beloved role in "Saved by the Bell." As Lopez acknowledged, "It's a fun balance." 
Though he's often asked how he does everything, the actor noted, "I've always been one to juggle a lot of things and have balls in the air. I like being able to mix it up and do different things. It keeps it fresh and keeps it diverse and entertaining, absolutely." Lopez is certainly keeping things fresh in his new movie "Steppin' Into the Holiday," and viewers will have to tune in to catch his impressive cross-style dance talent.
Catch "Steppin' Into the Holiday" tonight at 8/7c on Lifetime.