What Is Stearic Acid And Is It Good For Your Skin?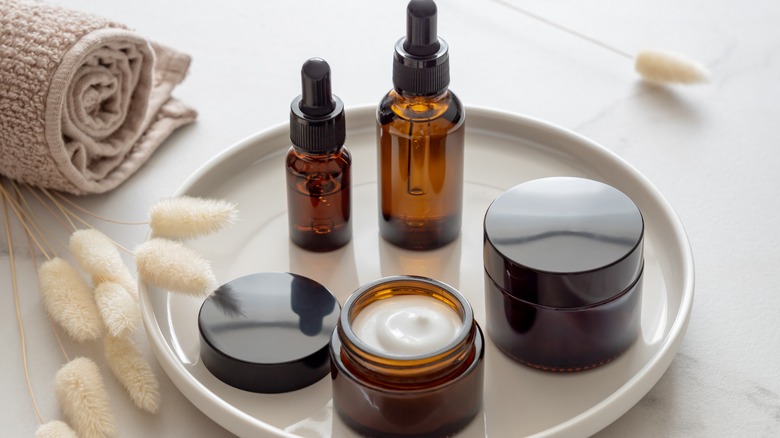 Irina Kvyatkovskaya/Shutterstock
In the past few years, AHAs and BHAs have blown up the world of skincare. The acids, known as alpha hydroxy acids and beta hydroxy acids, exfoliate without the harshness of a physical scrub. Depending on the specific acid, they can get rid of dark spots and hyperpigmentation, increase cell turnover rate, and shed dead skin, revealing more radiant skin (via Medical News Today).
Despite the skin-saving properties that reside in AHAs and BHAs, using them too often can be detrimental to the skin. According to skincare brand Kate Somerville, exfoliating too much can result in irritation, peeling, breakouts, and sensitivity. Once you've noticed signs of over-exfoliation, you need to dial back the amount of skincare you use and focus on repairing your skin barrier.
The outermost layer of your skin can be fixed by focusing on hydrating and moisturizing in order to bring it back to life. Products with ingredients such as stearic acid can aid in the healing and strengthening your skin barrier.
What is stearic acid?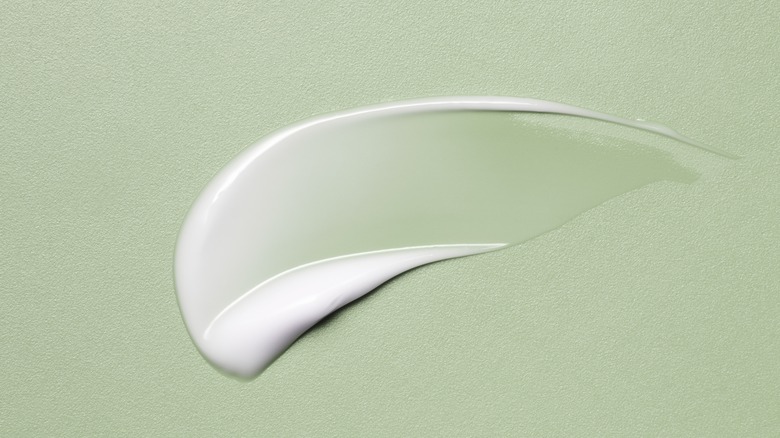 Kat Ka/Shutterstock
Stearic acid is a saturated fatty acid that can be found in various plant and animal fats. It's naturally occurring, existing in shea and cocoa butter and coconut and safflower oil. In skincare products, it can be either natural or synthetic, per Paula's Choice.
The yellow-white substance is an emollient, emulsifier, and texture-enhancer, meaning that it hydrates skin, allows oil and water in skincare to mix, and improves the texture of your skincare product, making it easier to spread and apply. It also helps in the repair of the skin barrier, thanks to its ability to keep moisture on the skin (via The Derm Review).
Stearic acid forms a protective barrier around the skin, locking in water. However, it doesn't disrupt the natural oil balance of the skin. It removes excess oil, as well as dirt, bacteria, and grease, making it a gentle yet powerful ingredient in cleansers and soaps.
According to Dr. Axe, stearic acid is suitable for all skin types, especially sensitive and dry skin. It helps with irritability and damage to the skin, so it's a soothing ingredient for skin that reacts to products easily. It holds in water and replenishes the skin's natural oils, moisturizing dry skin, particularly during colder weather.
Products with stearic acid you need this winter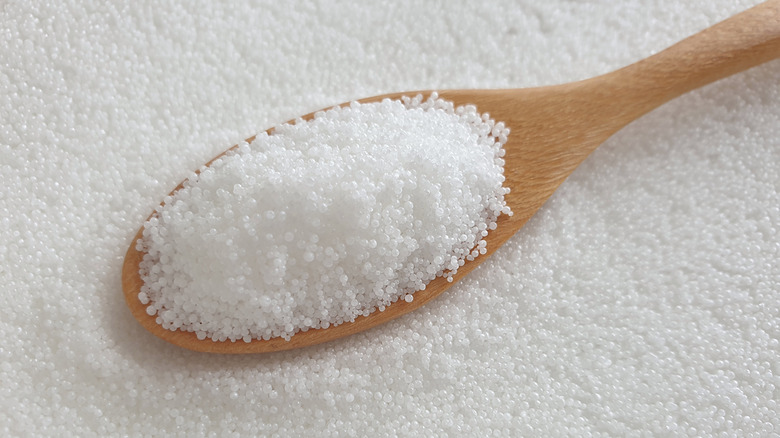 Meowcyber/Shutterstock
The Egyptian Coco Shea Body Wash by Buttah contains stearic acid and shea and cocoa butter, both of which naturally contain stearic acid. The body wash deeply cleanses the skin, adding moisture that lasts up to 72 hours. Using purslane extract and marshmallow root extract, it brightens and calms, leaving behind a scent of white lily, rose, heliotrope, white musk, and vanilla.
The skincare brand Nécessaire has had several items go viral due to the company's clean ingredients, devotion to sustainability, and the quality of the products. Nécessaire's The Body Lotion is no different. With a 4.7 rating, users say the lotion is extremely hydrating and absorbs well. It contains stearate, a derivative of stearic acid, along with glycerin and niacinamide, for smooth, moisturized skin.
Paula's Choice Resist Optimal Results Hydrating Cleanser cleanses the skin without leaving it feeling tight and dry, making it perfect for winter. Containing stearates and antioxidants, soapberry extract, green tea, and chamomile, the gentle cleanser is an ideal winter cleanser, alleviating the dry skin and irritation that often come along with colder weather.