What Really Happens When You Dye Your Hair With Coffee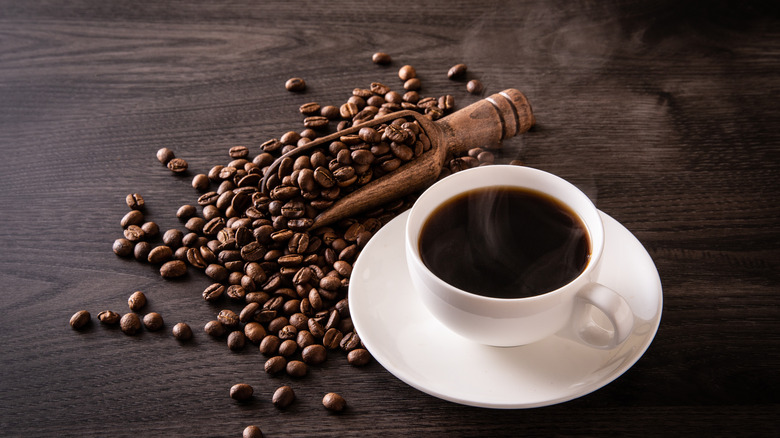 jazz3311/Shutterstock
We've all had those days when we look in the mirror and realize it's time for a hair transformation. Maybe your color is looking blah, or you're in the mood for a total change of shade. Trouble is, you don't always have the time or the money to dash to the salon. That's where an at-home hack can come in handy. Coloring your hair with ingredients such as Kool-Aid or beet juice is not only a fun way to experiment with a new shade, but it's also super-cheap, not to mention natural, as there's no ammonia or other chemicals that can harm your hair and body (via Healthline). During the lockdown months of the COVID-19 pandemic, people turned to their coffee makers to keep their locks colored in a safe and socially distanced way, but the method is still popular in these post-vaccination times.
If you're looking to cover some pesky grays, add a richer brown to your natural shade, or even attempt the trendy mahogany blonde look, head to the kitchen and reach for your bag of coffee. The clever hack appears to have gained popularity in 2016 via an article in Spoon University, a lifestyle website by and for college students. However, it's just as relevant today. Read on for the simple-to-follow steps.
Use both brewed coffee and the grounds for best results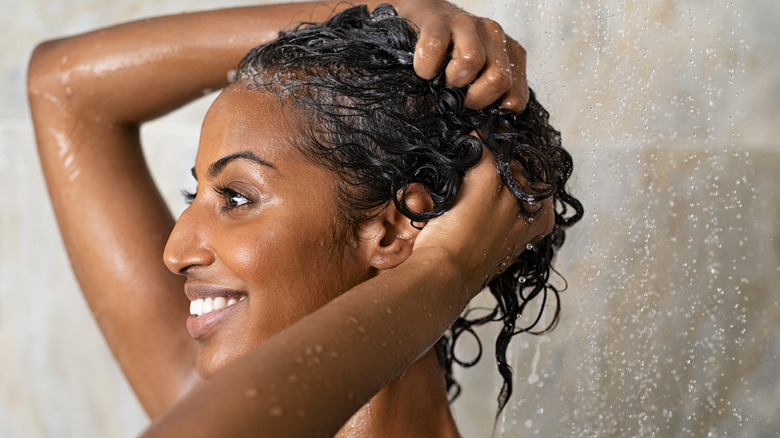 Ground Picture/Shutterstock
Making a DIY coffee hair dye is as easy as turning on your coffee maker, though you'll need a little time to get the job done. The recipe and proportions vary a bit according to the source you use, so you may want to experiment to see which blend works for you.
First, brew two cups of coffee. Any brand will do, though a dark roast will result in a darker shade. Reserve the grounds. While the coffee cools, wash your hair with your favorite shampoo, wring out the excess water, and leave the towel over your shoulders. Now comes the messy part: You'll be mixing the brewed coffee with the coffee grounds and a leave-in conditioner. Healthline's recipe calls for half a cup of brewed coffee, 2 tablespoons of grounds, and 1 cup of conditioner. However, Death Wish Coffee suggests up to 3 tablespoons of grounds and "2 to 3 squirts" of conditioner along with the java. Spoon University, which made the coffee-dye hack popular, recommends skipping the liquid coffee altogether and just blending 2 cups of conditioner with 4 tablespoons of grounds.
Once your preferred dye is ready, apply it all over your hair, then let it sit for 30 minutes to an hour. Next, rinse your hair to remove the grounds, and shampoo once more — or, take a tip from Leaf.tv and use apple cider vinegar instead to avoid stripping the color.
A coffee dye can be a good short-term color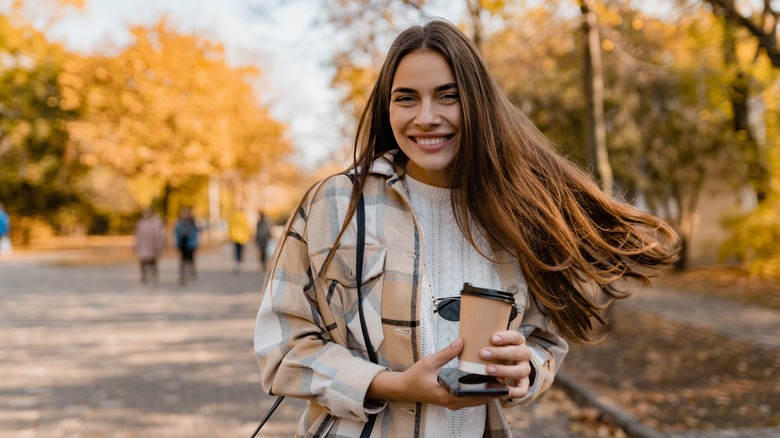 Maria Markevich/Shutterstock
If you're curious about trying a coffee dye, keep a realistic frame of mind. Homemade coloring blends don't offer the same results as a professional salon job. You may need to repeat the process a few times to get the look you want, so make sure you have enough coffee and conditioner handy. It's also a temporary fix since coffee dye will begin to fade after about two to three weeks. The results you get may vary depending on your existing color. Experts told Death Wish Coffee Co. that natural brunettes are likely to get the best results, while people with red or gray hair may not see much of a change at all. Overprocessed hair may not take color as well as hair that hasn't been bleached or colored. Popsugar also cautions that blondes who try to darken their locks with coffee may end up with a "muddy" look rather than a rich brown hue.
Still, a coffee dye is an all-natural way to change up your look, not to mention a healthy one. A stylist told Death Wish that coffee helps strengthen hair roots, helping stimulate greater growth. Plus, putting coffee on your hair is better for your body than drinking it if you're looking to cut down on caffeine.