How To Pull Off A Box Bob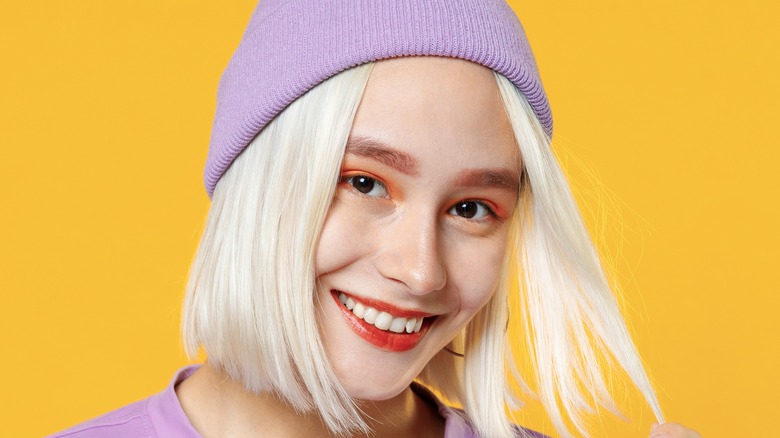 ViDI Studio/Shutterstock
Fun fact: there are more women entering the workforce than ever before, leaving behind traditional home duties to chase after dreams and stake out a career (via Forbes). Our hats go off to you. If you're entering the workforce for the first time or if you're seated at the top as the CEO of your company, nothing says "I'm the boss" like showing up with a brand-new hairstyle, especially one that is versatile, unique, and professional.
That's why we can't get enough of the bob haircut. L'Oréal Paris even lists it as one of the top short hairstyles for working women. This style does it all, and there's enough variety in the haircut that you're bound to find a cut that works for you and your face shape. From the full and romantic Italian bob to the classic bob, you have so many choices when it comes to this flirty look that it doesn't have to be meant just for the workplace.
You may have heard of the box bob in recent news. It's blowing up social media and has all the makings to become this year's trendiest bob. Read on to find out how you can pull off a box bob with ease.
What is the box bob?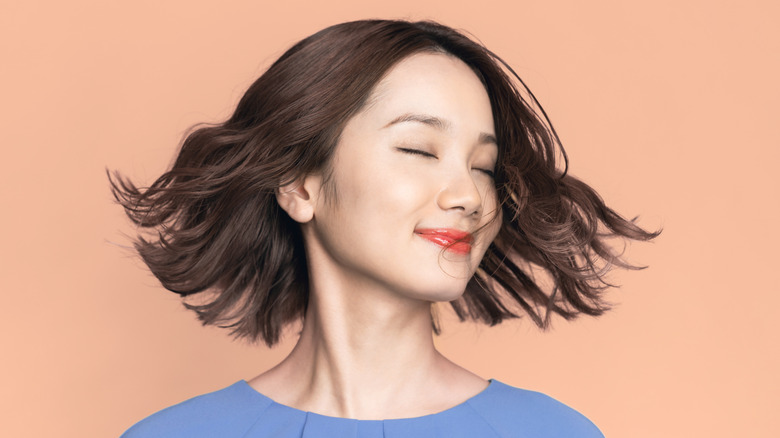 metamorworks/Shutterstock
The box bob is the latest iteration of everyone's favorite short and gorgeous haircut. It has enough people clamoring to get the cut that it could soar into being one of the most popular bob hairstyles there is. An exaggeration? Not according to hairstylist Annie Redman of Larry King Salon. While speaking with Glamour, the London-based hair expert explained that the box bob's versatility and ease have earned it the popularity it's seeing now. By only moving a few strands of hair around, the box bob works for every face shape and hair type.
Box bobs are all about volume and texture, notes Bustle. The short, blunt haircut has a bubble-like feel to it where your hair doesn't fall flat against your face but instead pops out a little to add volume. While there are similarities to the classic bob, the box bob works better under hats, lengthens your neck, and is more modern.
Will a box bob work for you?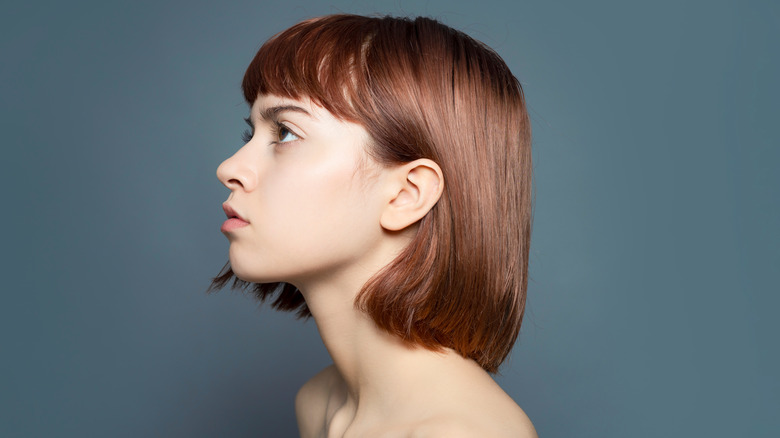 metamorworks/Shutterstock
Cutting your hair can be a huge step, one that many people are quick to shy away from. There's a reason we're always super specific about the amount of hair we want to be cut off when we go to the stylist for a trim — one inch, not two. However, as HealthPrep points out, cutting your hair is actually good for you and beckons for fuller, thicker, and healthier hair.
So if you're itching to try something new and the box bob is scratching that itch, don't let fear hold you back or wonder if you can pull off a bob hairstyle — you can. In fact, the box bob is extremely easy for anyone to execute flawlessly.
As the German edition of Cosmopolitan notes, pulling off a box bob is easy due to its layered back and adjustable front. The lifted-back hair gives more volume, so this cut is especially suited for people with fine hair who want a little more oomph in their hairstyle. The front is incredibly versatile, so you can style these pieces of hair in any way to suit your face shape. Have fun styling!