Inside Brooke And Bill's Forbidden Relationship On The Bold And The Beautiful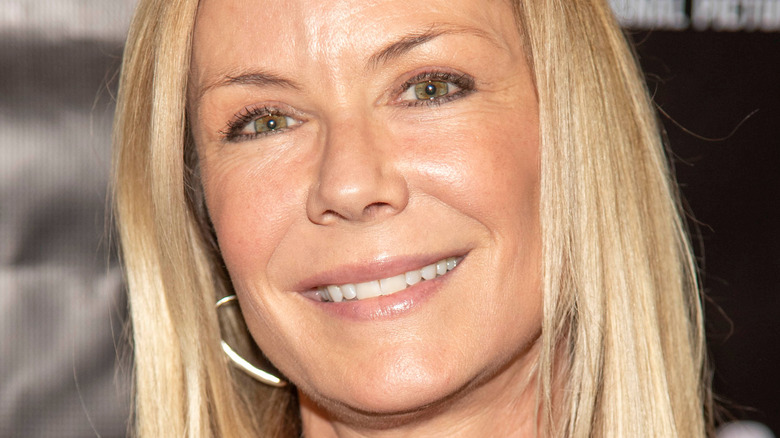 Eugene Powers/Shutterstock
While there's no doubt that many "The Bold and the Beautiful" fans are familiar with Brooke Logan's (Katherine Kelly Lang) on-again, off-again relationship with Ridge Forrester (Thorsten Kaye), there's another man who has played a prominent role in her life: Bill Spencer (Don Diamont). While Brooke and Ridge have tied the knot with each other more times than anyone can count, Brooke always ends up in the arms of the Spencer patriarch one way or another. If she's not hugging him at the wrong time and at the wrong place, then she's sneaking kisses with him when she knows she shouldn't be, as detailed by CBS. Back in 2020, Brooke's Katherine Kelly Lang told Michael Fairman TV in an interview that the kiss they had, which was caught on tape, happened for a reason. She said, "Brooke has had underlying feelings for Bill, and she probably always will (and he for Brooke), but we know that's not where we want things to be."
That certainly makes sense because there seems to be more to Brooke and Bill's forbidden relationship on "The Bold and the Beautiful" and why they keep on getting back together — even under the sneakiest of circumstances — and when they know they shouldn't. 
Brooke Logan and Bill Spencer were never meant to be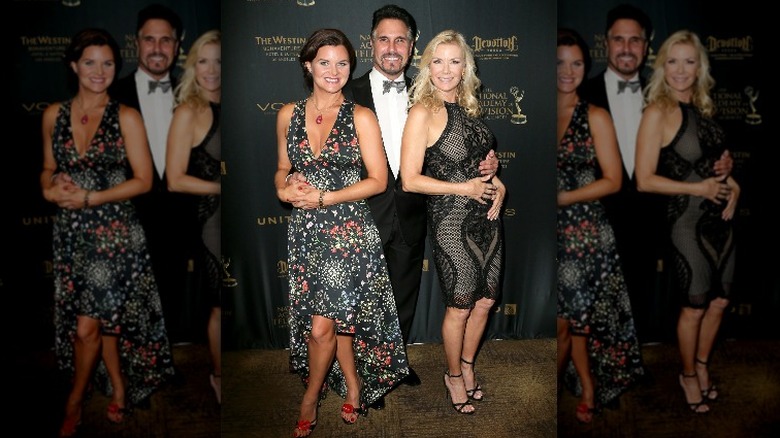 David Livingston/Getty
Bill Spencer and Brooke Logan's on-again and off-again romance on The Bold and the Beautiful didn't start the traditional way, even though it might seem like it. Back in 2012, Brooke's sister Katie Logan (Heather Tom) was married to Bill but she didn't think she would make it very long because of her postpartum depression and health problems. She had asked Brooke to step in and help take care of her son Will just in case anything would happen to her, according to Soap Central. As much as Brooke wanted to be there for her sister, she also couldn't help but fall in love with her handsome brother-in-law, too. Even though Bill tried to be faithful to his wife, Katie caught him in bed with Brooke and ultimately pulled the plug on their marriage, per Soaps.com. Knowing that your husband cheated on you has to hurt, but knowing that he cheated on you with your sister, has to be the ultimate betrayal.
But that wasn't the only time that Bill and Brooke's relationship turned heads. Even after Katie divorced Bill, Brooke still couldn't keep her hands off of him, which led to another unfortunate situation between them.
Is Brooke really Bill's one true love?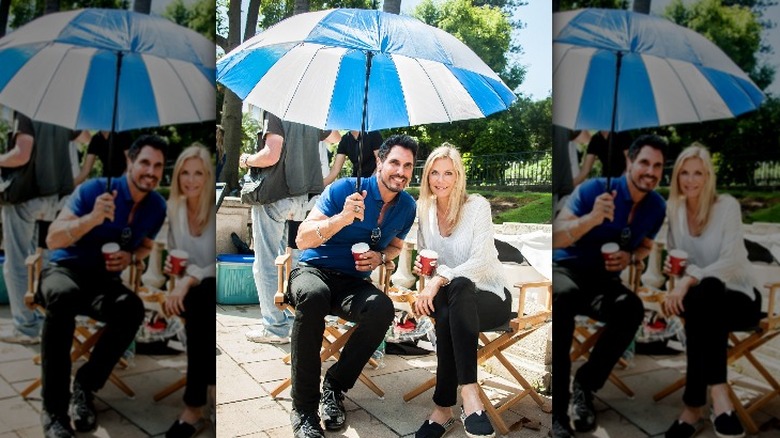 Francois Durand/Getty
Because Bill Spencer is the kind of man that you just can't ignore, Brooke ended up having another romance with him but this time around she ended up pregnant with his child. Unfortunately for the couple, she miscarried the child, according to Soap Opera Spy. But because Brooke is someone who has just as many enemies as she does lovers in this fictional town of Los Angeles, Taylor Hayes (then Hunter Tylo) found out the news and told everyone about Brooke's pregnancy and miscarriage. 
Though it seems like Bill and Brooke's push-and-pull relationship is just not meant to be, that's because it's not. Don Diamont told Soap Opera Digest that if there's anyone that Bill Spencer is in love with, it's himself. When asked about Bill's history with Brooke and all the taboo surrounding it, he told the publication, "My gosh, there had been so much. Of course, the Bill obsession with building his monument to himself, Sky! She was going to be the Spencer tower, so a lot of things grew."
And while there was some speculation of a possible Brooke and Bill reunion on "The Bold and the Beautiful," it doesn't look like that's going to happen. That's because no matter how many times Bill tries to become a part of Brooke's life, she always ends up with Ridge in one way or another. Right?