The Blake Shelton Easter Egg That Connects These 5 Hallmark Christmas Movies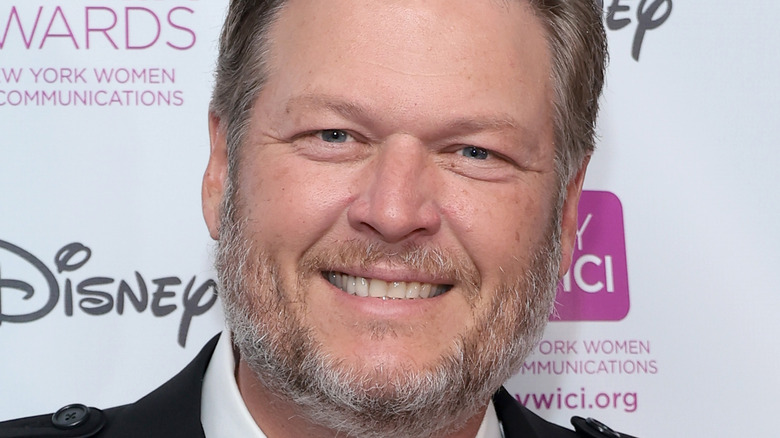 Dimitrios Kambouris/Getty Images
We may receive a commission on purchases made from links.
Hallmark's "Countdown to Christmas" is well on its way. That means lots of tinsel, fake snow, and small-town romances. This year, Hallmark has promised to churn out 40 original films, one of which marks the 5th installment in the ever-popular "Time for Me to Come Home" franchise, per Insider. Though each of these movies is made up of a different cast of characters, 2020's "Time for Us to Come Home for Christmas" featured none other than Hallmark royalty Lacey Chabert. The storylines have one key element in common, though: they're all executive produced by country music star Blake Shelton.
2022's "Time for Him to Come Home for Christmas" incorporates a little sleuthing into the franchise. When ex-journalist Elizabeth Athens (Holland Roden) receives a mixed-up voicemail from a heartbroken man looking for a Madelyn, she resolves to track down the woman in question in time for Christmas Eve. Joining her on the investigation is her former best friend, Josh (Tyler Hynes). Along the way, Elizabeth and Josh must confront their unspoken feelings as well as process the tragedy that ripped them apart, per Hallmark Movies & Mysteries.
"Honored to have @blakeshelton producing — all the Blake fans you will be in on the Easter egg ..." wrote Holland Roden in a November instagram post. The "Easter egg" in question? Embedded within each one of Blake Shelton's Hallmark movies is a reference to his hit 2012 song, "Time for Me to Come Home." 2022's addition to the franchise is no exception. 
Country music star Tenille Townes puts her own spin on Blake Shelton's hit song
"It's funny how going back/ Can get you back where you belong/ It's the difference in just a melody/ And my favorite Christmas song," sings Blake Shelton and his mother, Dorothy Shackleford, in their 2012 duet, "Time for Me to Come Home." This lyric inspired five original Hallmark movies but was first turned into a novel by Shelton's mother (and co-authored by Travish Thrasher) in 2013, per Amazon.
"We had no idea [the song] was going to end up turning into a book deal for my mom," explained Blake Shelton via Just Jared. "Then from the book, it became basically this series of movies. It's amazing what they're able to do over there, but it's been a cool experience to have that with my mom."
Country music star Tenille Townes — who plays herself in "Time for Him to Come Home for Christmas" — backtracks Elizabeth and Josh's love story with an energetic rendition of the 2012 duet. It's a musical "Easter egg," paying homage to the lyrics that started it all. As noted by star Tyler Hynes in an interview with TV Fanatic, "... the fact that Blake Shelton is involved and he's managed to bring in someone like Tenille who is unbelievably talented, she gives an absolutely lovely performance at the end of our movie singing ["Time for Me to Come Home for Christmas"]." 
Time for Me to Come Home is the musical through line
Though actors and storylines change each year, Blake Shelton's hit song "Time for Me to Come Home" remains a consistent Easter egg in all five movies, beginning with 2018's "Time For Me to Come Home for Christmas." As noted by Hallmark actress Jessy Schram, the star of 2021's "Time for Them to Come Home for Christmas," she'd never seen the previous films before shooting Shelton's 4th installment. "The only thing consistently used from the other films was the song," she explained to Media Village in a 2021 interview, adding, "I was listening to that throughout the movie, knowing that it was one of the things that tied all of this together."
Ultimately, as noted by "Time for Him to Come Home for Christmas" star Holland Roden via TV Fanatic,"... with Blake Shelton being involved like Tyler [Hynes] said, is maybe a notch above the rest because it is musically centric, more so than other Christmas movies." Despite the fact that the film was shot over the warm summer months, music makes the story feel truly festive — after all, what is Christmas without a few memorable carols?