What To Wear If You're Invited To A Bridal Shower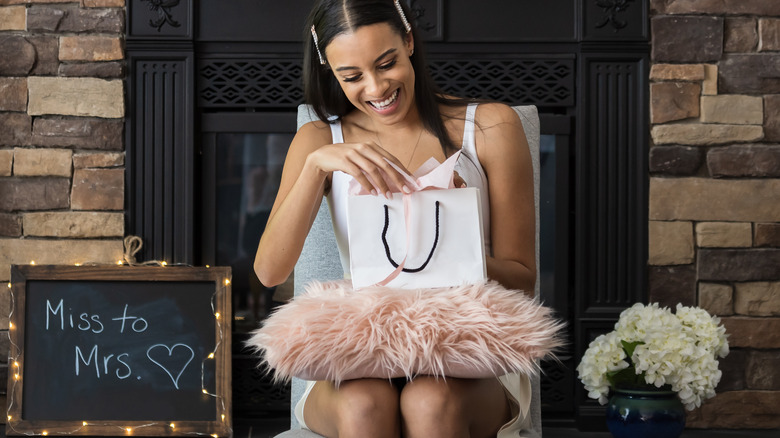 Ipggutenbergukltd/Getty Images
Besides giving a toast at the wedding reception, the maid of honor is traditionally responsible for planning the bridal shower. This pre-marriage celebration, usually made up of close family and friends, can range from expensive getaways to budgeted brunches. According to Discover, guests may pay anywhere between $15-$40 to attend the average bridal shower, a "ticket" price covering meals and themed decorations. Fancier venues can cost up to $150 per guest. Like weddings, bridal showers are steeped in centuries of tradition — they evolved around western gender roles.
Originating in 1500s Holland, these gift-giving parties were a direct response to the shortcomings of the dowry system (via World Bride Magazine). As the story goes, a wealthy Dutch girl fell in love with a poor miller's son. The girl's father disapproved, promising to withhold her dowry to change her mind. However, the bride-to-be's friends stepped up to the plate – they presented her with gifts, a collective alternative to a traditional dowry. As World Bride magazine explained, the word "shower" officially came into play during the Victorian era when guests would wrap presents in paper parasols before literally "showering" them onto the bride.
Though bridal showers still involve friendly gift-giving, the actual "showering" element no longer comes into play. Now, you can probably expect to be surrounded by pastels, flowers, and maybe even small finger foods at the event. Many showers also have a dress code, be it spoken or unspoken.
Choose an outfit that doesn't upstage the bride's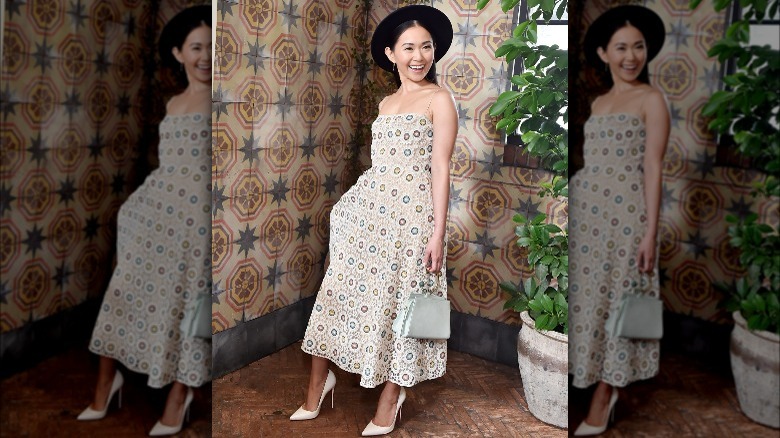 Stefanie Keenan/Getty Images
First and foremost, upstaging the bride is a no-no. "[I] would not recommend wearing white to a bridal shower as traditionally it is called for the bride to wear white (unless otherwise stated in the invite)," style expert Jonathan Vorasane explains to Brides. Other colors to avoid include black and bright red, both of which might end up being too striking for the occasion — unless the bride calls for it, of course. According to Sarah Abbasi, another Brides expert, risqué designs should generally be avoided and reserved for something like the bachelorette party. Ultimately, "Go with fun, comfortable, and whatever makes you feel your best self."
When in doubt, look to the dress code for answers — or, if you are extra-stumped, call up the maid of honor to get a better sense of the venue. "If there is no dress code indicated, it would be safe to align your outfit with that of something you would wear to an elevated weekend brunch," Voransane said (via Brides). Ultimately, it's better to be a bit too fancy than suck in jeans. However, if the invitation indicates explicitly a "casual" shower, Stylecraze recommends pairing a favorite blouse — like this Asos design — with denim. Alternatively, wear a cute sundress with dressed-down flats or chunky-heeled boots (per Martha Stewart). For inspiration, check out this floral dress from Lulus.
Keep the venue in mind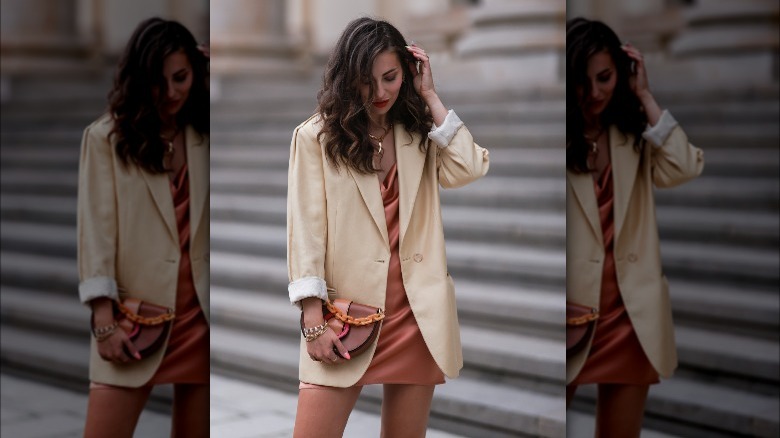 Jeremy Moeller/Getty Images
After receiving your bridal shower invitation, take note — is the party a daytime or nighttime affair? Will it be held indoors or outdoors? Will there be a seasonal theme? The answers to these questions can help you decide what's appropriate to wear. After all, you don't want to clash with the venue or let your fancy maxi dress trail in the grass. 
As Jonathan Vorasane told Brides, "In the winter you can lean into long dresses, jumpsuits, and nice pants. In the summer, it is safe to lean into shorter midi skirts and dresses." Choose your color palette around the seasons, too. At a fall bridal shower, for instance, dress in warm coppers and yellows. Dress down or up with layers: a leather jacket, or a sheer cardigan. Spring parties are perfect to debut those pale pinks, greens, and light blues. Windsor suggests pairing a more casual look with a structured pastel blazer.
A summertime formal event could call for a bright pink dress like this one from Nordstrom — dress it up with accessories: jewelry, high heels, and maybe even a fancy hairstyle. "As far as footwear is concerned: anything goes for indoor, and wedges or something flatter for outdoors, just to save yourself from taking a tumble," says style expert Sarah Abbasi (via Brides). At an outdoor fall location, for instance, it could be on-theme to wear something like cowboy boots — check out this pair from Asos.