Why Do People Use TikTok's W Blush Technique?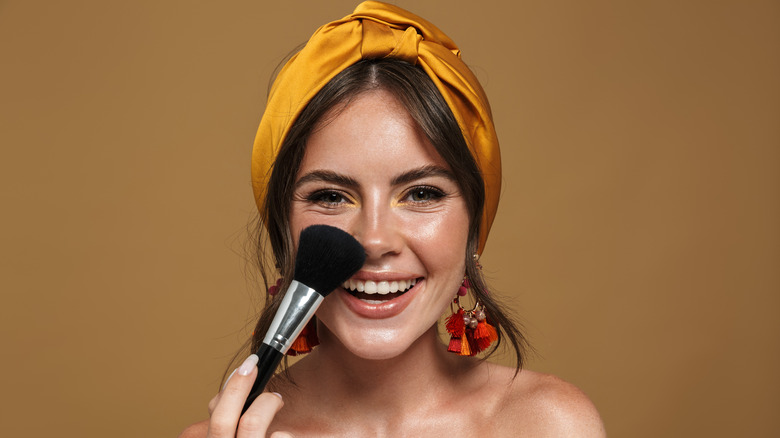 Dean Drobot/Shutterstock
If you're a makeup-wearer, it's safe to say that you're always looking for an easy way to update your beauty routine. Well, as usual, TikTok has a new beauty trend for us, and this time, it's inspired by a little something that just may surprise you: sunburn, via E! News. We know what you're thinking: all this time we've been trying to avoid getting sunburn, and now we're trying to fake it. Well, the word "fake" is key here. We'd like to formally advise against forgoing the SPF or heading to the beach to give your cheeks some unprotected sunbathing time. Rather, we'll be using blush for this particular sunny look.
For the past few years, the beauty world has been in a blush boom, and there have been plenty of new ways to apply blush popping up via our favorite makeup artists, via Glamour. The newest of these trends is called "W blush," and no matter what kind of makeup fan you are, we have a feeling you're gonna want to give this one a try. Not only is this technique as simple as it is impactful, but it will be especially useful for the chilly, sunless months ahead.
Why we love the W blush trend
Let's face it: there are plenty of beauty trends that pop up on TikTok that most of us can't actually accomplish the way the experts can. As far as we're concerned, one of the best parts of the W blush trend is that it's quick and easy and only requires one product, via Refinery29. Plus, it'll totally transform your face. During the fall and winter months, it's extra important to take care of our skin. We also often want to make our makeup look a little more sun-kissed and a little less like we've been curled up in front of the TV every evening and in bed by 9 p.m. (even if we absolutely have). The W blush hack is the perfect way to achieve this. 
Adopting this hack also doesn't mean that you have to totally revamp your whole makeup routine. It pairs well with many different makeup looks, including a nearly-bare face. Makeup artist to the stars, Clarissa Luna, told Glamour, "I use it almost daily on myself, especially on my 'no makeup' days. You can really take this look from day to night easily. We're always looking for the easiest, quickest makeup hacks. This is quick makeup with a beautiful finish. That's a win-win." We couldn't agree more, and neither can stars like Addison Rae and Glamzilla who are loving the trend, too, via E! News.
How to perfect W blush
So, what is this holy grail blush hack, and why is it called W blush? It's actually pretty simple: it's applying your blush in a 'W' shape, via E! News.  Most of us are used to using blush as a part of our contouring routine, and you probably only apply it to your cheekbones. Consequently, this look is going to add quite a bit more blush to your routine. Apply your blush along your cheekbones, over the bridge of your nose, and then along your cheekbone on the other side to make that 'W' shape, via Glamour. Think of applying the blush where you might actually get a bit of sunburn. 
The rest of the application process is really up to you. Makeup artist, Clarissa Luna, told Glamour that the type of blush she uses "depends on the type of makeup I'm trying to create for my client, but if it's a glowy makeup, I always start with great luminous base like Live Tinted's Hueglow, and either mix it with a cream blush or blend the blush on top using a damp BeautyBlender ... For a more matte application or for oily skin, I'll use a powder blush and top the cheekbones and bridge of the nose with a subtle highlighter like the Dior Forever Couture Luminizer Highlighter Powder." Apply your W blush as part of your regular makeup routine, and add a little beautiful beach babe energy to your look without the sun damage.