Why The Resignation Of Queen Elizabeth's Former Aide Has Twitter Defending Meghan And Harry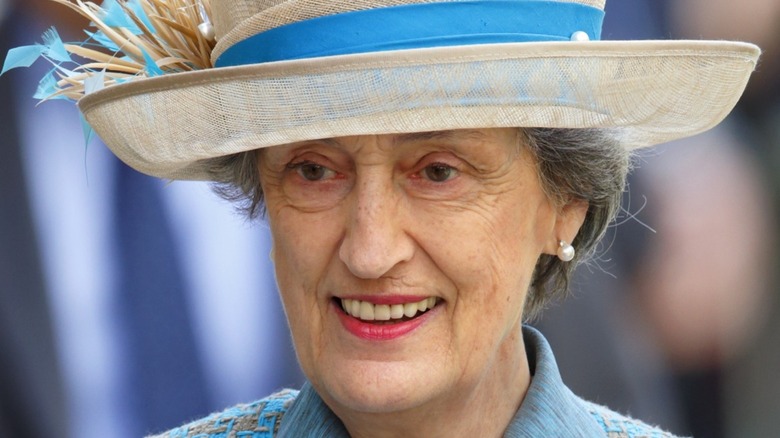 Max Mumby/indigo
Lady Susan Hussey — who served Queen Elizabeth II as her lady-in-waiting for more than 60 years – resigned from her honorary role after making racist comments to Ngozi Fulani, CEO and founder of the women's anti-violence charity Sistah Space, during a charity event at Buckingham Palace.
Fulani shared the exchange on Twitter with the caption: "Mixed feelings about yesterday's visit to Buckingham Palace. 10 mins after arriving, a member of staff, Lady SH, approached me, moved my hair to see my name badge. The conversation below took place. The rest of the event is a blur."
Hussey asked Fulani, a British national, what part of Africa she was from, and refused answers Fulani gave to the contrary.
Fulani told the Independent, "I was in shock after it happened and anybody who knows me knows I don't take this kind of nonsense," per the BBC. "But I had to consider so many things. As a Black person, I found myself in this place where I wanted to say something but what happened would automatically be seen as my fault, it would bring [my charity] Sistah Space down," she said.
Per Al Jazeera, a spokesperson for Buckingham Palace said, "We take this incident extremely seriously and have investigated immediately to establish the full details," and the palace has reached out to Fulani. In an interview with LBC, however, Fulani said that while nobody has reached out to her, she would be open to a conversation, per Twitter.
Twitter users support Ngozi Fulani
Twitter users were quick to support Ngozi Fulani and draw connections to claims Meghan Markle had made of racism in both Buckingham Palace and the British media, a substantial reason she and Prince Harry resigned from their royal duties, per Oprah Daily.
Dr. Shola Mos-Shogbamimu, lawyer and women's rights activist, wrote on Twitter: "Meghan Markle and Prince Harry told you of racism in Royal Family & household. But she was vilified, abused & violated for speaking the truth. Ngozi Fulani's experience with Lady Susan Hussey wasn't isolated, one off or a 'bad apple' at Buckingham Palace. You can't reform this."
Referring to statements Piers Morgan has made denying Markle's claims of racism in the palace, Twitter user Omar Baggilli wrote: "How odd @piersmorgan. A Buckingham Palace household member resigns over racist comments. I thought Meghan was a liar?" The Sussexes are soon to receive the Ripple of Hope Award from the Robert F. Kennedy Foundation for their courage in standing up to structural racism (and a furious Piers Morgan finds Meghan and Harry's latest honor "outrageous").
Fulani, in her interview with the Independent, said the incident is "bigger than one individual. It's institutional racism," per the BBC.
The statement, per Al Jazeera, which does not name Hussey outright, continues: "In the meantime, the individual concerned would like to express her profound apologies for the hurt caused and has stepped aside from her honourary role with immediate effect."
More reactions to the encounter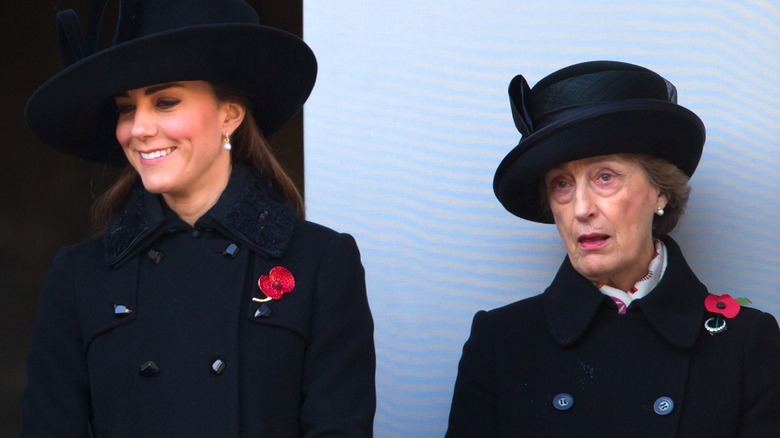 Max Mumby/indigo
Others who attended the event and witnessed the conversation firsthand recalled their reactions. Mandu Reid, the leader of the Women's Equality Party, said the questions asked of Fulani were "offensive, racist, and unwelcoming," per the BBC. And Nazir Afzal, former chief of the Criminal Prosecution Service, wrote on Twitter that Lady Susan Hussey had also approached him and asked his heritage, though she "seemed to accept my answer," he said. "Racism is never far away tho."
In an interview on "Today" by BBC Radio 4, Fulani spoke about the incident further, saying she does not want Hussey to be the focus of the conversation. "I have to keep the focus where it should be, and that's against violence against women and girls," she said.
Regarding the encounter, a spokesperson for William, Prince of Wales, said that "racism has no place in our society" and that "the comments were unacceptable, and it is right that the individual has stepped aside with immediate effect," per the BBC. Hussey is William's godmother.
The Prince and Princess of Wales are now in Boston for The Earthshot Prize Awards ceremony that will take place Dec. 2. It has been speculated that William and Catherine might use their US trip to repair the royal image, but, now, the BBC reports that "the incident has overshadowed" their visit.