The Right Time To Ask Your Bridesmaids To Be Part Of Your Wedding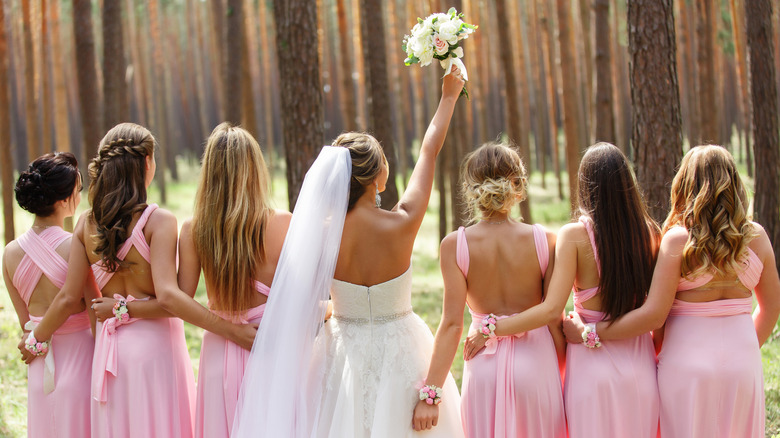 Wedding and lifestyle/Shutterstock
The moments after receiving a marriage proposal are pure bliss. But, as you embrace your fiancé with all the love in the world, the stress of wedding planning looms close behind. After you announce your happy news of the engagement, your bubble of bliss might pop as you're met with a flood of questions. Family members will ask when the wedding is and where it's happening as if you've had time to plan. In reality, you're too busy looking at the gorgeous ring on your finger! You may also get questions from friends about who you will be asking to be in your wedding party, per WeddingWire.
For most engaged couples, choosing the people in their wedding party is a big decision that needs to be made early in the planning process (via Brides). Which one of your friends do you ask to be your maid of honor? How many people do you want to include in your party, and do you want an even number on both sides? Should you include your sister-in-law even though you barely know her? When you've finally decided who you want beside you on your big day, one question remains: When is the right time to ask your besties to be your bridesmaids?
Being a bridesmaid is a big commitment, so try not to rush into it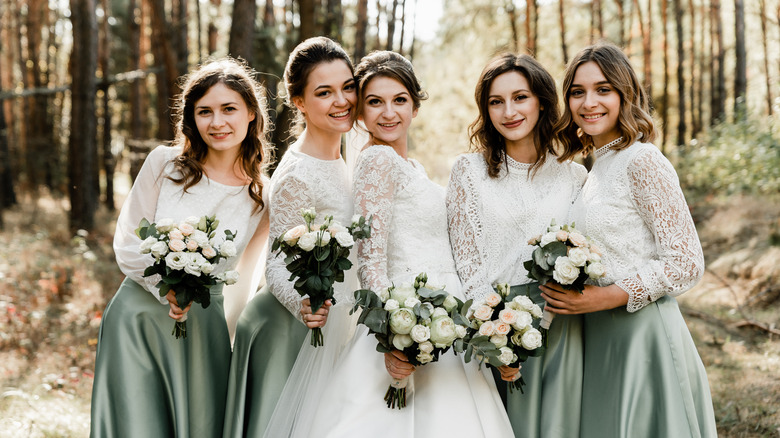 Vadym_Hunko/Shutterstock
When deciding on the best time to ask your loved ones to be your bridesmaids, the best thing to do is take your time. Marinaj Banquets and Events reveals that one of the biggest mistakes brides make is choosing their bridesmaids too early and having to make changes later on. Sure, wedding planning is exciting and you want to jump in with all your besties right beside you. However, sitting down with your partner first is key. Decide on things like a budget and an approximate timeline, and give the green light on each other's wedding party picks before you include anyone else in the planning process. Brides suggests asking someone to be a bridesmaid anywhere between eight months to a year before you say "I do." This way, they have enough time to decide whether or not they can take on such a big commitment.
Remember that there is always the possibility one of your besties will say no to your bridesmaid proposal. Maybe they can't make your wedding date, or they aren't in a place to participate on that level financially or emotionally. Try not to take it too personally — being a bridesmaid can cost a small fortune, not to mention the amount of time and energy that it requires. Not only do your bridesmaids provide support at the wedding, but at all the events leading up to your big day, most of which they had a hand in planning.
You're sure to get a yes every time with one of these thoughtful bridesmaids proposals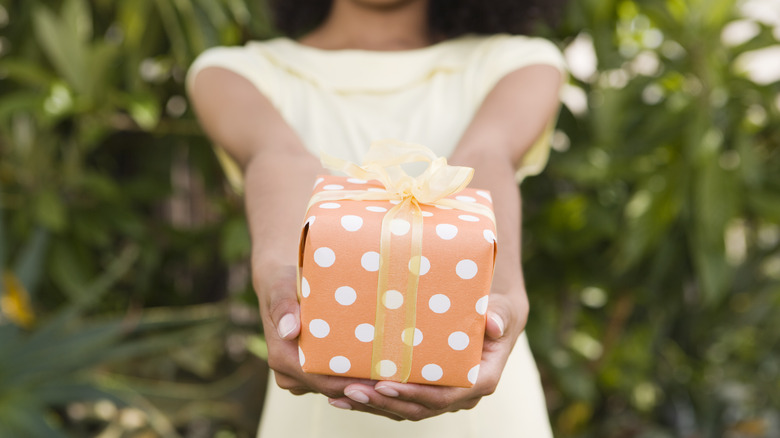 Jupiterimages/Getty Images
While there are certainly some wedding trends that are no longer cool in 2022, it's always cool to spoil your friends, and there's no better excuse than with a bridesmaid proposal gift! WeddingWire reports that gifts like candles, self-care products, tote bags, or any sweet treat are all great gifts for your bridesmaids. If your bestie is a big drinker, you can't go wrong with a nice bottle of her favorite wine with a customized glass that spells out her exciting new title. Some brides have gone above and beyond by curating proposal boxes for their bridesmaids with everything from jewelry and trinkets to champagne and embroidered sweatshirts to pop the question, per The Knot. Hot tip: If you are personalizing a gift for your bridesmaid-to-be, use their name or initials rather than words like "bridesmaid" or you and your boo's wedding date. This will ensure that your bestie is more likely to use the gifts after your wedding events.
Remember, you're not obligated to give your bridesmaids an elaborate or expensive gift when you ask them to be a part of your special day; we all know that having a wedding is pricey enough already. It's all about the thought you put into the gesture — something inexpensive but meaningful like a handwritten letter telling them how much your besties mean to you is one of the sweetest ways to ask without breaking the bank.