Don't Panic If You End Up With Uneven Brows. Do This Instead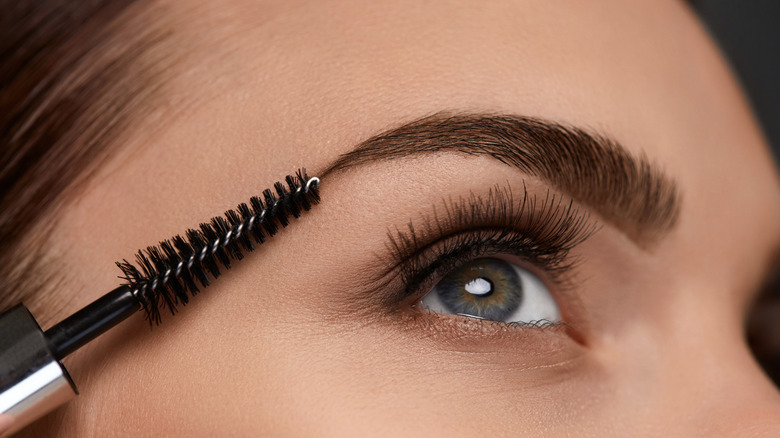 Puhhha/Getty Images
You're tweezing along and everything is going great. Your arching is perfection, and you can imagine the looks of appreciation you'll get for your beautifully groomed eyebrows. And then you step back from the mirror. And you realize that, yes, you have two perfect eyebrows — that don't match.
Stop. Put down the tweezers. "Sometimes, in the process of trying to make your brows even, you might keep plucking hairs from each side alternatively, and still end up frustrated with the finished result," warns Healthline.
Your best bet is to leave your eyebrows right where they're at, and instead, focus on evening them up in ways that won't leave you bald above the eyeballs. "The key is to not stress too much about creating symmetry," according to HD Brows. "Even small adjustments in shape can create big changes." Luckily, those small adjustments can be made with a few extra minutes in the morning, and a few good products.
The right-now fix to even-up your brows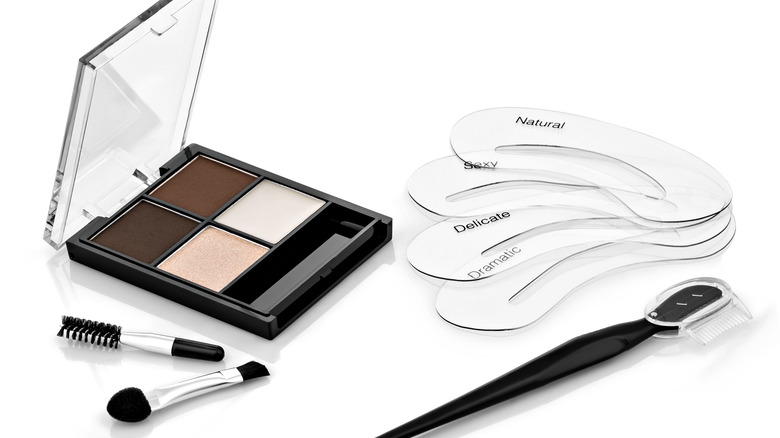 Dzha33/Shutterstock
While you won't be able to magically make your uneven eyebrows grow back instantaneously, you do have options for a right-now and until-then fix. First, step back from the mirror and take a good look at your uneven brows. Pick the one that is fuller and then Bobbi Brown suggests "add[ing] to the other brow until they look similar, but not exactly the same."
"When it comes to coloring in uneven brows, powders offer a more natural look but pencils give you the precision to really hone in on a wonky shape, color in gaps, and even disguise scars," according to Woman & Home. Bobbi Brown advises using "light, short strokes to achieve the desired shape, filling in any gaps until both brows look balanced."
If you can't get the shape you want — or need a little more help — try a brow stencil. Usually available in a multi-pack of brow shapes — such as the Anastasia Beverly Hills Eyebrow Stencils — the stencils are made of plastic, and fit over your current eyebrow to help guide you in creating a more perfect shape. As brow expert Anastasia herself explains for Sephora, "I hold the stencil and begin filling in the tail with powder, moving toward the beginning of the brow." She then uses a colored brow pomade to create "tiny hair-like strokes . . . to fill in the gaps and mimic the hair." She uses a spoolie brush after each application to help blend and soften the look.
The long-term solution for uniform brows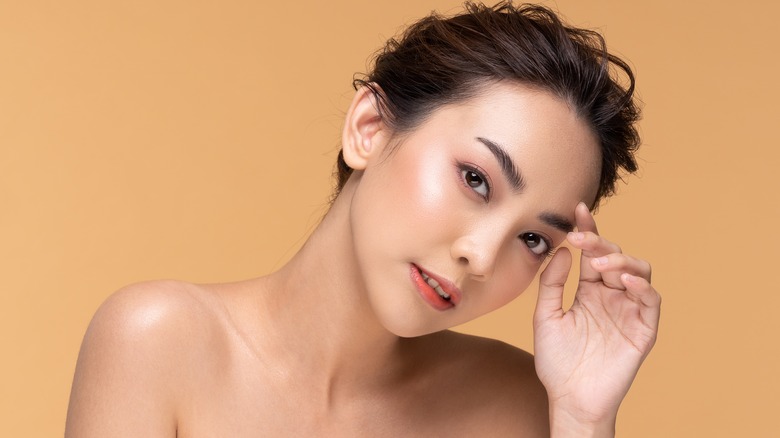 220 Selfmade studio/Shutterstock
Patience is key when waiting for your eyebrows to even out, as the only long-term solution is to let your eyebrow hair grow back in, then re-shape. "The hair growth cycle for eyebrows is between three and four months," informs dermatologist Shilpi Khetarpal, MD (via Cleveland Clinic). "If you're looking in the magnifying mirror every day, obsessing after each hair, your eyebrows will never get the chance to recover."
To help aid the growing process, brow grooming pro Sania Vucetaj suggests watching where you apply your face products. "Avoid creams, lotions, oils, and serums — everything you could possibly put on your face," she explains in Good Housekeeping. "It blocks the growth and makes hair shed." You can still use your favorites, just avoid the eyebrow area.
Once your brows are fully grown back, be gentle with the tweezing. "Don't try to totally reshape your brows yourself unless you feel really confident," advises brow artist Jimena Garcia on Goop. You can book an appointment at a brow bar or salon to get the shape you've always wanted. At home, "pluck only the excess hairs growing out around your brow and leave everything else alone," says Garcia. And remember, "Eyebrows are considered sisters, rather than twins," as Woman & Home notes. "Sure, they should resemble one another but they'll never be completely identical."