How To Pull Off The Viral 'I'm Cold' Makeup Trend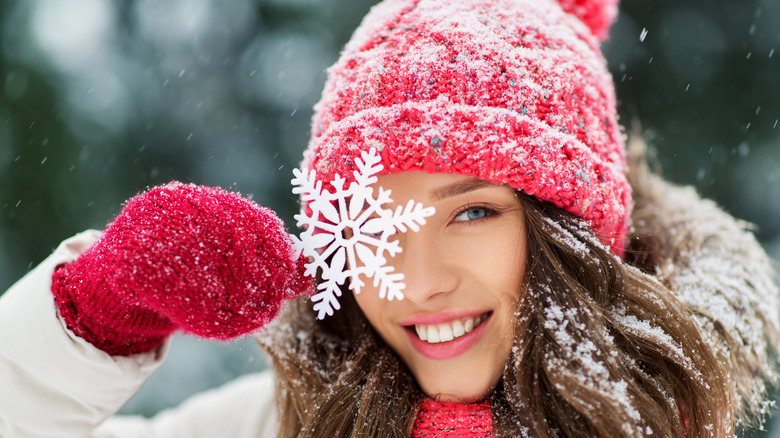 Dolgachov/Getty Images
It doesn't matter where in the world you live — BeautyTok says we're cold, so we're cold. And even if you're not, your face will say otherwise, thanks to the trendy "I'm cold" makeup look blizzarding its way through TikTok. #ImColdMakeup has collected over 82 million views and counting on the wildly popular video-sharing app, with high-profile celebs like Kylie Jenner and Emily Ratajkowski sleighing the wintery Cindy Lou Who look, per The Zoe Report.
This makeup trend was created by makeup artist and TikTok creator Zoe Kenealy and gives the look of a naturally flushed complexion. "There are ways you can do your makeup to make people feel things," she says in the video. "Like give them serotonin like a Hallmark movie. Today, we're making ourselves look cold." Think rosy cheeks, rosy nose, rosy everything.
Remember when that viral TikTok makeup trend that uses blush in your undereye area had everyone reconsidering where to place their pinkish glow? Well, the "I'm cold" look is pleasantly reminiscent of that. Plus, it makes you look and feel like you just stepped out of a Hallmark movie. Enough said. Here's how to pull it off.
It's all in the blush placement
Mastering the trendy "I'm cold" makeup look obviously has everything to do with the blush. The trend would be nothing without that rosy complexion! However, where you apply the blush is crucial in mastering the look. Makeup artist Mei Pang told CBC that you want to be strategic about where you place the product. "For example, if you place it lower on your cheekbones, it creates a fuller, flushed look, which is synonymous with the 'I'm cold' makeup effect," she said. "If you place blush on the high points of your face, it creates a lifted appearance."
So, to pull off the look, you should place the blush where you usually would get flushed if you were out walking in a winter wonderland. A great place to start is along the apples of your cheeks and horizontally toward your nose. Don't forget to add a bit on the tip of your nose as well! TikTok creator Zoe Kenealy layers orange and pink shades in those areas, even hitting her upper lip, giving a "blushed mustache," as she calls it.
Set everything in place with setting powder, and pop on whatever "basic bi*** fall lip you want," per Kenealy. You want to keep that full-glam look to a minimum, opting for a "snow-like shimmer" on the lid if you must, per mindbodygreen. You want the flushed rosiness to have a main character moment, so keep everything else light and simple.
How to pick the right blush shade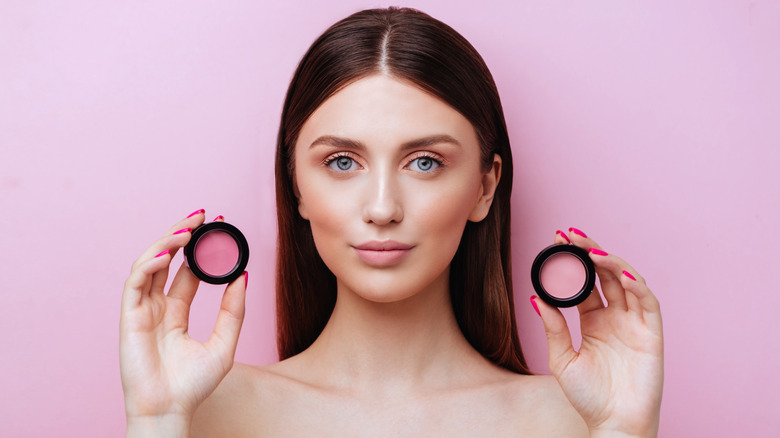 Margaryta Basarab/Getty Images
You may have caught that makeup artist Zoe Kenealy blended an orange blush shade onto her cheeks, and maybe you scratched your head at that. You really can use any blush color you want! However, to make it look realistic, you want to replicate the natural color your face produces when it's cold. The Zoe Report recommends noting the color your cheeks provide when you're flushed so you can closely match that with your blush. You can even softly pinch your cheeks with your fingertips to see what shade flushes to your face.
Depending on your skin tone, there are shades you'll want to gravitate toward when picking out your "I'm cold" holy grail product. Kenealy uses, orange-hued shades on lighter skin tones, along with soft pink shades, via Fashion Magazine. For skin tones ranging from medium to dark, reach for vivid berry shades of cherry and merlot. TikTok creator @bonitravo creates the look on her deep skin tone, using a bright red shade, which gives a flawless end result. So, swipe on that blush and style that puffer jacket. Winter is approaching, and we're all here for it.