Simple Ways To Style A Puffer Jacket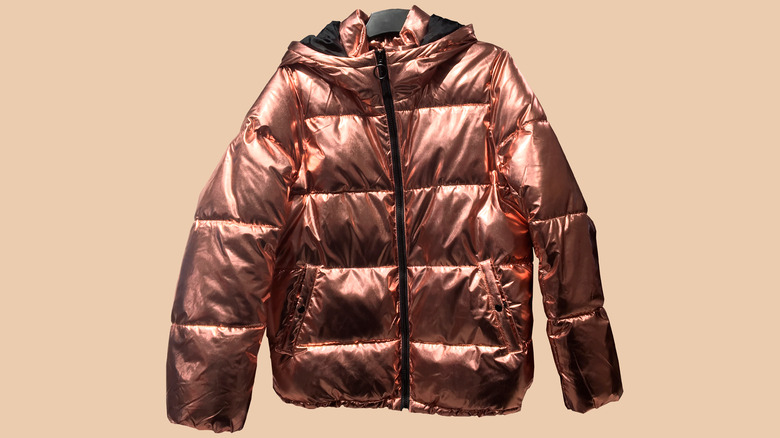 Anastasiia Horova/Shutterstock
With the unmistakable cold winter air drifting through our windows, under our knit sweaters, and hitting our cheeks when we open the door every morning, it's clear that proper outerwear is needed stat. Don't get us wrong, we love winter: a season that's all about ice skating in the park, drinking hot toddies, eating gingerbread and Christmas roasts, ringing in the New Year, and yeah, great fashion, too. While we love a great summer bikini and sarong set, or a pretty floral spring frock for brunch with friends, is there anything better than great winter style? With tons of possibilities for layering unexpected pieces together, plus countless ways to accessorize with knit scarves, pom-pom beanies, earmuffs, and mittens, it's no wonder the colder months are our favorite time to get dressed up.
While you may already have your winter outfits planned to a tee, with a full stock of your favorite timeworn wool or cashmere sweaters in candy hues, tights, leggings, and of course a fantastic pair of chunky boots to take you from work to after-dinner drinks, you might feel your coat game needs a refresh. If you're already feeling bored dusting off your same old wool coat you've worn the past five winters, consider another beast entirely: the puffer jacket. Much different than the quintessential ski jacket, this season's puffer jackets come in every shape, size, and hue, and the styling possibilities are endless. Here are the absolute best ways to style a puffer jacket this season.
Puffers look amazing with relaxed, wide-leg jeans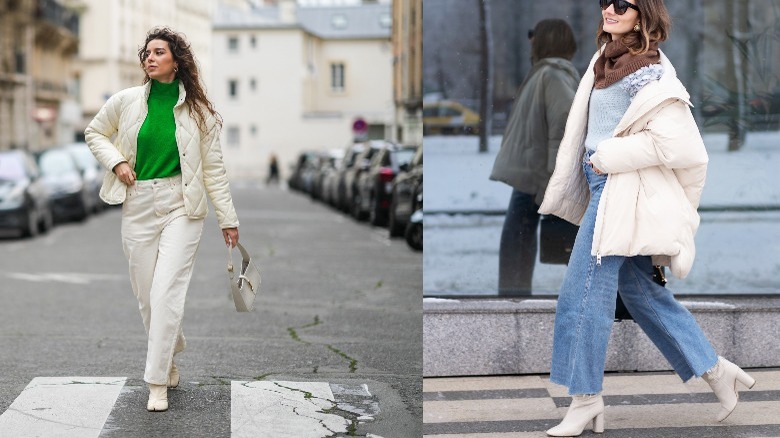 Edward Berthelot/Getty & Denis Bukhlaev/Shutterstock
First up, we have one of our favorite ways to style a puffer jacket, which is non-coincidentally also the easiest. While we will get to all kinds of surprising ways to style your puffer in a bit, this styling trick is simple, to the point, and is suitable as an everyday uniform you can reach for all winter season. As simple as 1, 2, 3, pair your puffer jacket with your favorite pair of straight leg jeans — who would have thought the results could be so chic?
As explained by The Every Girl, if you're prepping a "winter uniform" this year and don't know how to go about it, starting with a basic puffer jacket and flattering, straight-leg jeans is your best bet. Wearing a knit turtleneck underneath makes sure you stay as warm as possible, while still ensuring your look stays as sleek as can be. Finish off the look with a great pair of white leather sneakers (we love classic Adidas Stan Smith tennis shoes or anything by Veja) if on the go, or with chunky, wear-everyday black boots that never go out of style. Who What Wear explains that puffer jackets and high waist denim are a classic combination for a reason, since jeans add a sleek, simple contrast to traditionally-voluminous, statement-making puffers.
For this look, we love the idea of going for cream-colored or light wash jeans, and pairing them with a neutral puffer in white, tan, black or gray.
Logomania puffer jackets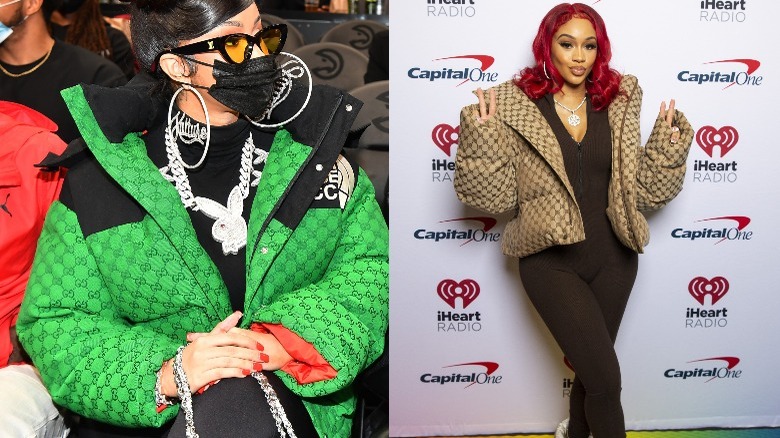 Paras Griffin & Barry Brecheisen/Getty
If Queen Cardi B herself approves of a look, you can bet we're following suit — and that includes logomania-approved puffers with in-your-face branding. Purposefully gaudy with some quirkiness thrown in for good measure, puffer jackets with loud logo patterns are edgy streetwear that add personality to any outfit — even the simplest of leggings and sleek, neutral sweaters.
If your closet is made up of mostly minimalist clothes, such as black tights, cream-colored sweaters, gray scarves, tons of high quality tee shirts, and the occasional edgy cut-out crop top you save for special occasions like date nights and parties, this is definitely the puffer jacket route for you. While having a colorful closet might make pairing a bright, logo-emblazoned coat difficult, it's the perfect match if you typically find yourself wearing all black — even without a second thought.
It's suffice to say that a puffer jacket with an in-your-face logo pattern is a huge statement, and it's very luxe too: especially if you go for a super-rare The North Face x Gucci puffer like Cardi B. Even if you don't opt for a designer piece that will run you thousands of dollars, you can still get inspired by the "Bodak Yellow" rapper and pair your logo-stamped puffer jacket with a loud, crystal-embellished necklace, hoop earrings, classic cat-eye sunglasses with trendy colorful lenses, and a form-fitting all-black ensemble underneath. Saweetie opted for a similar outfit strategy, pairing her own Gucci puffer with a simple black catsuit and knee-high boots.
Ski inspired puffer jacket outfits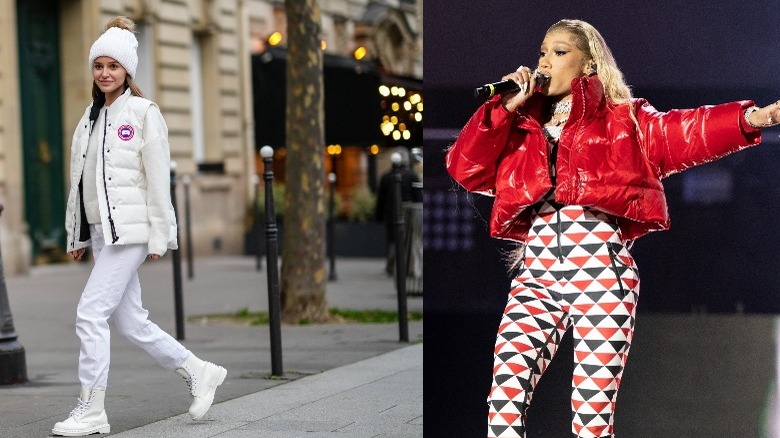 Edward Berthelot & Scott Dudelson/Getty
Another option we absolutely adore for on-point puffer style? Anything that's ski inspired. Just picture it: you're in a snow topped chalet in the middle of the mountains, surrounded by a winter wonderland that's straight out of fairytales like the "Snow Queen" ... or everyone's favorite Disney movie "Frozen." You're drinking thick hot chocolate with pillowy marshmallows on top, you have a great book in hand, and you're running a bath in preparation for the next morning's ski session. Pretty perfect, right? While we can't guarantee a ski-inspired puffer will bring you all your snowy chalet dreams, it can make you feel like you're there, which is just fine with us!
It's no secret we love athleisure, constantly opting for leggings, sports bras and zip-up hoodies with cute sneakers every chance we get in our day-to-day. If wintertime makes you miss your classic athleisure outfits, look no further than the ski-inspired puffer jacket. These puffers pair perfectly with your gym leggings, white tube socks, and a graphic hoodie, and will take you from chic street style star to workout maven on the daily. Look for puffers with knit ribbed details at the cuffs and collar, tons of quilting, bright fire-engine hues, shiny patent fabrics, and vintage, sporty patches. This preppy favorite can also be paired with monochromatic looks like utilitarian pants and combat boots, or fun accessories like pom-pom beanies and Fair Isle print gloves for ski resort chic. Another great pairing? Fitted, patterned ski pants.
Colorful, metallic puffer looks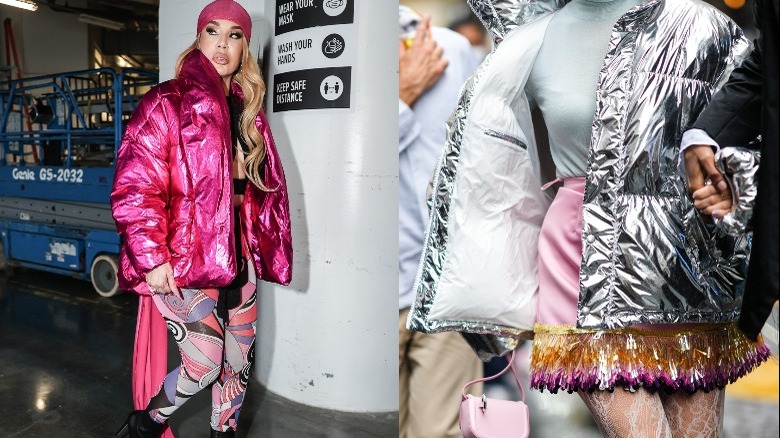 John Parra & Edward Berthelot/Getty
We'll always be obsessed with metallic clothing and accessories, whether opting for a gold leather crossbody bag, lace-up bronze Greek sandals, a silver metallic belt for cinching your evening wear, or even metallic threads woven into a multicolor wool sweater. Metallics are a fun way to add playfulness to any ensemble, and of course, the rule definitely applies when it comes to coats, too. While you may wonder if a metallic puffer jacket really will go with everything in your wardrobe, you might be very surprised. Just like logo-patterned parkas, metallic puffers are the best addition to an otherwise neutral wardrobe, and will give your classic outfits some much-needed daily pizzazz.
Metallics tend to function as neutrals themselves, and will add a dose of excitement to just about any outfit in your closet. A warm rose gold puffer looks incredible with an all-white outfit, while a silver parka will play up dark tones like black or navy, and even brighter shades like pink, red, or green if you keep shapes and lines simple. While you may think a simple black puffer is the way to go, a metallic one might bring necessary spice to the winter scaries. Make like reggaeton singer Ivy Queen and opt for a bright-colored metallic parka, pairing it with a patterned outfit in complementary hues (extra points for a head scarf!). Another option? Silver puffers go notoriously well with pastels, especially if you add a bubblegum pink baguette bag into the mix.
Elongated puffer jackets are super chic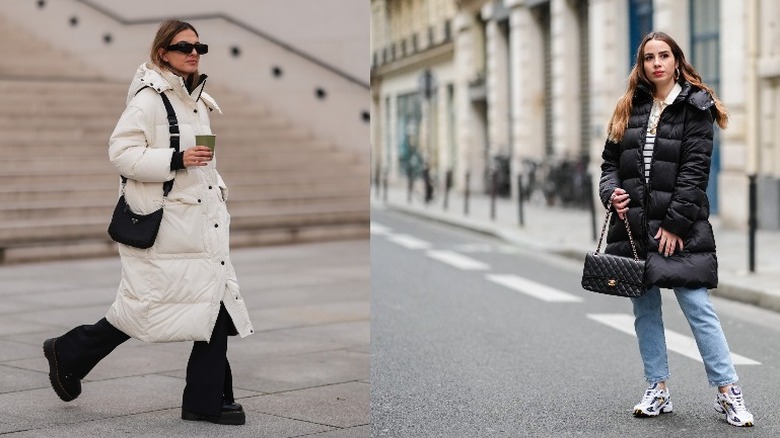 Edward Berthelot & Jeremy Moeller/Getty
You might think that the best way to go when it comes to puffer jackets is keeping it cropped, fitted, and body-skimming, especially if looking to flatter your figure and make your outfit as timeless as possible. Maybe those oversized Gucci North Face jackets just aren't for you, and if you're planning on going for a puffer, you know you need something classic and fitted. Well, all of your prior bias might be flipped on its head as soon as you get a good glimpse of elongated puffers that hit at the knee or below. Not only are they warm, but long puffer jackets are tremendously chic, taking any look into sophisticated cold weather territory in no time.
As per Glamour, full length puffers that hit you at the knee or below are the epitome of a statement piece, and should be treated as such. The outlet recommends going for a super-femme, leather-like version, especially anything with buttons and a dainty collar. Complete the look with heels, a puffy clutch bag, and simple lines underneath for a look that takes you from early fall to peak winter. L'Officiel recommends balancing your long puffer with minimal volume underneath, suggesting wearing it with streamlined, tight-fitting leggings. Still, as evidenced by countless street style stars, a long puffer also looks great with black flare pants, chunky platforms, shades and a crossbody for on-the-go chic. Similarly, straight-leg jeans, sneakers, and a classic sweater also complement this look perfectly.
Cropped jackets are a perfect seasonal layering piece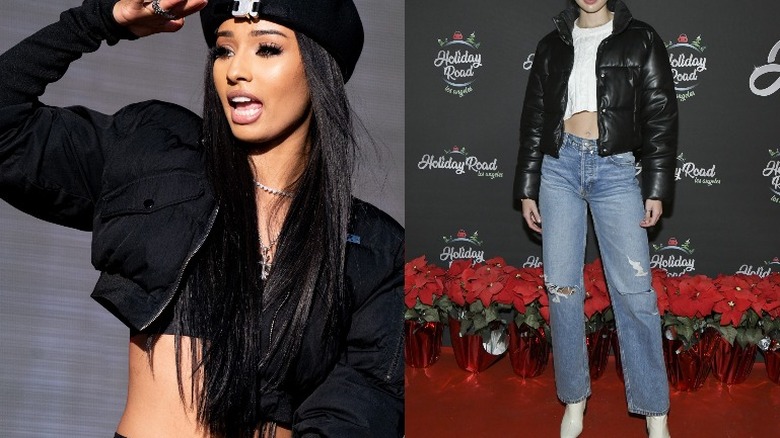 Scott Dudelson & Rodin Eckenroth/Getty
If you're petite, you might be concerned about a long puffer coat eating up your frame, or you might just live in an area that just doesn't get that cold — rendering the idea of a super-warm, long puffer useless. Whatever your reasoning, you've come to the right place: a cropped puffer jacket might be your best option, especially if you want a closet staple that works during the slightly-warmer fall months, and can serve as a layering piece for wearing unbuttoned or taking on and off throughout the day.
Cropped puffer jackets remind us of early 2000s fashion in the best way, giving us just a flair of something Beyoncé or Britney Spears would've worn in the early aughts, but still looking current today. Plus, as per Glamour, cropped puffers are the perfect statement piece that won't make outfits too busy — leaving room to experiment with other trends while you're at it. Since they act as a "balancing element" in your look, going for a neutral cropped puffer is your best bet, ensuring staying power and longevity throughout the years in your wardrobe. InStyle also suggests going for a cropped puffer jacket, pairing it with a pair of high-waisted patterned pants in an on-trend zebra or geometric print. We love how streamlined and classic this look is, whether pairing your cropped puffer with a simple black winter hat and crop top, or going for a traditional leather version over jeans and a tee.
Unexpected puffer jackets with mini dresses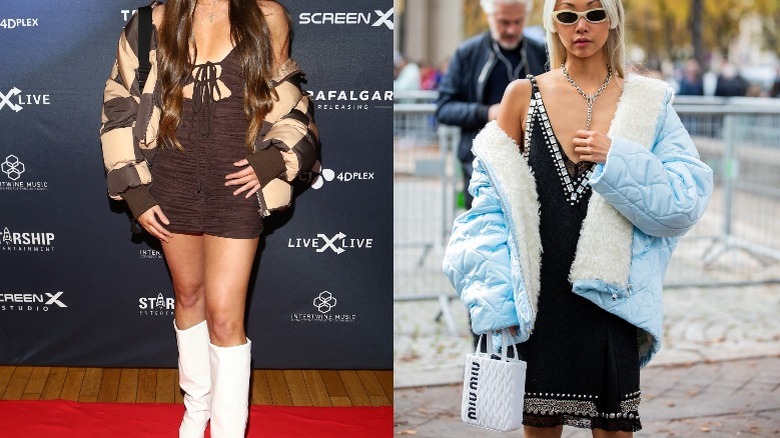 Tommaso Boddi & Christian Vierig/Getty
Okay, so puffer jackets are meant for cold weather looks, right? According to the red carpet and this season's street style stars, that's not always the case. You might scoff at the idea of wearing a puffer jacket with anything but thick sweaters, but puffers somehow also complement mini dresses just as well as standard winter fare. Does it make logical sense? Maybe not. Are we mad? Not at all — puffer jackets over dresses just work, and we're all about playing with fashion whenever possible.
While wearing a puffer jacket over a mini dress is an unexpected take on the winter trend, it has major snow bunny appeal you won't want to pass up. As explained by Who What Wear, puffer coats are perfect for making any outfit cozier, even ensembles that involve bare legs. Either way, you can always add a pair of patterned tights to your look if you need even more warmth, which are also the perfect accessory. As per InStyle, layering an oversized puffer over your dress may make your jacket look like a dress in itself — and that's totally okay. The "coat as a dress" look has countless celebs' stamp of approval, so what's not to love?! Layer a puffer jacket over a knit mini dress, finishing off the look with knee high boots for fall-to-winter appeal. If you want a boho look instead, try donning a shearling jacket over an embellished mini for all the "Penny Lane" vibes.
Monochromatic puffer jacket outfits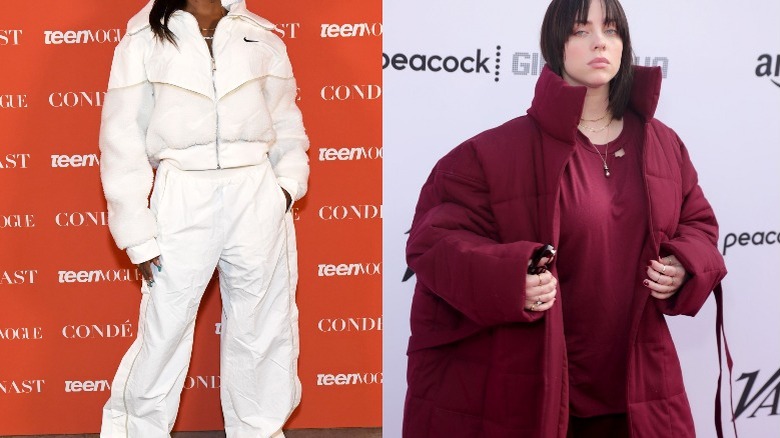 Jon Kopaloff & Leon Bennett/Getty
Arguably the easiest way to wear puffers without a thought in the world is a monochromatic look, going for pieces in the same hue or color family instead of worrying about what matches or not. Monochromatic outfits have ruled the runways for a few years now, but according to a recent article by Vogue, the trend is still going strong. Spring 2022 runways were chock-full of one-shade looks, whether it was Versace sending down models in neon green powersuits with matching loafers, or Blumarine opting for pale bubblegum pink silk pant sets and rosy mini bags. You can easily work the monochrome trend into your winter season look by going for outfits in colors that match your trusty puffer jacket — and the results are pretty spectacular.
As evidenced by daring, fashion-forward celebrities like Billie Eilish, monochromatic puffer jacket outfits are a major statement on and off the runways — and will make your cold weather style strategy that much cuter. If you prefer to take a chance with color instead of opting for a go-to neutral like black, do like Eilish and try a burgundy puffer on for size. On-trend this season, an eggplant-colored puffer jacket will act as an elevated basic in your wardrobe, and looks amazing with a matching aubergine outfit like a sweater and pants set. If you prefer a true neutral, we also love the idea of a full white puffer look, pairing your jacket with matching trousers for sporty, après-ski appeal.
Super oversized puffers are always a statement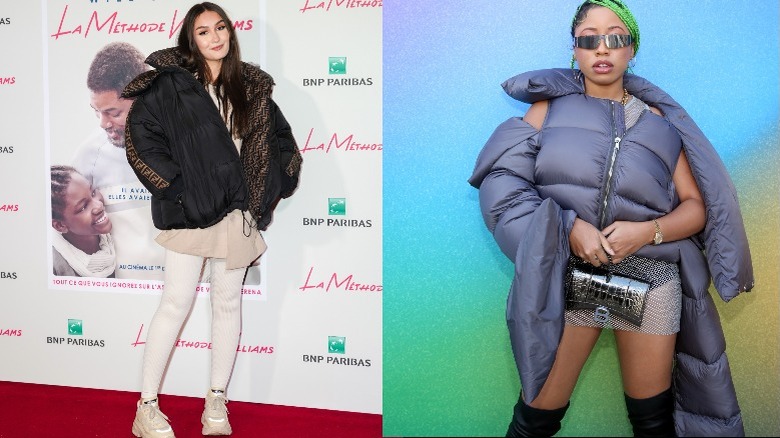 Edward Berthelot & Phillip Faraone/Getty
Another question when considering opting for a puffer jacket this season is: just how oversized are you willing to go? Not necessarily about length, although we've already talked about how much we believe in the knee-length puffer for all things chic, but more about just how puffy you want it to be. While that might sound like an oxymoron when considering you're buying a "puffer" jacket, this style comes in all shapes, and ranges from slightly-cushioned to statement-making and exaggeratedly-oversized. If you're not afraid to turn heads and want to take on the trend full-force, then a dramatic, cloud-like puffer is the way to go.
When opting for an oversized puffer, thinking about the rest of your proportions is paramount. As explained by Who What Wear, big puffers look best when styled accordingly, and can shine when worn as a dress with heels that streamline the look and elongate the legs. While this might not be the most practical option when thinking about cold weather woes, there are tons of other ways to make an oversized parka work. If you're up in the snowy mountains, pair your large puffer with a cozy oversized wool sweater in a neutral hue, tight leggings in a cream hue, and the trendiest, chunky sneakers to round out the look. Another option we love is going for an oversized puffer with cutouts, completing the futuristic look with a metallic bag, a silver mesh skirt, and polarized Y2K shades.
Pastel puffer jackets are fashion's cotton candy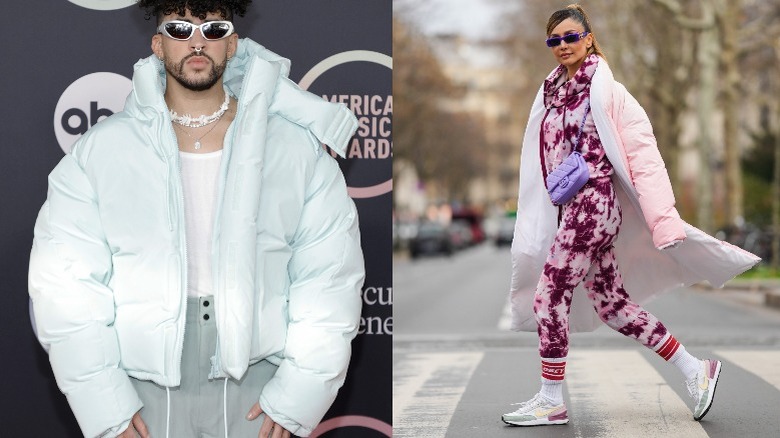 Edward Berthelot & Amy Sussman/Getty
Who doesn't like sartorial cotton candy? While puffer jackets are often seen as utilitarian, seen as prizing function over embellishment, there are countless options that are downright-delicate and dainty. If you have a super-femme style and love frothy puff-sleeved tops, floral sundresses, ruffles, crystal embellished skirts, and vintage-inspired baguette bags, then a pastel colored puffer jacket is right up your alley. Toeing the line between functional and delightfully sweet, a pastel puffer is everything your wardrobe needs this winter — and may just act as a neutral in lieu of more expected cream or beige.
As shown by a multitude of street style stars this year, hues like rosy pink, baby blue, duckling yellow, pistachio green, and the lightest shade of coral are absolutely perfect for puffers. This style of jacket is notoriously billowy, voluminous, and of course puffy, making it a perfect canvas for cotton candy-like pastel colors. A delicious cold weather staple, you'll love putting on your rainbow-brite puffer every morning when headed to work, which is proven to put a smile on your face. Just like logo-printed puffers, this style is best left to those who have an otherwise neutral wardrobe, since pastel jackets best pair with black, cream, or gray pieces underneath. Take Bad Bunny's lead at the American Music Awards and pair an ice-cold mint puffer with a basic white tee and trousers, or instead go all-out with a maxi-length pastel puffer and a tie-dye tracksuit with sneakers.
Athleisure inspired puffer jackets with low-rise pants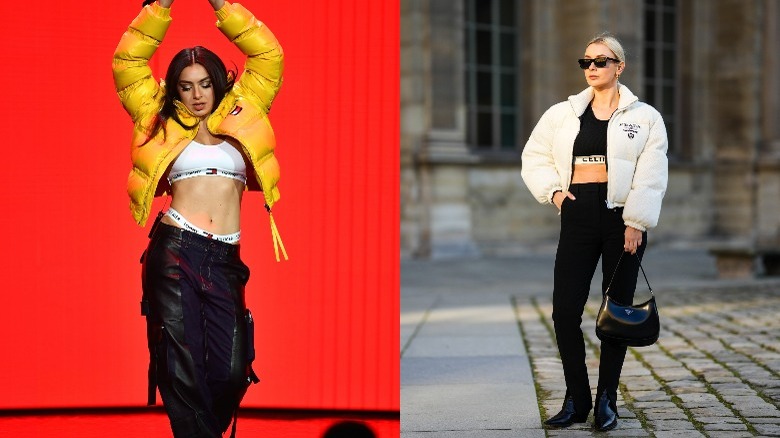 Jeff Spicer/bfc & Edward Berthelot/Getty
Another option when thinking of the best ways to style your puffer jacket for not-so-cold days? Paying homage to Sporty Spice and pairing your puffer with low-rise pants in an on-trend silhouette that's reminiscent of the 90s and early-2000s. Much like pairing your puffer with mini dresses, this outfit idea isn't the most practical come harsh wintertime, but can we just say the cuteness overload and major Y2K, TikTok-approved vibes make up for it? Of course, baring your midriff in the middle of below-freezing, snowy climates that recall Winterfell from "Game of Thrones" isn't recommended — but this look is absolutely perfect for those slightly chilly fall or winter days that are still hospitable (and don't make you want to run back to your bed ASAP).
For this look, grabbing a puffer that screams athleisure is a must. Try a puffer jacket in a sporty hue like bright red, navy, yellow, white or black, and opt for a cropped style that hits right at the waist or just below it. We also love this look with a puffer that's emblazoned with a graphic logo for all the casual Americana vibes. Once you have your parka, layer a fun statement sports bra underneath that also makes use of logos, pairing it with casual joggers or low-rise, pocket-heavy cargo pants for a utilitarian touch. This look works best with minimal accessories, such as your favorite pair of sneakers, a 90s-esque baguette bag, and sporty shades.
Creamy, neutral puffers are always sophisticated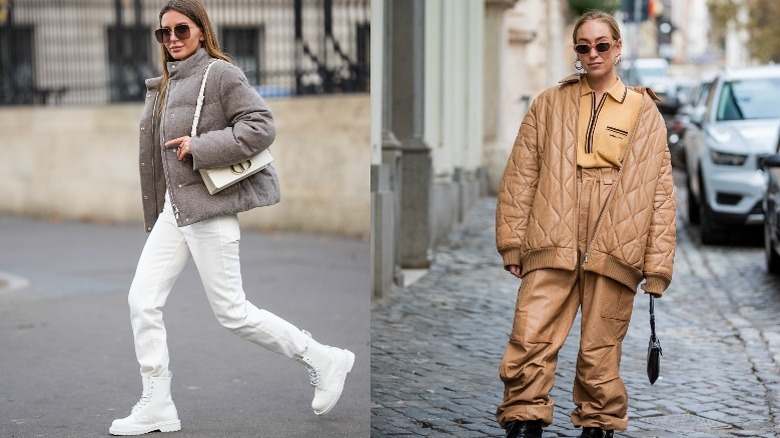 Edward Berthelot & Christian Vierig/Getty
Let's say "refinement" is basically your middle name, and friends often see you as the law of the land when it comes to elevated, timeless pieces that will stay classic for decades. You're all about that one perfect pair of vintage Levi's that hug your figure just right, wool or cashmere sweaters that you've taken out of storage every winter for 10 years running, dainty jewelry you never take off, and that one t-shirt that fits so good you have it in every (neutral) color. Your capsule wardrobe is pretty much complete, rounded out with a go-with-everything leather handbag, and a great pair of sneakers and boots. But if you want to complement your closet with a puffer jacket come winter, it makes sense that it should be just as classic as the rest of your pieces.
If you decide that you need a neutral puffer jacket right now, you might be surprised to know that it will blend seamlessly with all the items you love and wear every single day. Whether you choose a puffer in a creamy ivory, camel, gray, or black hue, you should make sure the rest of your outfit stays neutral, even if you complement it with other shades within the subdued color wheel. While an all-camel monochrome look complete with a quilted caramel puffer jacket and matching high waist leather pants is ah-mazing, we also love the idea of pairing a cozy gray puffer with an all-white ensemble.
Printed puffer jackets are the perfect winter statement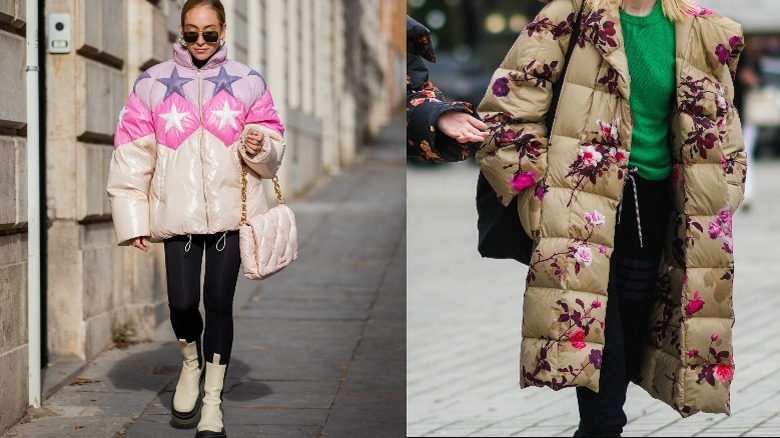 Christian Vierig & Edward Berthelot/Getty
Puffer jackets are undeniable statement pieces no matter what shade they come in, adding tons of volume to even the sleekest of looks. The coat equivalent of a dramatic puff sleeve, puffer jackets are decadent, and give off a certain flair you just don't get from your go-to wool jacket. Puffer jackets will always get you noticed, especially if you decide to go for one with an exaggerated shape, or a fun cropped style for all your low-rise jeans. But there's one thing that sets apart a puffer more than any other detail: a fantastic pattern.
You might think: how can I possibly buy a printed puffer jacket as my wear-everyday winter jacket? While the thought is basically blasphemy if you've always opted for a classic, black, mega-utilitarian coat to take you day-in and day-out come wintertime, hear us out. If you find yourself going for an all-neutral daily uniform anyway, mostly made up of jeans, black leggings, basic tops in shades like white and gray, and those black boots you wear everywhere, why not go for a fun topper? A deliciously-patterned puffer jacket is pure joy in an item of clothing, giving you a guaranteed pep in your step whenever you put it on. We love the idea of a puffer jacket with pastel color blocking in cream and purple, with extra points for big stars right at the lapel. Another absolutely adorable option? A vintage-inspired, dainty, all over floral print.
Intricate quilted puffer jackets are a major 'yes'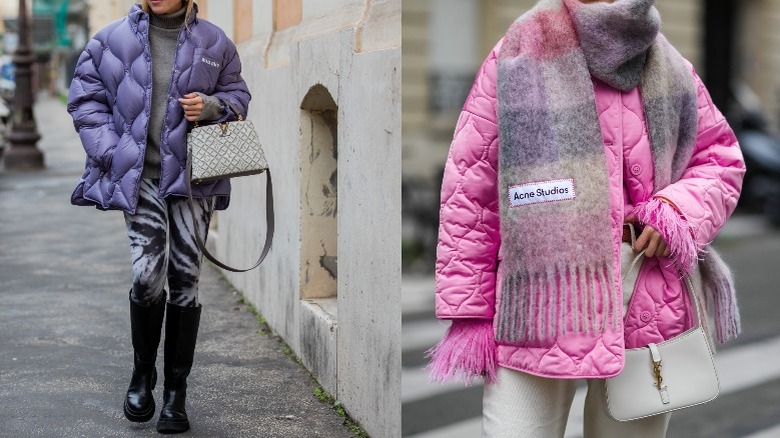 Christian Vierig & Edward Berthelot/Getty
Speaking of absolutely delicious puffer coats that are practically good enough to eat, why not go for a jacket with an intricate quilted pattern that's every bit as voluminous as it sounds? While we try to refrain from picking our puffer jackets based on how pillowy they are alone (although we 100% understand you if you do), there's just something about a big, down-filled jacket with tons of puffy quilting that makes our heart beat faster. Maybe it's the cold weather outside our window, or maybe it's just a need for extra coziness considering the current state of the world — whatever it is, we need the jacket equivalent of a safety blanket, and an option with quilting and extra volume is just what the doctor ordered!
We're obsessed with puffer jackets, yes, but that obsession grows tenfold when it's stuffed to the brim, puffy as can be, and featuring extra-cute quilting throughout. What makes it even better in our eyes? As you can see by now, we're admittedly big fans of rainbow bright hues, so quilted puffers in candy colors just make us happy. A grape purple quilted puffer is a perfect layering piece over an otherwise neutral outfit, especially one that incorporates darker shades like black and gray with a classic logo-patterned bag. We could never pass up a bubblegum pink puffer, especially one with matching rosy buttons and accented by a big wooly scarf, a gorgeous handbag, and feather sleeves.
Impossible bright neon puffers might just stop traffic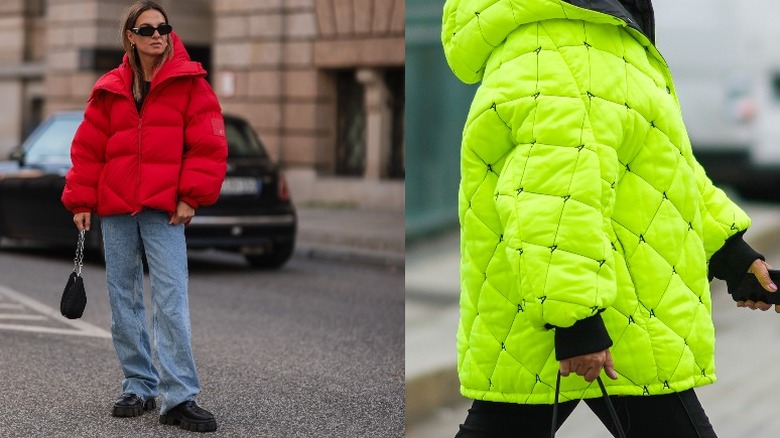 Jeremy Moeller & Edward Berthelot/Getty
We couldn't end our list without paying tribute to one of the most notable puffer jacket styles under the sun. These coats are more than just items of clothing — they are electricity in a bottle. Much different than their frothy, cotton candy-esque pastel cousins, neon puffer jackets are in-your-face in all the best ways. Neon puffers are having a moment as of late, derived from the athleisure trend making its way into runways season after season. We love the idea of a fire-engine red, lime green, hazard-sign orange, or bright yellow puffer to ward away all the winter blues, especially in a perfectly-oversized silhouette.
As per Who What Wear, one of the best ways to wear your neon puffer this season is by pairing it with contrasting, bright-hued bottoms. While the outlet recommends mixing a lime green puffer with turquoise pants, you can make color-blocking your own and mix a bright coral puffer jacket with pink trousers, or a yellow puffer with purple leggings. In the world of rainbow brights, everything is fair game, as long as the shades give off highlighter pen vibes — really. InStyle also recommends going for all things vibrant when it comes to your puffer, as seen on Emily Ratajkowski on the streets of New York City in a bright cherry jacket. Get inspired by the model and layer your neon puffer over a simple, neutral ensemble of black leggings, a solid color sweater, tube socks and sneakers.