What Happens When You Try The Viral TikTok Makeup Trend That Uses Blush In Your Undereye Area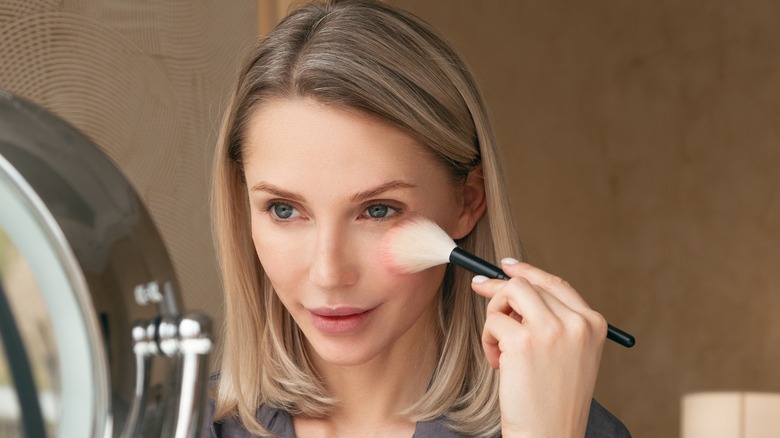 nargiza_ir/Shutterstock
TikTok is full of creative makeup tips and tricks that aim to make us all look our best with minimal effort (or expense). The app has given us advice on how to froth our foundation, tutorials on achieving brownie-glazed lips, and so much more. The undereye blush trend isn't the first of its kind to come out of TikTok, either. The winter blush trend designed to make you look like a snow bunny gained traction due to its super cute outcome.
Likewise, this new blush hack could also help you to achieve a fresh and bright look. It involves using blush not just on your cheeks, where it typically would go, but under your eyes too. This idea may sound a little out of leftfield, but beauty influencers are clearly curious about the effect that placing blush under your eyes may give you. The hashtag #undereyeblush has 18.1 million views alone — evidently, people are intrigued. 
Considering the significant impact TikTok is having on the beauty industry, per Elle UK, this is nothing to sneeze at. Whether you're eager to try it out or not quite convinced just yet, here's how to achieve the undereye blush look and what exactly it promises to do. 
The unusual trend has quickly gained traction on TikTok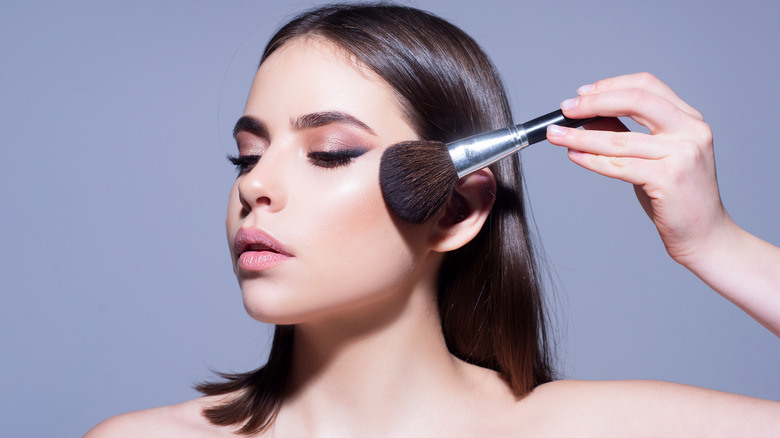 Volodymyr TVERDOKHLIB/Shutterstock
According to Brydie, the blush-under-eyes trend originated with makeup artist @paintedbyspencer, who shared his unusual technique on TikTok while pointing out, "If you're not blending your blush up to your undereye area, you're missing out — just saying." His video currently has 100,000 likes, at the time of writing, and kickstarted the trend of others trying out the look for themselves. 
Content creator @makeupbyalissiac's video, which features Spencer's original sound and the caption "mixing liquid blush with my concealer has changed my life," currently has upwards of 270,000 views. Elsewhere, model and content creator @stxph.h attempted the trend too, admitting in her caption that she was "shocked" by how well it worked. But, what is the actual point of applying blush under your eyes? 
Glamour notes the hack will brighten up the often dark area beneath your eyes, correcting the color imbalance. In general, if applied closer to the under-eye area, blush can give you "higher cheekbones and a gravity-defying lifted face." This is in direct contrast to applying blush too far down which, according to makeup artist Tommy Napoli, can "highlight the most-downturned features, making the face appear saggy or sad." 
You'll need the right blush to achieve the desired results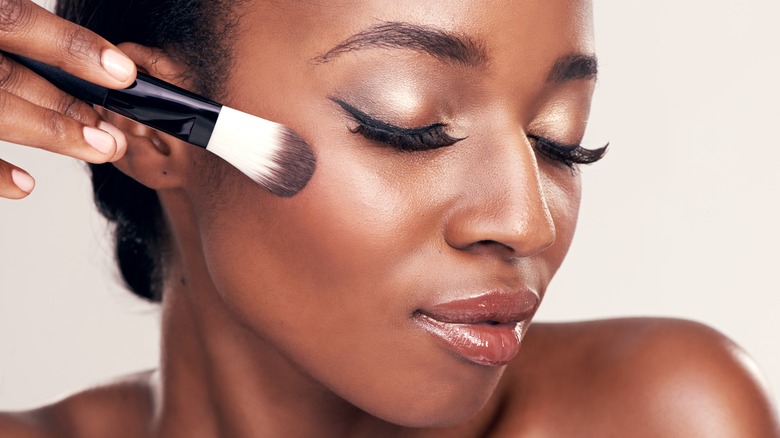 PeopleImages.com - Yuri A/Shutterstock
If you're looking to try this trend out yourself, it's worth remembering that not all blush is created equal — some will work better than others for this particular idea. PureWow advises using liquid blush because it's easier to blend. The Rare Beauty Soft Pinch Liquid Blush has the TikTok seal of approval, with Selena Gomez's makeup brand being popular in general on the site. 
Just make sure not to apply too much product, as part of the appeal of the Rare Beauty blush is its intense pigment. Or, you could go for the classic Glossier Cloud Paint, which also doesn't require much product. Whichever blush you choose, make sure it has a pink undertone rather than an orange/red one, as using a blush that isn't pink may not give you the desired outcome. 
This is because, according to makeup artist Saffron Hughes, "pink is opposite to blue-green tones." This means that using blush on the darker undertones of your under-eyes will "help minimize the appearance of these areas on the skin," per Refinery29. Next time you feel your undereye area is looking duller than you would like, dab on some blush, add some concealer, and see if it works for you.