Netflix Drops Dramatic Trailer For Meghan And Harry's Bombshell Docuseries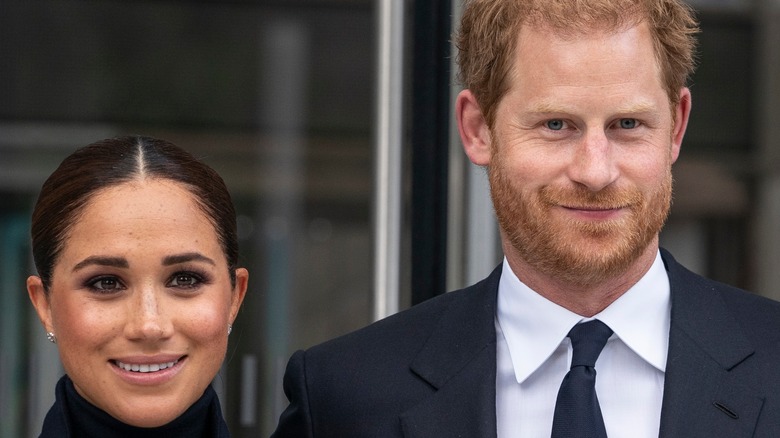 lev radin/Shutterstock
Prince Harry, Duke of Sussex and Meghan Markle, Duchess of Sussex made worldwide news when they stepped back from official royal duties and moved to California. They've established their lives along with their children Archie and Lilibet in a mansion in Montecito, California, and while they're not working on behalf of the royal family anymore, they seem to be staying busy. Meghan has been working on her podcast "Archetypes," where she's talked with Serena Williams, Paris Hilton, Trevor Noah, and others; the Season 1 finale dropped on November 29, in which Meghan had a clear message for her haters.
As for Prince Harry, he has continued to work with the Invictus Games, which he founded, and he and Meghan attended the most recent event in The Hague, via Town & Country. While there, a Netflix film crew accompanied them, getting footage for their docuseries "Heart of Invictus," which according to their Archewell Productions website, "will showcase powerful stories of resilience and hope from competitors" at the event. Prince Harry also has a memoir coming out in January 2023 called "Spare."
Amidst all their work, including being parents to their two kiddos, they filmed a Netflix docuseries about their lives. And the first teaser for the highly-anticipated series just dropped, bringing with it renewed speculation about what it will reveal.
Harry and Meghan will go behind the scenes into their lives
Simply titled "Harry & Meghan," the Netflix docuseries about Prince Harry, Duke of Sussex and Meghan Markle, Duchess of Sussex looks like it's going to bring the drama if the first teaser is any indication. It starts with someone asking "Why did you want to make this documentary?" followed by a number of sweet, candid pictures of the couple and then Prince Harry says "No one sees what's happening behind closed doors." Right after that, there's a cut to a slightly ominous looking shot of William, Prince of Wales and Catherine, Princess of Wales, which makes it seem that they're definitely going to be bringing up some of the rift between the Duke and Duchess of Sussex and the royal family. They could be spilling some more tea about the challenges they faced within the royal family, potentially in regards to both racism and mental health challenges, both of which they brought up in their (in)famous interview with Oprah.
"I had to do everything I could to protect my family," Prince Harry goes on to say. With pictures of photographers and piles of newspapers in the teaser, the issues of how the media covered Harry and Meghan seems like it will also be featured. It ends with a shot of Meghan saying, "When the stakes are this high, doesn't it make more sense to hear our story from us?"
Royal fans are beyond excited for the series to air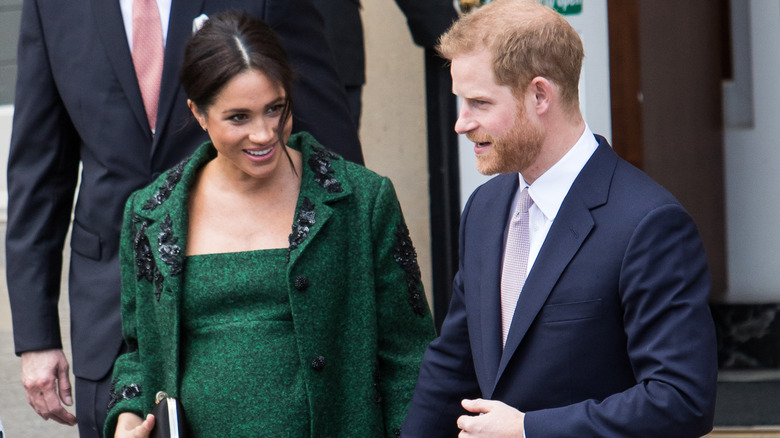 Mr Pics/Shutterstock
"Harry & Meghan" is rated MA and it will be available on Netflix starting December 8. Netflix has confirmed the series will be six episodes long, and it will cover "the clandestine days of their early courtship and the challenges that led to them feeling forced to step back from their full-time roles in the institution." Meghan Markle hinted at how she feels about the series in an interview with Variety, saying that she trusted the director with their story, even if it might "not be the way we would have told it."
Royal fans cannot wait. "7 days left! The 7 days are too much!" tweeted one. Another said "I'm crying, shaking and throwing up. The trailer alone has got me." One wrote "I love the fact that they're able to tell their own story." And some seem excited about the drama that the show seems it will inevitably stir up: "This about to have some people mad ... and I'm here for it" one fan tweeted.