Celtics Fans Have Mixed Reaction To William And Catherine's Presence At Boston Basketball Game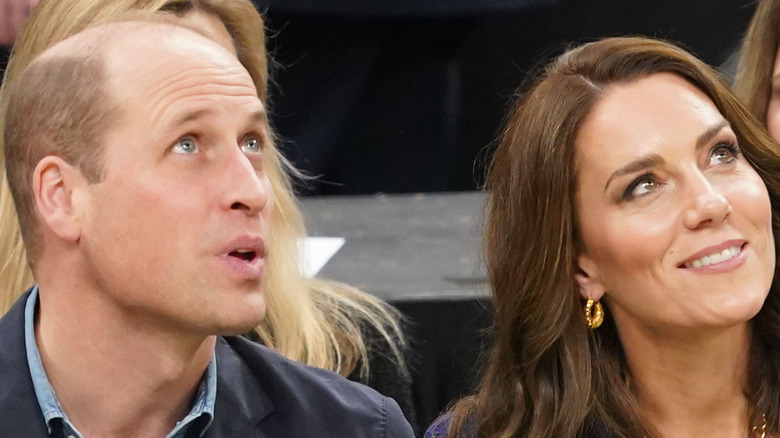 Pool/Getty Images
Since Queen Elizabeth II died in September, William, Prince of Wales and Catherine, Princess of Wales, have not traveled outside of their home country of Great Britain — until now, that is. The royal couple flew from across the pond to the United States for a quick trip to Boston, Massachusetts, which they haven't visited in nearly a decade (via CBS News). 
The purpose behind their three-day long visit is centered around the second-ever Earthshot Prize Awards Ceremony, which focuses on awareness and solutions to different environmental obstacles facing Planet Earth.
Though their philanthropic efforts are the primary reason for their travels, William and Kate were able to experience American culture, and even received a warm welcome to over 1,000 people who waited for their arrival outside of Boston City Hall, according to People.
However, later that night, when the two had a night on the town sitting courtside at the Boston Celtics game against the Miami Heat, their welcome wasn't nearly as warm.
Crowd boos could've arisen from Irish feud, Meghan Markle, or a royal racism scandal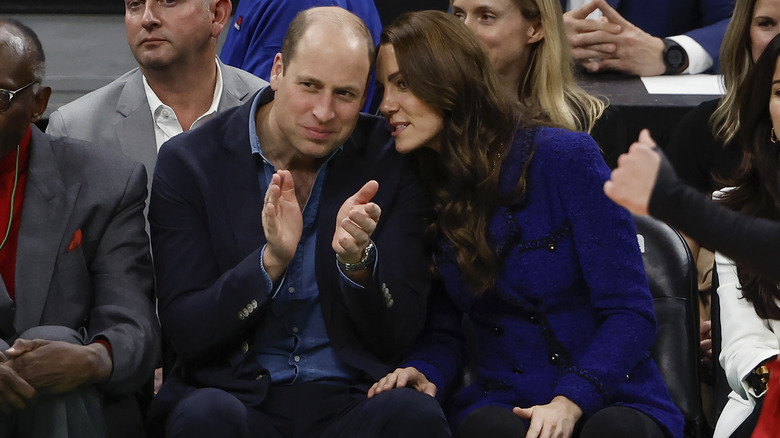 Winslow Townson/Getty Images
The Boston Celtics won against the Miami Heat, and with William, Prince of Wales and Catherine, Princess of Wales sitting so close to the basketball court, you could say some royal luck was involved. However, before the Massachusetts fans celebrated their victory, they had some strong feelings about sitting amongst royalty.
According to British tabloid, The Mirror, the Prince and Princess of Wales were subject to a unison of boos and "U-S-A" chants once the Jumbotron plastered their faces on the screen. 
Amidst the disapproving greetings, the two remained smiling and pleasant, but Celtics fans spoke to the media outlet to share why they weren't too pleased with the British invasion, and reasons why weren't exactly clear.
"I don't know why people booed," one Boston fan told The Mirror. "It seemed pretty weird. Perhaps it's because we a rich Irish heritage and they are British, people don't normally boo whoever is on the screen like that."
Twitter wasn't letting up, either. One user noted the boos may have been in response to their on-and-off tumultuous relationship with Meghan Markle: "This is what happens when you disrespect America's princesss [sic]."
Another possibility of the treatment the royals received was in regards to Prince William's close proximity to his godmother, Lady Susan Hussey, who made racist remarks to domestic charity founder, Ngozi Fulani, who is also a Black woman, at Buckingham Palace recently (via The Daily Mail). It's safe to say some of Boston wasn't entirely impressed with their British visitors.