Insiders Allege The Timing Of Meghan And Harry's Netflix Trailer Release Was No Coincidence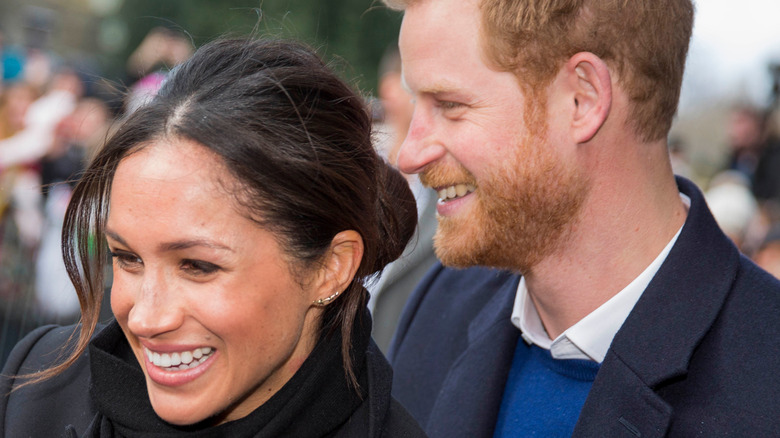 ComposedPix/Shutterstock
Earlier this year, there were rumors that Prince Harry was at odds with Netflix over the release of his new docuseries with his wife, Meghan Markle. The couple reportedly wanted to push it back until January 2023, which is also when Harry's memoir, "Spare," is coming out, per The Sun. Other rumors swirled that Netflix wanted to delay the series because of the negative response they got to Season 5 of "The Crown." 
In particular, the show's depiction of the dissolution of the marriage between Prince Charles and Princess Diana was heavily criticized by fans, as Deadline reported. But royal watchers can relax because no January delay is in the works, and the world is about to find out a lot more about the lives of the Duke and Duchess of Sussex when their Netflix docuseries drops on December 8, 2022 (via Page Six). 
In an interview with The Cut, Meghan acknowledged that nobody really knows how she and Harry met and fell in love, and the six-episode series, entitled "Harry & Meghan," should fill in the blanks. Likewise, the royal defectors will share why they ultimately decided to step down from their positions, per Netflix, alongside the role that the media played too. The dramatic trailer for Meghan and Harry's bombshell docuseries just dropped, and certain people think the timing was deliberate. 
The Harry & Meghan teaser dropped during a royal tour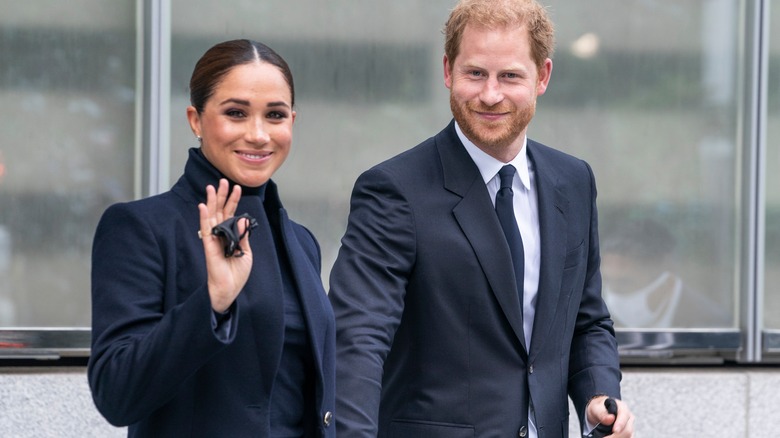 lev radin/Shutterstock
Although the docuseries has been a hot topic for a while, as recently as October 2022, Netflix admitted to Deadline, "There's never been any documentary from the Duke and Duchess of Sussex confirmed." The first time the world got a glimpse at "Harry & Meghan" was on December 1. This also happened to be right in the middle of the three-day Boston trip that William, Prince of Wales, and Catherine, Princess of Wales were on in honor of The Earthshot Prize. 
Page Six was told that this was intentional and designed to draw attention away from their visit, with one insider arguing, "This sort of thing is inevitable." As royal expert Jonathan Sacerdoti told Us Weekly, "It just shows how much [Harry and Meghan] will go to any end at all for as much publicity as possible." He continued, "They will jump on his own brother's trip to promote these environmental prizes in order to steal that limelight and get more attention."
The Prince and Princess of Wales's Boston trip will culminate with the Earthshot Prize awards ceremony on December 2. It was described as William's "Super Bowl moment," with high-profile performers including Billie Eilish and Annie Lennox and hosts such as Catherine O'Hara, per Express. Royal author Omid Scobie cheekily nodded to it in a tweet about the "Harry & Meghan" teaser, writing, "If tomorrow is Prince William's Super Bowl, then here's your Halftime Show." 
William and Kate don't come across well in the trailer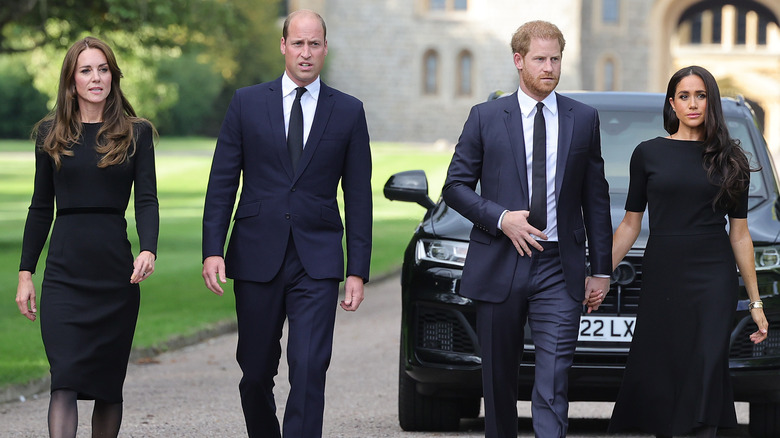 Chris Jackson/Getty Images
The Prince and Princess of Wales have yet to react publicly to the first teaser for "Harry & Meghan," and they probably won't (nor will any other royals). But behind the scenes, the royal couple might be worried about what's to come in the limited series. It's also likely William and Kate aren't too pleased about the timing of the teaser dropping either.  
This year's Earthshot Prize awards have been in the works for 18 months, and Hello! magazine's royal editor Emily Nash contended that the couple is likely "going to be very disappointed that the attention is going elsewhere at the moment."  The Netflix teaser is comprised mostly of photos and clips of the Duke and Duchess of Sussex through the years, including one of Meghan Markle seemingly wiping away tears, and the only royal family included are William and Kate. 
In fact, after Harry is heard saying "No one sees what's happening behind closed doors," a photo of them from the 2020 Commonwealth Day service at Westminster appears. That was notably Meghan and Harry's final royal commitment, an event where they were allegedly snubbed by, among others, William and Kate, per Express. Although there's been no public response yet, Daily Mail Diary Editor Richard Eden tweeted: "I'm appalled by the trailer ... and so are Prince William and Catherine's inner circle."