How To Decorate The Exterior Of Your House For The Holidays Without Using Lights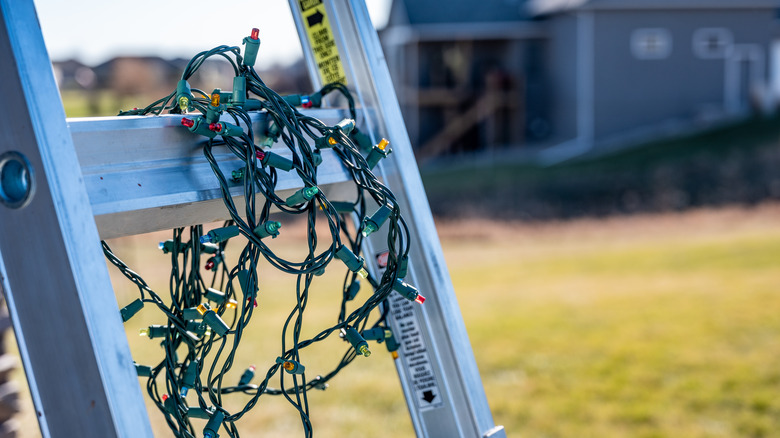 Lost_in_the_Midwest/Shutterstock
We may receive a commission on purchases made from links.
If you've ever seen "National Lampoon's Christmas Vacation," you know that putting up holiday lights can be quite the endeavor, even if you don't end up blowing out the power in your neighborhood. From braving ladders to hoping that the extension cable reaches your garage, approximately 18,000 Americans sustain Christmas decor-related injuries each year, according to the Consumer Product Safety Commission (via Safer America). Ultimately, you'll just have to take those lights down again after the holidays are over — unless you choose to leave them up until January like Taylor Swift in "Lover."
As per a November 2022 House Method Survey reported by NPR, most people start thinking about hanging holiday decor on December 1. If you're hoping to opt out of string lights this season, there are plenty of other festive options on the table. At the very least, you'll save a couple of dollars a day on your electric bill.
Hang ornaments from the trees in your front yard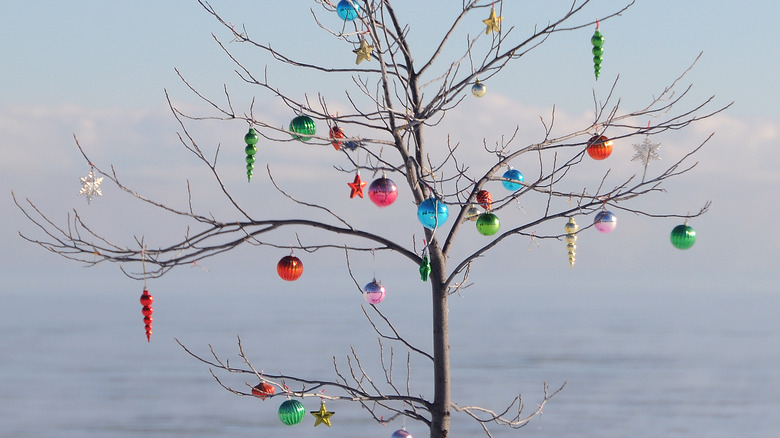 Brian A Wolf/Shutterstock
In 1965, Charlie Brown gave a less-than-desirable evergreen a home in "A Charlie Brown Christmas." This year, whether or not the trees in your front yard (or your porch's prized potted plants) are fully grown, dress them up Charlie Brown-style with ornaments. Invest in outdoor-safe bulbs to prevent your decor from rusting or breaking in wintertime weather. For starters, check out something like these shatterproof decorative balls from Lowe's. If you're feeling extra crafty, DIY your own ornaments with materials like painted clothes pins, mason jar lids, or even old corks.
Create a Swiss-inspired advent window
In Lifetime's new holiday flick, "Merry Swissmas," Jodie Sweetin's character learns about a very special Swiss Christmas tradition: "adventsfenster," or advent windows. Local households and businesses are each assigned a different day in December leading up to the 25th and tasked with creating a window display. On each night leading up to Christmas, a new window is unveiled — in other words, it's like a life-size, town-wide advent calendar. This year, decorate your window panes Swiss-style using paper cut-outs, found objects like driftwood, or washable window paint, which is available on Amazon). After the sun sets, illuminate your design with a candle.
Decorate your doorframe with garlands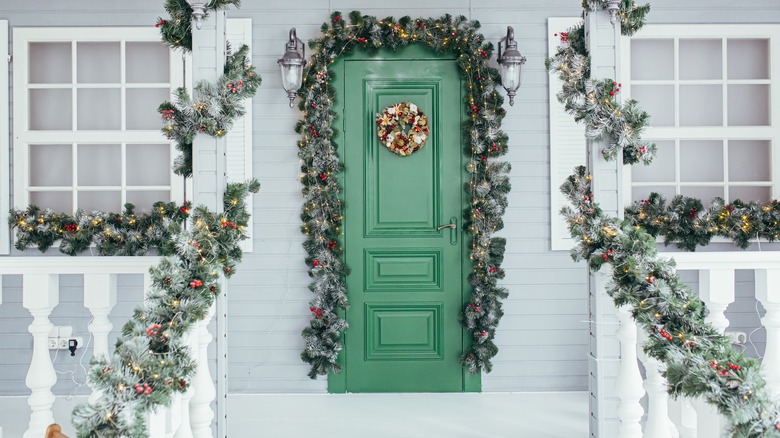 voronaman/Shutterstock
Forgo the lights this year and replace them with luscious greenery — draped garlands, to be specific. Whether you invest in faux spruce from Wayfair or get the real deal from your local garden center, these decorations will add some festive warmth to your wintertime entryway. You could even take it up a notch with pinecones and magnolia leaves.
Ultimately, you'll be paying homage to a centuries-old practice, according to Britannica, since garlands can be traced all the way back to ancient Greek home decor.
Fill your yard with inflatable characters
This one might be for the more heavy-duty holiday decorators. Add some life to your front yard this year with inflatable characters — everyone from Santa to Snoopy. According to The Wall Street Journal, inflatable holiday decor took off in mid-2000s suburbia, becoming "the only new development since icicle lights," per consumer behavior expert Pam Danziger. These days, you can entertain your neighbors with blow-up holiday decor twice the size of a real-life person.
Though giant snow globes or menorahs present fewer installation hazards than string lights along a rooftop, Nebraska construction superintendent Kyle Richards notes that wind gusts often present a problem.
Decorate the lamppost with ribbon and greenery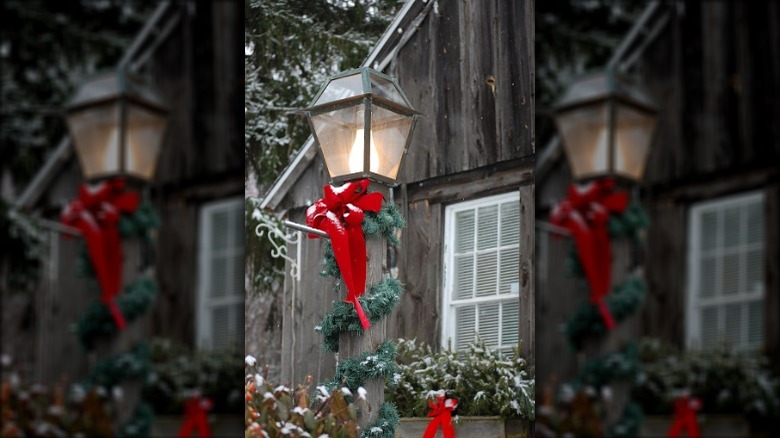 Depthoffield/Getty
A lamppost supposedly inspired "The Chronicles of Narnia," and this year, a lamppost can help you up your decorating game. If you have leftover garlands from your doorframe or extra thick wrapping ribbon, use them to decorate the post. Tie a large bow around the top or, alternatively, wrap the ribbon candy cane-style around the base. You could also save some time and buy a pre-decorated holiday lamppost on Wayfair.
It's also worth applying the same logic to your standing mailbox. Tie rich greenery around the top and add some extra flair with bows, pinecones, and maybe even an ornament or two.
Line your walkway with luminaries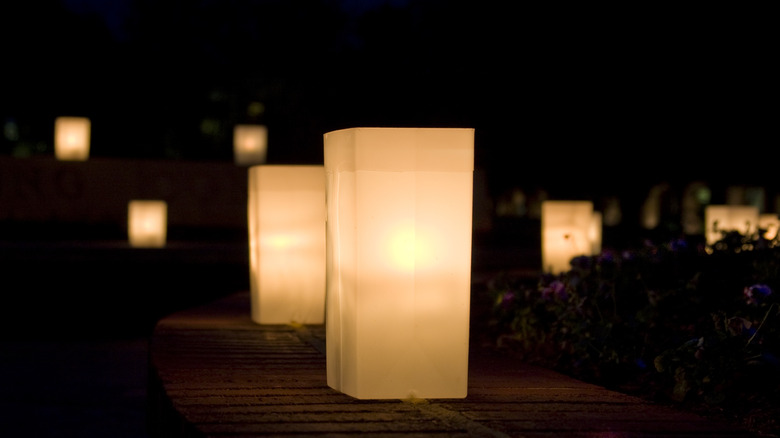 JP Lavoie/Shutterstock
As explained by National Park Service, luminaries are a centuries-old tradition especially popular in New Mexico. To perfect the look, weigh down white or brown paper bags with sand. On top, place tiny, battery-operated tea lights and line your pathways. If you're hoping for a festive community project this holiday season, talk to your neighbors about making their own luminaries. With a little teamwork (and lots and lots of paper bags) you can work to line your entire street.
Because rain and paper don't mix, this is the kind of decoration to reserve for a single, clear night.
Go high-tech with a projector
Get the look of holiday lights without the hassle by using an outdoor projector. Best of all, you can customize colors, patterns, and timing. Simply program your lights to turn on when it starts to get dark, which is a little bit too early these days. Whether you're projecting white and blue snowflakes (as advertised by this Amazon find) or red and green stars, projectors involve very little set-up. That's right, no ladders this year.
DIY a life-sized gingerbread house
Salt Lake City resident Virginia Hoffman undertakes the annual project of turning her brick home into a life-sized gingerbread house, per Fox 13. As she notes in an interview with the channel, "It's a really fun project with kids and your family, and it's been a really fun project together." This year, follow Hoffman's lead and DIY your own life-sized candy. With the help of some cardboard, colorful paper, and glue, among a few other craft supplies, you can create giant cut-out candy canes and gingerbread men for your front porch.
Alternatively, buy pre-made (though inedible) giant candy pieces like these cutouts from Amazon.
Repurpose used items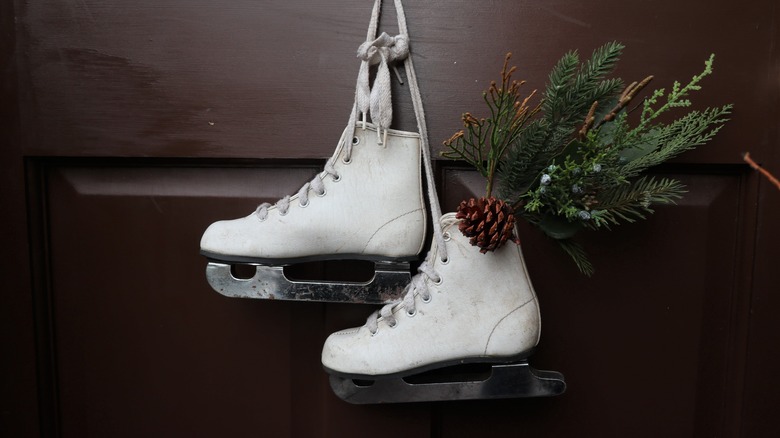 Al Munroe/Shutterstock
If you've been holding on to a pair of rusted figure skates or an old wooden sled, there's no better time to repurpose these items as annual holiday decor. In the place of a wreath, hang the skates from your door. Now, you have the perfect makeshift "vase" in which to display seasonal greenery.
Next, lean your old sled up against the side of your house, giving it a new life with pine branches and maybe even a few bright ornaments. The same technique goes for vintage snowshoes, skis, and sleigh bells.