How A Man Got All The Credit For Ada Harris' Invention Of The Flat Iron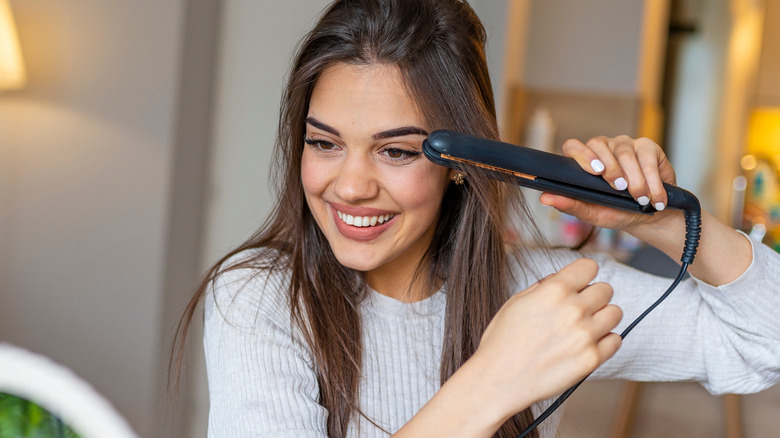 Dragana Gordic/Shutterstock
The history of anything is only as true as its storyteller makes it seem. Whether it's through propaganda, religion, or a textbook, history is often told and retold by the people who have the privilege to do so. This means that facts can be deliberately skewed or become biased in a way that leaves insidious (or compelling) messages about certain groups of people. For example, a report by The New York Times states that many history textbooks in the U.S. are "shaded by partisan politics" — consequently confirming the reader's political takes. An article by Vox, about similar textbooks, also revealed the narrative of slavery often discounts the humanity of Black people.
There are so many untold stories in our history and Ada Harris' is one of them. Harris was a Black woman who invented a contraption in the late 1800s and it is something that is still included in the beauty routines of many people today.
Ada Harris invented the hair straightener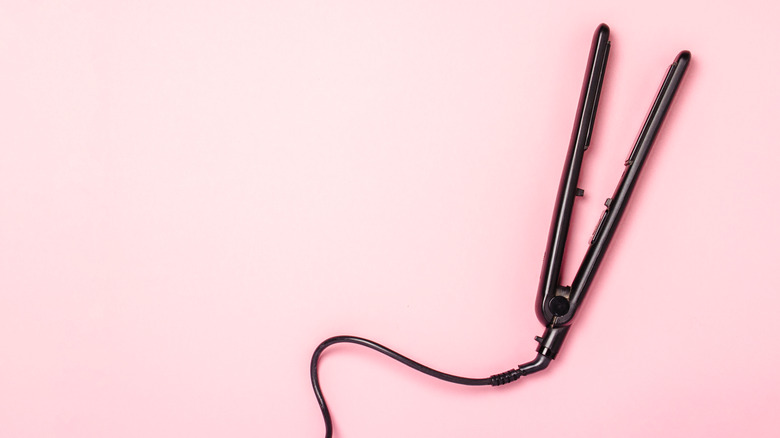 Alex SG/Shutterstock
If you use a flat iron everyday, you might interested to know that In 1895, Ada Harris filed a patent for her invention: a hair straightener. According to the patent filing, Harris wrote, "Be it known that I, Ada Harris, of Indianapolis, county of Marion, and state of Indiana, have invented a certain new and useful Hair Straightener." She continued, "My invention relates to a hair straightener whose purpose is to straighten curly hair and is especially of service to colored people in straightening their hair."
The first prototype ever looked only slightly different from some of the best hair straighteners we use today. Harris described it, "The hair straightener which I have devised is to be heated like a curling-iron; and has a toothed or comb portion adapted to separate and comb the hair and also a portion having flat contacting faces adapted to press the hair. Before the hair straightener is used the hair is preferably oiled, and, since the implement is hot, the flat faces when they press the hair will make it straight."
While the patent was filed in the late 1800s, it wasn't Harris who was credited with the invention. Instead, Isaac K. Shero, a man who patented a slightly altered version of Harris' hair-straightener, received all the credit.
Harris was recognized too late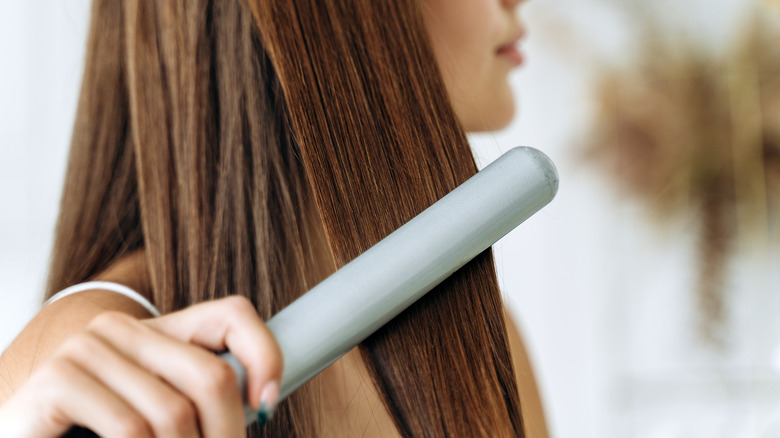 Sklo Studio/Shutterstock
Isaac K. Shero filed his patent in 1909 and wrote, "An object of this invention is to construct a device of this character which will do away with the necessity of providing a plurality of teeth for engagement with the hair which has a tendency to catch and break the same." Essentially, Shero did away with the comb that Ada Harris had with her version of the hair straightener. As a result, he became the face of Harris' invention. An article on Racked phrased it best: Shero "just pressed two clothing irons together and called it a day." 
Harris is now an iconic figure who has been recognized for her invention, but too late. Professor of history Dr. Earline Rae Ferguson told Racked about Harris, "People I interviewed who knew her said things like, 'If there was something that needed addressing that no one else wanted to touch, you [give] it to Miss Ada.'" Harris was actively involved in giving to her community and told the Indianapolis Star in 1909, "My greatest ambition is for my race. I want to see my people succeed. I want to see them have equal chance. [...] I shall have spent my life for my race."