The Perfect Wedding Cake Costs More Than You Would Think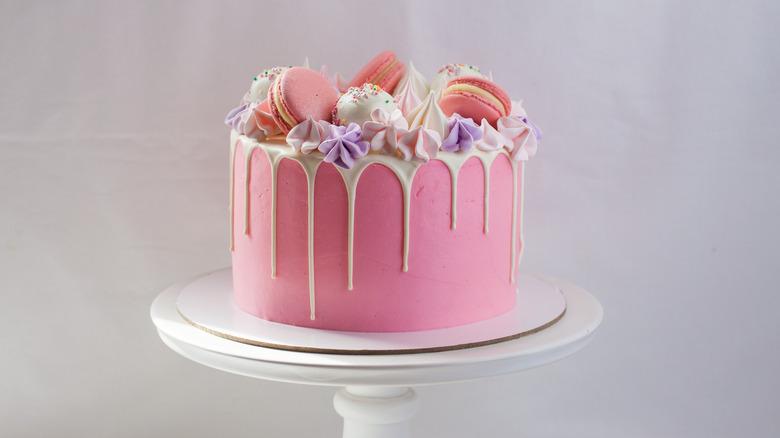 Larisa Sadomtseva/Shutterstock
Weddings may seem to be all about beautiful things like white dresses, colorful flowers, and intimate details, but at their core, weddings are very much surrounded by budgets. According to Minted, couples should figure out their budget, and who is paying for what, before they begin planning anything for their big day. To do this, tally up all the contributions and cash that is being used to pay for the wedding, including your own and loved ones who may be helping out. You'll also want to familiarize yourself with just how much things cost — you may be surprised to learn just how expensive things can get.
And while you are figuring out the cost of a venue and floral designs, you can't forget about the smaller details, too. According to Here Comes The Guide, you should consider a percentage for all of the items on your wedding checklist. For instance, they recommend allotting 2% of your budget to your wedding cake. While this percentage seems small, the actual amount the perfect wedding cake costs is more than you may think.
Don't forget to factor in the cost of a wedding cake when planning your wedding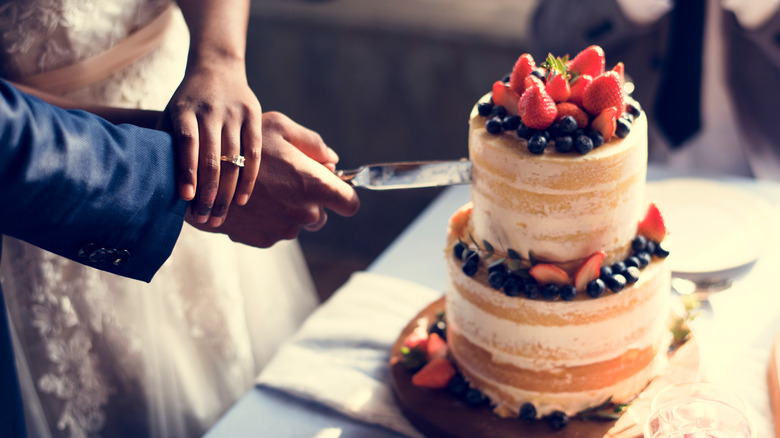 Rawpixel.com/Shutterstock
When looking at the big picture, it can be easy to miss little details, like the groomsmen boutonnieres or the wedding cake. However, if you don't want to be stuck with a shocking bill after the big day, make sure you know just how much these things cost. According to Wedding Forward, the average cost of a wedding cake is about $540. This number can vary though, as some cakes can cost as little as $1.50 per slice while others can be as much as $12 per slice.
Per Weddingwire, the bigger the cake, the more expensive it usually is. However, even a small cake can cost a pretty penny if you are hoping for intricate details. Things like fondant, sugar flowers, and unique shapes that look like one of the stunning royal wedding cakes will cost you. Plus, the budget for a cake doesn't just include the actual cake. 
Most couples should also factor in the cost of the display table that holds the cake, the cake cutter, cake topper, stand, and extra fees like a delivery service and cake cutting (if the venue charges for this), per Here Comes The Guide. Before you nix the idea of a wedding cake altogether, there are ways to ensure you don't max out your budget on the dessert.
How to lessen the cost of your wedding cake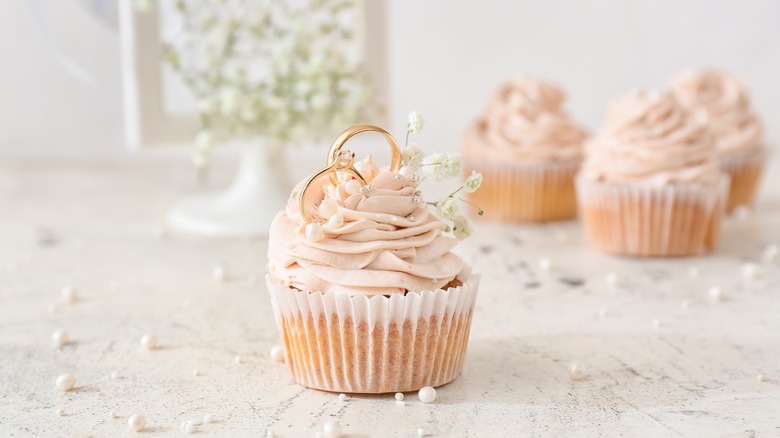 Pixel-Shot/Shutterstock
A wedding cake is an important symbol of the big day, but for those who are finding it hard to swallow the cost when it will just be eaten and discarded within an hour, there are ways to lower the amount you will pay. According to Woman Getting Married, the best thing you can do is keep things simple. Sugar flowers are gorgeous and popular on wedding cakes, but they can make the overall cost add up quickly. They recommend opting for a few larger flowers rather than a bunch of smaller ones — this requires less work for the baker, therefore lowering the cost.
Other ways to lower the cost includes opting for buttercream over fondant, asking your venue to serve smaller slices so a smaller cake can feed more people, opting for simpler flavors like chocolate or vanilla, or even making a homemade wedding cake. If the idea of a cake isn't for you, Wedding Forward also recommends thinking outside the box and choosing to do cupcakes, cake pops, or macarons instead.